USA Men Defeat Luxembourg 30-24 in Return to International Competition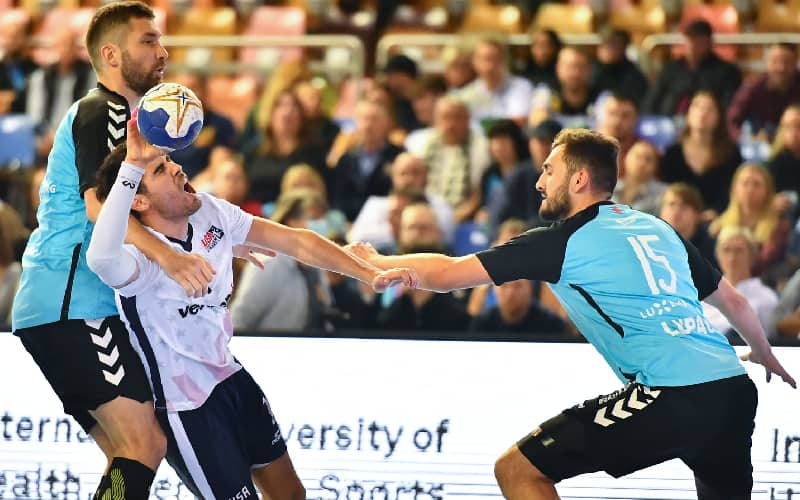 (Alex Chan splitting the Luxembourg defense. Photo courtesy of the Luxembourg Handball Federation)
Two years after their last international match the USA men returned in style yesterday with a convincing 30-24 win over Luxembourg. The U.S. got a good start and thanks to good defense and turnover/fast breaks jumped out a 3-0 lead. A lead that they would end up keeping for the rest of the match. Luxembourg kept it close and edged within 1 for a score of 9-8 at the 18 minute mark. The U.S. then scored two straight goals capped off by the play of the game, a spectacular kempa (alley-oop) goal by Gary Hines. The U.S. extended the lead to 6 goals (16-10) before Luxembourg scored 2 back for a halftime score of 16-12.
In the 2nd half the U.S. again had a good start and built up a the lead of 20-13 resulting in a Luxembourg time out. Luxembourg managed to then cut the lead to 20-15, but they would come no closer as the U.S. built up a lead of 9 goals (25-16) midway through the 2nd half. The teams mostly traded goals the rest of the way before Luxembourg managed a late run for the final score of 30-24.
Alex Chan had a great debut in his first official match and led the U.S. in scoring with 8 goals. Overall the backcourt trio of Abou Fofana, Ian Hueter and Alex Chan was very effective with all 3 players seamlessly filling each of the 3 backcourt spots at different times. Sam Hoddersen started at left wing, Max Binderis at right wing and Patrick Hueter at pivot. Pal Merkovski started at GK and Domagoj Srsen played defensive specialist subbing in and out primarily with Alex Chan. Several other players received significant playing time including Rene Ingram in goal, Paul Skorupa at pivot, Amar Amitovic at back court and Gary Hines at left wing.
Post Match Interview
Coach Robert Hedin was pleased with the U.S. performance. Check out this 5 minute interview to hear his perspective: Link
USA Scoring
Alex Chan, 8 (2 penalty)
Abou Fofana, 5
Patric Hüter, 5
Gary Hines 3
Max Binderis, 3
Sam Hoddersen, 2
Ian Hueter, 2
Amar Amitovic, 1
Paul Skorupa, 1
Photo Gallery
Luxembourg Federation: Link
Saturday's Match
The two teams will meet again on Saturday at 6:00 PM (CET) / 1:00 PM (US ET). The match will be live streamed, but may be subject to geo-blocking restrictions. Video Link