NATIONAL REFEREE COMMITTEE (NRC)
The USA Team Handball National Referee Committee is responsible for regulating, governing, administering and overseeing all matters concerning referees and game officials in the sport of team handball in the United States.The USATH - NRC is also responsible for ensuring and promoting that all team handball matches are officiated at the highest level through enforcing the playing rules while providing a safe and fair environment to all handball athletes.
Please contact referee@usateamhandball.org if you have any questions.
The rules and descriptions of different handball disciplines are linked below:
Tugomir Anusic currently serves as the chair of the USATH – National Referee Committee. Anusic was an international handball referee for the IHF and refereed more than 2,500 handball matches in his professional career. Anusic participated in the 1996 Atlanta and 2000 Sydney Olympic Games, and remarkable appearances in many world championships and Pan American Games.
Anusic was born in the former Yugoslavia and studied business and economics at the University of Banja Luka in Bosnia and Herzegovina. While there, he played handball and reached the highest referee level before moving to the United States in 1989. In the United States, he received continental and international referee status and performed at the highest level until his IHF referee retirement in 2005.
Anusic resides in San Jose, California. He works with property management and is a private business owner.
Rafael Marques is the youngest USATH – National Referee Committee member and is currently serving as deputy committee chair for the NRC. Marques is also an active referee for USATH and makes appearances in national and continental competitions. Marques' goal is to reach the IHF international referee status and represent the U.S. in world championships and Olympic Games.
Marques started playing team handball when he was 10 years old and participated in countless handball competitions as a player before becoming a team handball referee. Marques in a avid handball enthusiast and he helps promote all the referee activities in the U.S. through many projects and initiatives, most notably, he has had an important role in the USATH – NRC reform in 2020 aiming to take the referees matters to the next level along with other committee members, USATH staff and community members.
Marques received a bachelor's degree and a master's degree in music from the University of Arizona and University of Michigan respectively. Marques is a professional musician and an avid music educator. He has performed with Grammy-nominated music groups and participated in several music acclaimed competitions, as a winner in a few of them.
Marques lives in Ann Arbor, Michigan and off the handball court he enjoys working out, traveling, watching movies and his favorite TV show is The Office.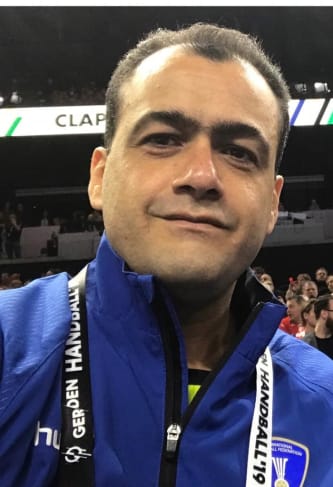 Majid Kolahdouzan has been an international handball referee since 2001. Kolahdouzan has dedicated his life to expanding his handball career through participation in Olympic Games and World Championships and also developing and exposing a greater number of people to the sport of handball through referee education and training. Kolahdouzan received international referee status in 2001 and ever since, has been nominated to the biggest events of the handball world including the 2008 and 2016 Olympic Games in Beijing and Rio de Janeiro respectively.
Kolahdouzan has also participated in six IHF Men's World Championships: 2007 Germany, 2009 Croatia, 2011 Sweden, 2017 France, 2019 Germany and Denmark and 2021 Egypt. Additionally, Kolahdouzan has been a member of the Asian Handball Federation as a referee and has had active participation in all of the Asian major handball tournaments.
Majid lives in Las Vegas, Nevada and enjoy spending time with his family, watching police and crime action movies and anything that involves handball.