Ebiye Udo-Udoma Joins USA Team Handball Board of Directors As Beach Athlete Representative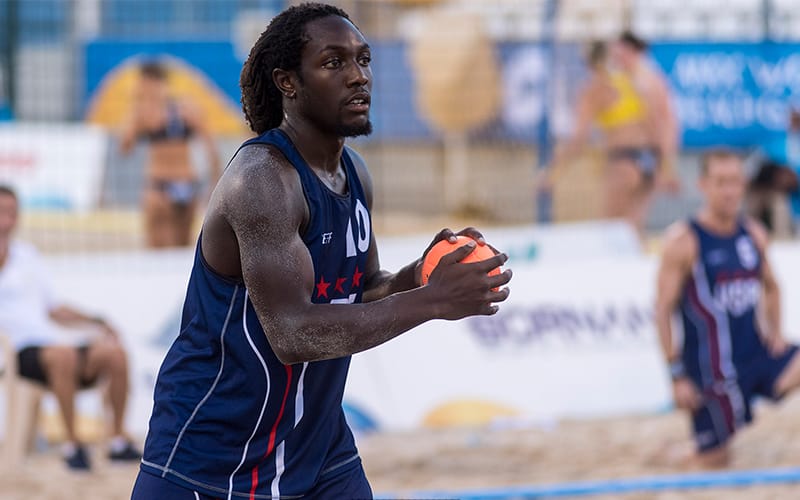 USA Team Handball today announced the election of Ebiye Udo-Udoma to its Board of Directors, filling the Beach Athlete Director seat. Udo-Udoma's term on the Board commenced as of March 15, 2021, and he succeeds Bill Bigham whose term in the role expired.
"We are thrilled to welcome Ebiye to the Board and to his joining our efforts toward growing the beach handball program," said USA Team Handball Board Chair and President Michael Wall.
"Ebiye has been a huge force in the beach handball community for the last five years and has tirelessly worked to raise exposure for the sport. I have no doubt that he will continue to serve as a fantastic ambassador for this exciting sport and will contribute to beach handball's growth, as USA Team Handball works towards the Los Angeles 2028 Olympics."
Udo-Udoma has been involved in the USA Beach Handball program since 2015, having originally played indoor handball in 2014 before making the transition to the sand. In 2017, he was named to the International World Games Association's Most Important Beach Handball Players' List.
Udo-Udoma has represented Team USA at two IHF Beach Handball World Championships – in 2016 and 2018. He was named Most Valuable Player at the 2019 North American & Caribbean Handball Confederation (NORCA) Championships, where the U.S. won gold and was the leader in assists at the 2019 ANOC World Beach Games in Doha, Qatar. The International World Games Association named Udo-Udoma its Athlete Of The Month in June 2020.
"I have been a part of our national teams since 2014, first as an indoor player then as a beach player, and while I've accomplished a fair bit, I am now at a stage in my career in which being simply a player isn't a sufficient contribution," Udo-Udoma said. "Having captained championship beach club teams in three different countries, I am excited to bring the wisdom I've accrued in my international career so far to the Board of Directors and help carry USA Team Handball forward in the post-Covid era."
About USA Team Handball: USA Team Handball (USATH) is the U.S. National Governing Body for the Olympic discipline of Team Handball, and is responsible for the development of grassroots programs, preparation of national teams for international competition - including the Pan American and Olympic Games - as well as the day-to-day oversight of the sport of team handball in the United States. The mission of USATH is to develop, promote, educate and grow the sport of team handball at all levels domestically, and to enable U.S. athletes to achieve sustained competitive excellence to win medals in international and Olympic competition. USATH is a member of the International Handball Federation, the North American and Caribbean Handball Confederation, and the United States Olympic & Paralympic Committee, and is headquartered in Colorado Springs, Colorado.
Media Contact: Melissa Zhang | (508) 768-5649 | Melissa.Zhang@usateamhandball.org