2021 IHF Handball World Championships to be Broadcast on ESPN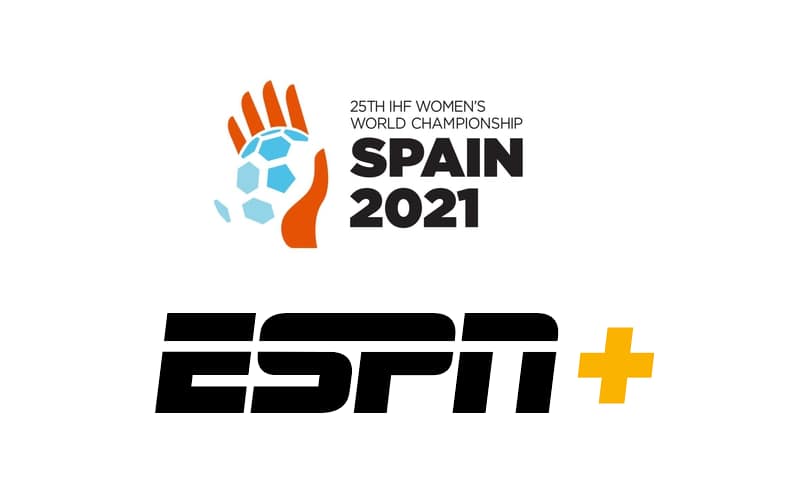 Following up on their successful airing of the 2021 IHF Men's World Handball Championships this past January ESPN will also be the home for the 2021 IHF Women's World Handball Championships. ESPN+ is ESPN's streaming service and can be watched via a number of different platforms to include Roku, Amazon Fire, Chromecast and Apple TV.
The tournament throws off on Wednesday, 1 December at 2:30 PM (US ET) with hosts Spain taking on Argentina. ESPN+ will then air two matches/day throughout the Preliminary (1-7 December) and Main Rounds (8-13 December) as well as all matches in the final phase starting with the quarterfinals on 14 December and culminating in the Gold Medal Match on Sunday, 19 December. Veteran handball commentator, Paul Bray, will be calling the action for all matches.
Links
More information on ESPN+ and how to subscribe:

Link
2021 IHF Women's World Handball Championships competition page on the IHF website: Link
IHF YouTube Channel WC Playlist (for matches not airing on ESPN): Link
ESPN Broadcast Schedule (All Times US ET)
Preliminary Group Phase
Wednesday, 1 December

2:30 PM Spain vs Argentina

Thursday, 2 December

12:00 PM Croatia vs Brazil

2:30 PM Hungary vs Slovakia

Friday, 3 December

12:00 PM Netherlands vs Puerto Rico

2:30 PM Norway vs Kazakhstan

Saturday, 4 December

12:00 PM Slovakia vs Germany

2:30 PM Hungary vs Czech Republic

Sunday, 5 December

09:30 AM Sweden vs Puerto Rico

12:00 PM Poland vs Russian Handball Federation

Monday, 6 December

12:00 PM Czech Republic vs Slovakia

2:30 PM Germany vs Hungary

Tuesday, 7 December

12:00 PM Angola vs Slovenia

2:30 PM France vs Montenegro
Main Round Group Phase (8-13 December)
Knockout Phase
Tuesday, 14 December

12:00 PM Quarterfinal

2:30 PM Quarterfinal

Wednesday, 15 December

12:00 PM Quarterfinal

2:30 PM Quarterfinal

Friday, 17 December

12:00 PM Semifinal

2:30 PM Semifinal

Sunday, 19 December

08:30 AM Bronze Medal Match

11:30 Am Gold Medal Match