Collegiate Trailblazer Conference Wraps Up Inaugural Season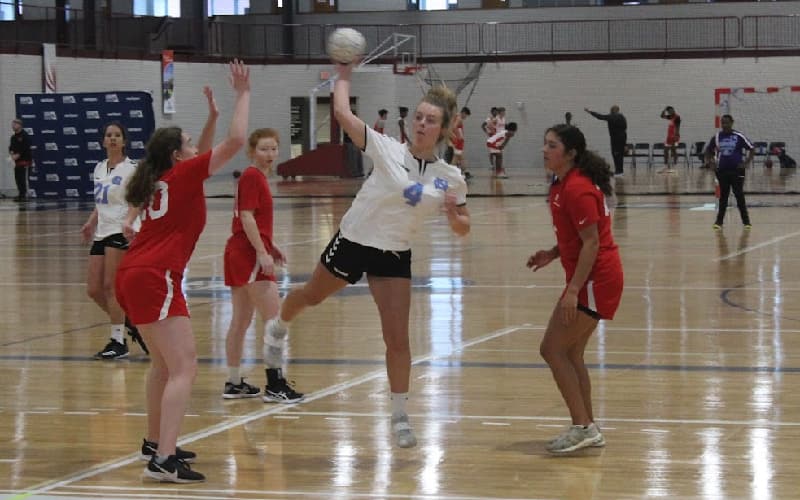 (Hannah Perkins takes a shot for North Carolina against Ohio State)
Last weekend (March 26-27) the Trailblazer Collegiate Conference wrapped up its inaugural season with a post season conference tournament at the Spire Institute & Academy in Geneva, Ohio. The Ohio State first team, Ohio State (Scarlet) took the top honors for the men edging out the University of Pittsburgh. Both team easily won their other round robin matches against Cincinnati, Ohio State (Gray) and North Carolina's development team, the Tar Heels, so the championship came down to their head to head meeting. The match was a nail biter and ended as a 32-32 draw, to give Ohio State the title, thanks to their higher overall goal differential. North Carolina (Tar Heels) took 3rd, Ohio St (Gray) 4th and Cincinnati 5th.
Final Standings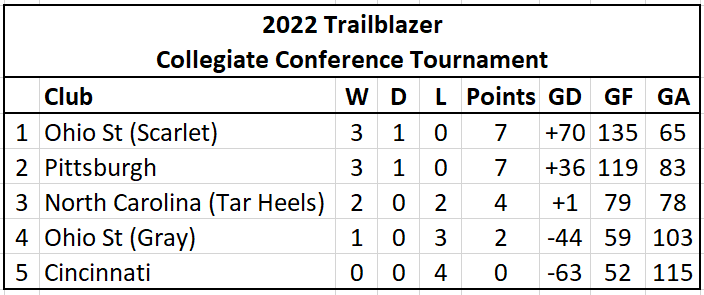 Sean Starrett of Ohio State (Scarlet) took the MVP honors and led all scorers for the tournament with 32 goals. Other athletes that scored 20 or more goals were Matt Bolger, Ohio St - Scarlet (27), Ben O'Connell - Pittsburgh (21), Connor Reed - North Carolina (20) and Pau Balcells Sanchez (20). Ohio State (Scarlet) goalkeeper, Bob Wise was selected the MVG
In conjunction with the Men's Tournament the Ohio Women's Collegiate Invitational was also held with Army - West Point (Black) winning the title. The other teams participating and their order of finish were West Point (Gold) (2nd), North Carolina (3rd) and Ohio State (4th).

For all the scores, standings, match reports, match videos, post game interviews and photo library check out the Event Page: Link
Here's a look back at the inaugural season for the Trailblazer Collegiate Conference
Collegiate Competition & Events Working Group Sets Course
A Competition & Events Working Group consisting of John Ryan, JD Orr, Bryan Cothorn, Peter Hanlon and Aaron Hamm was established in the summer of 2021 to assess current college competition structures and identify opportunities for improvement. The Working Group identified the current cluster of college programs in Ohio, Pennsylvania, Maryland, Virginia and North Carolina as an opportunity to establish a college conference as a pilot program. Multiple colleges including Ohio State, Cincinnati, Pittsburgh, Penn St, Johns Hopkins, James Madison, Virginia, and North Carolina expressed interest and plans were made for an East and West Division, as well as a Women's Conference.
COVID-19 Disrupts Regular Season
The COVID-19 Pandemic ended the 2020-21 season prematurely and there were high hopes with the pandemic easing that the 2021-22 season would be a return to near normal handball operations. Unfortunately, this was not the case particularly in the Fall semester as several universities were either prohibited from practicing or traveling for competition. Some colleges had to drop out entirely and most of the matches had to be delayed until the Spring semester. Instead of each division playing a structured 3 match round robin matches had to be scheduled when they could resulting in an unbalanced schedule that was backloaded to January and February. The Women's conference ultimately was cancelled due to scheduling complications and programs that due to the pandemic needed to further recruit and rebuild.
The West Division ended up having 3 match days with Ohio State (Scarlet) taking the title. The East Division was limited to two matches and North Carolina (Tar Heels) won the regular season title
Collegiate Referee Program Identifies New Officials
Officiating is often the biggest expense associated with running sanctioned competition in the United States. To mitigate costs and to encourage athletes to become officials the Collegiate Referee Program was established. Under the tutelage of National Referee Committee Deputy Chair, Rafa Marques, athletes took online training for level 1 certification and were assigned matches both during the regular season and post season tournament. In exchange for their participation athlete fees for annual membership and background checks were waived and each official received a referee shirt, whistle and official cards (red, yellow, blue).
Next Season (Potential Expansion and Additional Conferences)
Plans for next season are a work in progress, but it's hoped that the pandemic will further recede and allow for a normal 2022-23 season. Conference expansion is highly desired and candidate programs include Michigan, Bowling Green, Case Western and Johns Hopkins. It's also hoped that a new conference with a new footprint can be started. If you're interested in starting a new collegiate program please let USA Team Handball know at info@usateamhandball.org.