NYAC Takes 2021 Tar Heel Invitational Title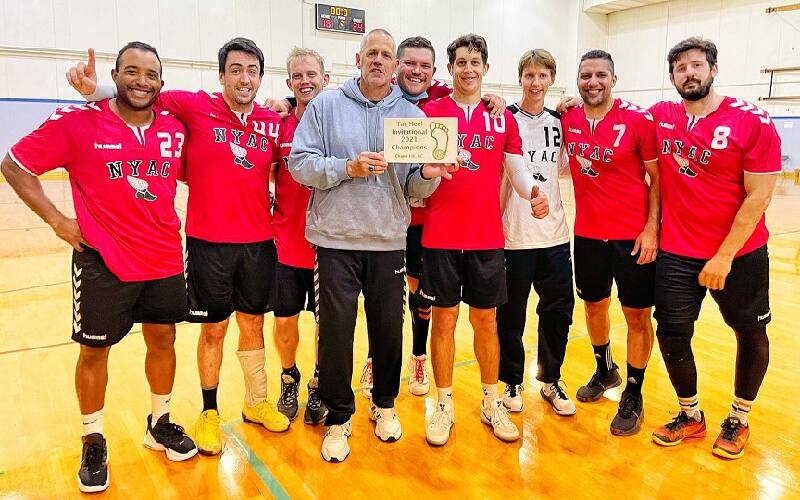 (NYAC from L to R: Hartland Jones, Ethan Pickett, Michael King, Chris Cappelmann, Jordan Fithian, Ty Reed, Alden Mezick, Ahmed Sayed ElHady, TJ Giordano. Not pictured Tommy Harper)
This past weekend, the New York Athletic Club (NYAC) won the Tar Heel Invitational tournament held at the University of North Carolina in Chapel Hill. 6 men's Clubs participated with North Carolina fielding 3 teams for an 8 team tournament. The teams were split into two groups with the top 2 teams from each group crossing over to play for 1st to 4th place and the bottom 2 teams crossing over for 5th-8th place.
On Saturday, NYAC went undefeated in Group A and Carolina Blue, which is predominantly a Carolina alumni team, also advanced to the semifinals. In Group B, Carolina (North Carolina's 1st team) also went undefeated in Group play and they along with the 2nd place DC Diplomats advanced to to the semifinals.


In the Semifinals on Sunday the two undefeated teams each took care of their semifinal opponents with relative ease. NYAC defeated the DC Diplomats 29-15 behind 9 goals from Ty Read and 7 goals from Ethan Picket In the other semifinal Carolina defeated Carolina Blue, 30-22. Jordan Mason and Alex Irmscher each had 7 goals for Carolina.
In the Championship match, NYAC took control of the match from the start and had a 5 goal lead at the half. In the 2nd half they were able to keep their lead and towards the end of the match Carolina switched to a man to defense and a 7v6 strategy which resulted in some empty net goals and a final score of 24-15. Jordan Fithian led a balanced NYAC attack with 5 goals while Jordan Mason led Carolina with 6 goals.
In other matches on Sunday, Carolina Blue defeated the DC Diplomats, 26-21 to take 3rd place. In 5th to 8th consolation action, Tar Heel White knocked off Auburn 18-13 to take 5th place while Auburn edged Tar Heel Blue, 22-21 to take 7th.
Scores and Match Reports for every match played: Link
Women's Matches
West Point traveled south to North Carolina and their first and second teams, West Point (Black) and West Point (Gold) each played the Carolina Women's teams twice. West Point (Black) won both of their matches 14-9 and 15-10 while West Point (Gold) won one match, 13-8 and played to a 7-7 draw. West Point (Black) also beat West Point (Gold) 19-14.
Quotes
NYAC Head Coach, Chris Cappelmann, had the following thoughts on the tournament:
"I was very pleased with our play overall and with only eight court players and one goalkeeper available we had no room for injury. In the final, Carolina posed a problem for us with their speed on fast breaks, but we were able to limit them by getting back quickly and protecting the goal. With 17 saves in the final and a high level of play in every match, Alden Mezick was a solid MVP for the tournament. All in all, having not played since February 2019 it was very satisfying to win the Tar Heel Invitational."
Former Jr National Team athlete, Aaron Hamm, who is now also a Carolina coach:
"The tournament went really well, especially considering the long break since our last tournament we hosted in February 2020. We were able to field three total University teams: Carolina (returners), Tar Heel White (new players that are sophomores or juniors), and Tar Heel Blue (new players all freshman). I am very pleased with the progress of all the university teams over the last few months and having a group of new players finish 5th in this tournament is outstanding.
Additionally, the strong freshman core fought hard every game, playing an experienced DC team to a 1 point game at the half. Having seen many Tar Heel teams (North Carolina's 2nd and 3rd teams) in the past, these two teams are hands down the most talented and dedicated group of the bunch. We will continue to work and improve as this tournament serves as little more than a great learning opportunity for both squads.
The Carolina team (North Carolina's 1st team) also enjoyed considerable success, fighting till the end against a very talented and experienced NYAC team in the final. We will look to grow from this experience, as this was the first time all of the players had played in an organized competition since March 2020.

In all, I am very optimistic about the future of CTHC, knowing that we have roughly 25 talented players of various ages that are all working to bring the club and their teams greater success."
Final Team Ranking
NYAC

C

arolina
Carolina Blue
DC Diplomats
Tar Heel White
Auburn
Virginia
Tar Heel Blue