Where Are They Now? Catching Up With 1984 Olympian Carmen Forest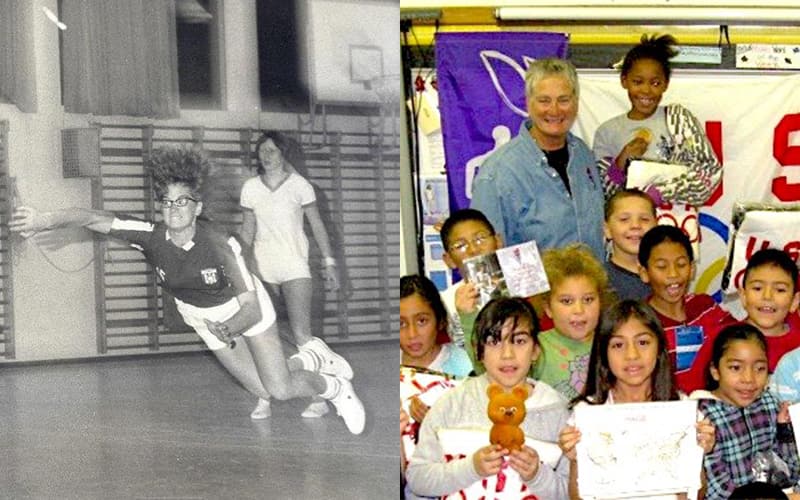 USA Team Handball caught up with 1984 Olympian Carmen Forest, a talented multi-sport athlete in basketball, softball, volleyball, field hockey and tennis at the University of Missouri at St. Louis prior to discovering team handball and competing for the U.S. National Team for 10 years. Forest was invited to try out for the U.S. Women's National Team in 1974. Six years later, the U.S. boycotted the 1980 Olympics and Forest continued her training with Team USA until the 1984 Los Angeles Olympics, where she represented her country on the handball court.
Since her athletic career, Forest has been giving back to younger generations as a health and wellness instructor at Pratt Community College in Pratt, Kansas. She's spent almost four decades teaching and coaching her students. Take a look at our Q&A below to learn more about Forest, her handball memories and the years since her athletic career:
Give us a brief overview of what life looks like for you nowadays:
CF: I am a teacher and instructor at Pratt Community College in Pratt, Kansas. I've been here since two weeks after the closing ceremonies of the 1984 Olympic Games, so this is year 37. I love my job.
I came here initially as a volleyball and basketball coach. The coach at that time left, and through word of mouth, I heard about the job opening. I called one morning and interviewed over the phone while I was down in Houston, Texas, where my family lived. They had another person that was supposed to take the job, but told me that they would give me a call if they did not hear from that person. I got the phone call from them a few days later and was offered the job on the spot.
How did you first get into your particular profession/career?
CF: The job literally fell into my lap. I came to Pratt sight unseen, walked in and led my first volleyball practice. It's been a very good fit for me. I coached volleyball for three years and basketball for four years. I was Athletic Director for a couple of those years, but then I wanted to go into teaching full-time. The Vice President of Instruction at that time made a place for me. They created the health and wellness program that I am now currently in charge of, and I teach health, nutrition, exercise and everything along those lines.
I love my job. I love winning over my students. Prior to the pandemic, they would come see me in my office, and also come back to visit years after they graduated. I feel like I'm making a difference here. People ask me why I don't retire. I don't want to retire. This is my life and I love it. I look forward to it every day.
Do your students know you're an Olympian?
CF: I don't announce it, but word does get out and eventually it does get around. I do tell lots of stories from all of my experiences on the national team. I tie them into my lectures in certain topics. I talk about memories with my teammates like Mary Phyl Dwight and Reita Clanton. A hand will go up occasionally and they'll ask, 'you were in the Olympics, weren't you?' A lot of them have already become aware of what the sport of team handball is because they played it in PE class.
Where did you first discover handball? What was your origin story in the sport?
CF: At that time, USA Team Handball was the United States Team Handball Federation. With the men's team already having success in 1972, they decided to start a women's handball program in 1974 to see if we could potentially qualify for the '76 Games. They sent out letters all over the country and one happened to make it to my little college in St. Louis.
One day I was down on the gym floor shooting baskets, waiting for a friend to get done with her classes. One of my professors came down, showed me the letter and asked if I would be interested in playing this sport. I thought I was going to be a basketball Olympian, so I declined. She said I could always use handball as a way to add another unit to my PE class requirement, so I agreed. We went up to her office and filled out the form.
The tryout was at Iowa State University and they invited around 100 of us. We watched some video footage of the '72 Men's Team and then went down to the gym floor. We had no clue what we were doing. It was four days of trying to figure this sport out. We were so sore because we were using muscles that we don't typically use every day. I was one of 25 selected to potentially be developed into a handball player. We flew to Iceland and played a handball match right off the plane. It was a matter of just playing and losing and playing and losing and just trying to pick up more and more skills.
What was it like trying to learn the sport with a group of talented American athletes?
CF: Mary Phyl Dwight, Reita Clanton, and I were one of those initial three. When we had a training camp in Slippery Rock, Pennsylvania, that's where Melinda Rhoads joined us. We were the four that went all the way from the beginning, all the way to the Olympics. Then Carol "Coke" Lindsey joined us sometime in there as well.
We had to wear men's uniforms and basketball shoes, nothing was issued to us. But that was the start of it. We lost by so much in the first World Championships. We had to go through and endure situations like that, but we were having fun and we were learning. I vividly remember when we won our first National Team match against the Swiss in a little town in Spain on the Mediterranean Sea, called Castelldefels.
I had to miss some time in classes and in college when we had trips scheduled during the semester. There were times I had to miss events and classes, and my professors were all very willing to work with me. I got independent study classes assigned to me. They were all very accommodating so I could fulfill this dream.
Can you talk about what that Olympic experience was like? Any favorite Olympic memories?
CF: Definitely one of my favorite memories was the Opening Ceremonies. Since our Games was in Los Angeles, I've had a lot of people ask if I would've wanted to go to an Olympics somewhere else. My answer is no. We had to travel everywhere to learn how to play the sport, but none of my friends or family ever got to see me play. Being the host country and home athlete was so much fun. Los Angeles really rolled out the carpet. When we left with our credentials on, people would come up and hug us. It was the best.
Another really good memory was inside the Athlete Village. The Americans were all there in one place. I got to mingle with the athletes from other sports. That was also the year where Michael Jordan took the winning shot with North Carolina, but I didn't know that and I didn't know how famous he was. Sam Perkins and Michael Jordan were on the '84 Olympic Basketball Team. We saw the two of them and Sam let me take a photo with him, and just outside of the frame was Michael Jordan. How silly is that? That was one of my best memories. I could've had my picture with Michael Jordan, but no. Sam Perkins was my guy.
Another great memory was playing our first match where we beat China. It felt like it turned the handball world upside down. The minutes were counting down, we came back from behind, and it got so loud in there that we could not hear each other communicate on defense. The chant of 'U-S-A'…I will never forget that. It gives me chills right now thinking about it. It's just amazing, some of things that we had the opportunity to do.
Do you feel like you apply a lot of the Olympic values to your current daily life?
CF: I demand a lot of them in my students because I know the majority of our students are former athletes. I know how disciplined they are with their sport, but why is that not a lifelong thing? I teach a lot of life skills in my classes and I take a lot of how we're supposed to act as an Olympian, and I try to get my students to buy into that. I respect who they are and what they're doing. I want to get them to understand that you have to respect each other.
What sort of advice would you give to our current athletes about getting through this pandemic?
CF: First and foremost, don't lose your dream. We will get through this. There will be doors that will open and you should not walk, but run through those doors. Take advantage of everything you can. You need to focus on trying to stay in shape. We always told ourselves, we wonder what our opponents doing today. They're in the same circumstances, but what are they doing? Take any country, I don't care, but what are their handball players doing? We motivated ourselves quite a bit with that. The focus, the dreams, all of that has got to stay there. That's hard but that's what makes an Olympian. That's the difference, isn't it? Perseverance, determination, and the ability to pick yourself up off the floor.
How do you feel knowing that the 2028 Olympics will be coming to Los Angeles again?
CF: I hope we can get handball built up better in America by 2028. The national team athletes are going to have to make some big commitments to train for the Olympics. We had to live in a house with 18 women all together for our national team training. I was in the basement with three people laying on mattresses. We crammed people wherever we could.
Think about it, can you imagine? But we made it work. We made it work, and there were so many rewards that went with it. It's that lifelong bond, we all brought something to the table and we had to endure so much together. We had to endure the 1980 boycott. You have to reset your dreams and not lose sight of them.
I hope we can honor the beginnings of the American handball program and for athletes to understand where it started and where it had to go. I want those athletes in 2028 to appreciate being the host country and I think they will. I just can't express how much fun that was.