2021 NACHC Women's Championship (Match Day 1 Summary)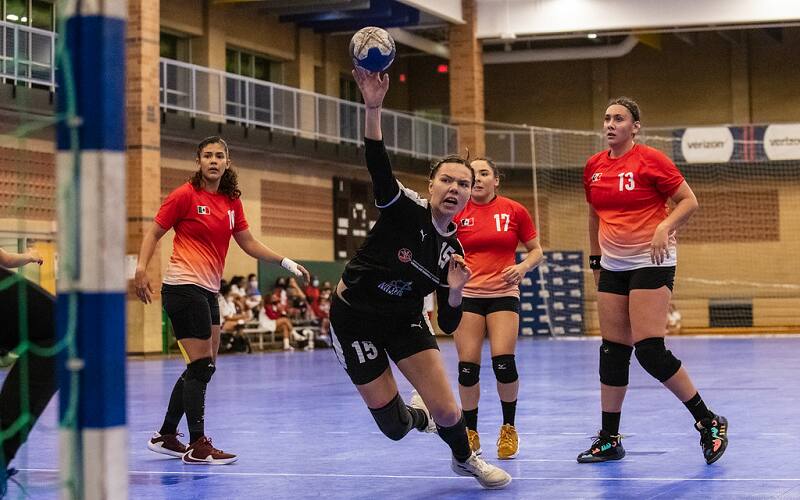 (Greenland's, Sandra Rothburg, takes a shot last night vs Mexico) (Photo: Richard Immel)
Note: For up to the minute results, be sure to check out our tournament page: Link
The 2021 North American & Caribbean Championships got underway last night with Puerto Rico and Greenland picking up wins and 2 points in the standings. Here's a summary of last nights action and a look ahead to match day 2.
Puerto Rico - USA 28-20 (14-8)
Good pressure defense, turnovers and resulting fast breaks helped Puerto Rico get off to a fast start and a 5-0 lead in the first 6 minutes of the match. The U.S. at that point settled down a bit on offense and the two teams traded goals the remainder of the half with the Puerto Rican lead fluctuating between 4-6 goals and an eventual 14-6 lead at the break
In the opening minutes of the 2nd half the U.S. mounted a nice comeback and thanks to back to back goals by Julia Taylor and Maria Vallone cut the lead to just 3 goals (15-12) at the 25 minute mark. Puerto Rico responded, however, and held the U.S. scoreless for the next 10 minutes and the resulting 6-0 run extended the lead to 21-12 at the mid point of the 2nd half. The rest of the match was more even played with the Puerto Rico winning by a final score of 28-20.
On Demand Video: Link
Post Match Video Interviews: Link Coming
Photo Gallery: Link
Match Scoring
Puerto Rico (28)

Erika Graciana (6)
Nathalys Ceballo (5)
Zuleika Fuentes (5)
Joane Vergara (3)
Alanis Benitez (2)
Robeliz Ortiz (2)
Adriana Cabrera (1)
Sheila Hiraldo (1)
Jaline Maldonado (1)
Natasha Escobar (1)
Lizaberth Rodriguez (1)
USA (20)

Binta Carvalho (4)
Bruna Lima (4)
Maria Vallone (3)
Moa Bengtsson (3)
Eden Nesper (3)
Sarah Gascon (1)
Julia Taylor (1)
Emma Ready (1)
Greenland - Mexico 33-27 (17-12)
The opening minutes of the evening's 2nd match got off to a sluggish start with both teams tied at just 3-3 until Greenland took it's first lead at the 10 minute mark with a penalty shot goal by Kathrine Mikkelsen. From that point on Greenland gradually took control of the match and increased their lead to 17-12 at halftime.
In the second half Greenland maintained a lead of 4-6 goals for the entire 30 minutes. Puerto Rico had several opportunities to narrow the gap to 3 goals, but couldn't come through with a momentum building run. And, conversely, every time that Greenland looked like they might pull further away, Mexico was able to get a much needed goal to keep within striking distance. Mexico did try some tactics to change the games dynamic with mixed results. For several possessions midway through the 2nd half they pulled their GK and went 7v6 on offense. This did net some goals, but was offset by some empty net goals for Greenland. Towards the end of the match they also marked, Greenland's Left Back, Lykke Hansen and while this took her out of the match, Greenland was still able to effectively score with the more space created by the 5v5 offensive set.
On Demand Video: Part 1 Part 2
Post Match Video Interviews: Link Coming
Photo Gallery: Link
Match Scoring
Greenland (33)


Anja Heilmann (7)
Kathrine Mikkelsen (5)
Lykke Hansen (5)
Nuunu Lukassen (4)
Andrea Heilmann (3)
Ivaana Holm (3)
Ivalu Bjerge (2)
Aviana Kajangmat (1)
Josephine Gadgaard (1)
Christina Lange (1)
Sandra Rothberg (1)



Mexico (27)

Gemma Leal (8)
Debanhy Arriaga (5)
Jaqueline Lopez (4)
Femanda Rivera (3)
Itzel Vargas(3)
Cinthia Gallegos (2)
Tamara Robles (2)
Standings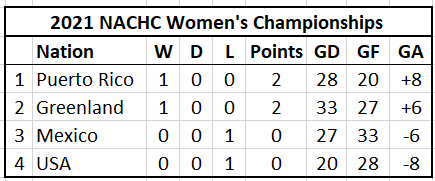 Tonight's Matches
Monday, 23 August

5:00 PM Mexico vs Puerto Rico

7:00 PM USA vs Greenland
Round robin play continues with match day 2 tonight and match day 3 on Tuesday. The top 2 teams in the standings will qualify for the 1st place championship match and thanks to wins last night both Puerto Rico and Greenland can all but qualify for the championship match with wins tonight. On paper, the Mexico - Puerto Rico match could be a pivotal match for qualification as Puerto Rico is fresh off a convincing win for the U.S. and Mexico gave Greenland a tough match most of the way. In the night cap, the U.S. will look to shrug off their loss vs Puerto Rico and look for a better performance vs Greenland.
Live Streaming
Tonight's matches will again be live streamed and available on the USA Team Handball YouTube Channel: Link
Also, we had a few intermittent problems with the stream last night and are taking some step to improve the feed quality. If for some reason we have problems again you may get a notice indicating that the live stream has ended. If that happens, refresh your web browser, go back to the home page for the USA Team Handball YouTube Channel and look for the new live stream link.