Ohio St Handball Travels to Norway over Spring Break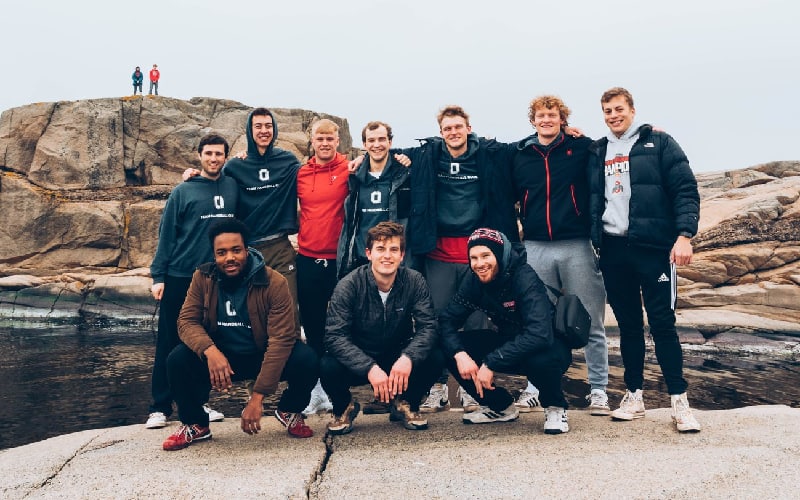 (Ohio State: Front row: Dale Farrow-Harris, Bob Wise, Coach JD Orr; Back Row: Coach Max Littman, Jacob Peri, Luke Bolte, Ryan Burrows, Peter Folz, Matt Bolger, Charlie Harper; On top of the rock in the distance: Daniel Ronis-Tobin and Avery Lyle; Photo: Tommy Bruning)
Last week (12-19 March) the Ohio St Men's Handball club travelled to Norway for some training, competition, spectating and cultural enrichment. The contingent consisted of 10 athletes, 2 coaches and a cameraman. The team was based in the Larvik/Sandefjord area around 80 miles south of Oslo and here's a summary of their week
Training and Competition
During their stay the Buckeyes had multiple training sessions with the nearby Tønsberg Nøtterøy club which plays in Norway's top Men's competition, the REMA 1000 League. These practices were led by different members of Nøtterøy coaching staff including Nøtterøy and USA Head Coach, Robert Hedin, Assistant Coach, Are Ruud and former Bundesliga and current Nøtterøy player, Kenny Boysen. Ohio St had the opportunity to scrimmage Nøtterøy's U18 team and played a full length match against lower division side Tonsberg-Turn. The Buckeyes came away with a 26-25 win which is believed to be the first victory by a U.S. Collegiate team in Europe.
Spectating
Ohio State also had the opportunity to see several live matches during their stay including a REMA 1000 match between Sandefjiord and BSK, a Sandefjiord U20 Women's match, a REMA 1000 Women's match between Larvik and Trondheim, and a Women's match between Oppegård IL and Rygge. The latter match featured, USA Women's National Team goalkeeper, Sanna Wheeler and the Oppegard crowd gave credit for the win to the boisterous Buckeye cheering section. Overall, all the Ohio St players enjoyed the experience of seeing live handball with a typical European atmosphere of horns and drums.
Skiing and Sightseeing
The trip, of course, was also more than just handball 24/7. The team spent a day skiing in Kongsberg, explored the local towns and fjords (see photo), even jumped in 2 degree Celsius water and spent the last day of the trip taking in many of the sights in Oslo. The Oslo tour was given by former Buckeyes and U.S. Jr National Team athlete, Aksel Slubowski.
Thanks
The Ohio State Handball Club would like to thank everyone who helped make their trip a wonderful experience. This includes, Robert Hedin, for helping to coordinate pricing and accommodations for the trip. Norwegian TV Handball commentator, Roger Meyer, for arranging their day to day activities and general hospitatlity. Roger's assistants Stein and Naime for assisting with a variety or items as well as helpful information. And, finally the Wheeler family for helping to coordinate some of their activities and showing the team a true Norwegian experience
More Photos: Link (Courtesy of Tommy Bruning)