Men's Youth Beach Handball National Team Roster Announcement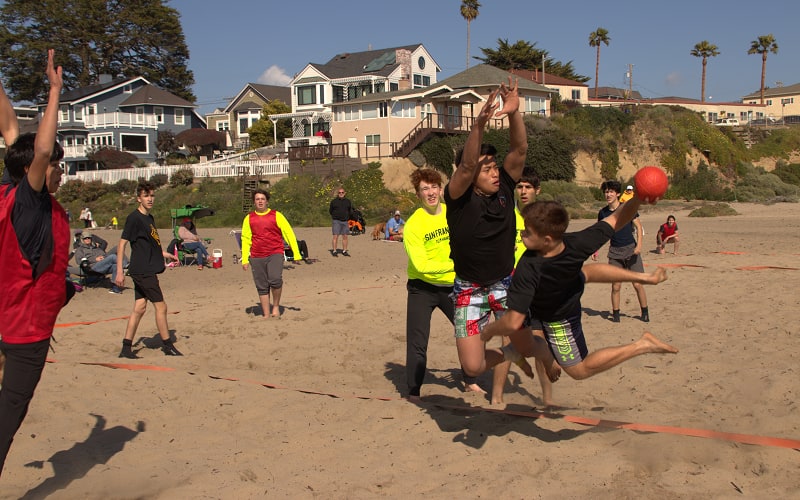 (Aiden Bulow takes a shot against defender, Alexander Ly, and goalkeeper Ezekiel McClintock)
The 10 athletes (and 2 alternates) that will represent the U.S. at the North American & Caribbean Handball Confederation (NACHC) Men's Youth Beach Handball Championships have been selected.
Name
Position(s)
Club/State
Paulo Barr-Gutierrez
Offense
Pioneer HS, CA
Cooper Black
Defense
Milwaukee United HC, WI
Aiden Bulow
Defense/Offense
Cali Kings HB, CA
Colby Condit
Defense
Cali Kings HB, CA
Nicolas Fawzi
Defense/Offense
San Francisco THB, CA
Oliver Goodall
Offense
Cali Kings HB, CA
Ian Hodgson
Defense/Offense
Pioneer HS, CA
Alexander Ly
Defense/Offense
Cali Kings HB, KS
Ezekiel McClintock
Goalkeeper
Pioneer HS, CA
Aaron

Wolf-Bloom

Defense/Offense
Pioneer HS, CA
Alternates
August Aingworth
Defense
San Francisco THB, CA
Cael Crogan
Defense
Pioneer HS, CA
The selection committee consisted of Youth Men's National Team Coach, Martin Bilello, Athlete's Advisory Council (AAC) Representatives Mark Ortega and Ebiye Udo-Udoma and High Performance Manager, Krista Austin.

Clubs from the San Francisco Bay Area Youth League were well represented with several athletes selected. The Cali Kings had four athletes selected: AJ Bulow, Oliver Goodall, Alexander Ly and Colby Condit. Bulow, Goodall and Ly were instrumental in the Cali Kings winning the 2021 Youth California Cup. Pioneer High School also has four athletes on the roster including California Youth League top scorer, Ian Hodgson, 2021 All-Star Team Goalkeeper, Ezekiel McClintock, Paulo Barr-Gutierrez and Aaron Wolf-Bloom. Rounding out the 10 Man roster are Nicolas Fawzi of San Francisco THB and Cooper from Milwaukee United HC.
Head Coach Martin Bilello and Assistant Coach Hannah Ross were very impressed with the competition displayed during the tryout earlier this month. Most of the athletes have been playing indoor handball for several years, but are relative newcomers to the beach game having played in their first Beach Handball tournament competition last summer. Black, Condit, Fawzi and Wolf-Bloom are brand new to the sport but showed great potential during the tryout.
With most of the athletes residing in the Bay Area the team will continue to practice and scrimmage against local athletes. The NACHC Championships are from 24-29 April in Acapulco, Mexico and Mexico and Puerto Rico are also expected to participate. The winner of the tournament (and potentially the 2nd place team) will qualify for the 2022 IHF Youth Men's Beach Handball World Championships in Greece, 14-19 June.
Head Coach Martin Bilello: This is the first time NACHC is holding this tournament and we are very happy to be participating with a team on the men's side. Our goal at the tournament is to compete to the best of our abilities and find our place in the Continental level. From there we will continue working to improve our standing and bring more players into the sport.