USA Team Handball Partnership with Secret Creates Special Opportunity for U20 WNT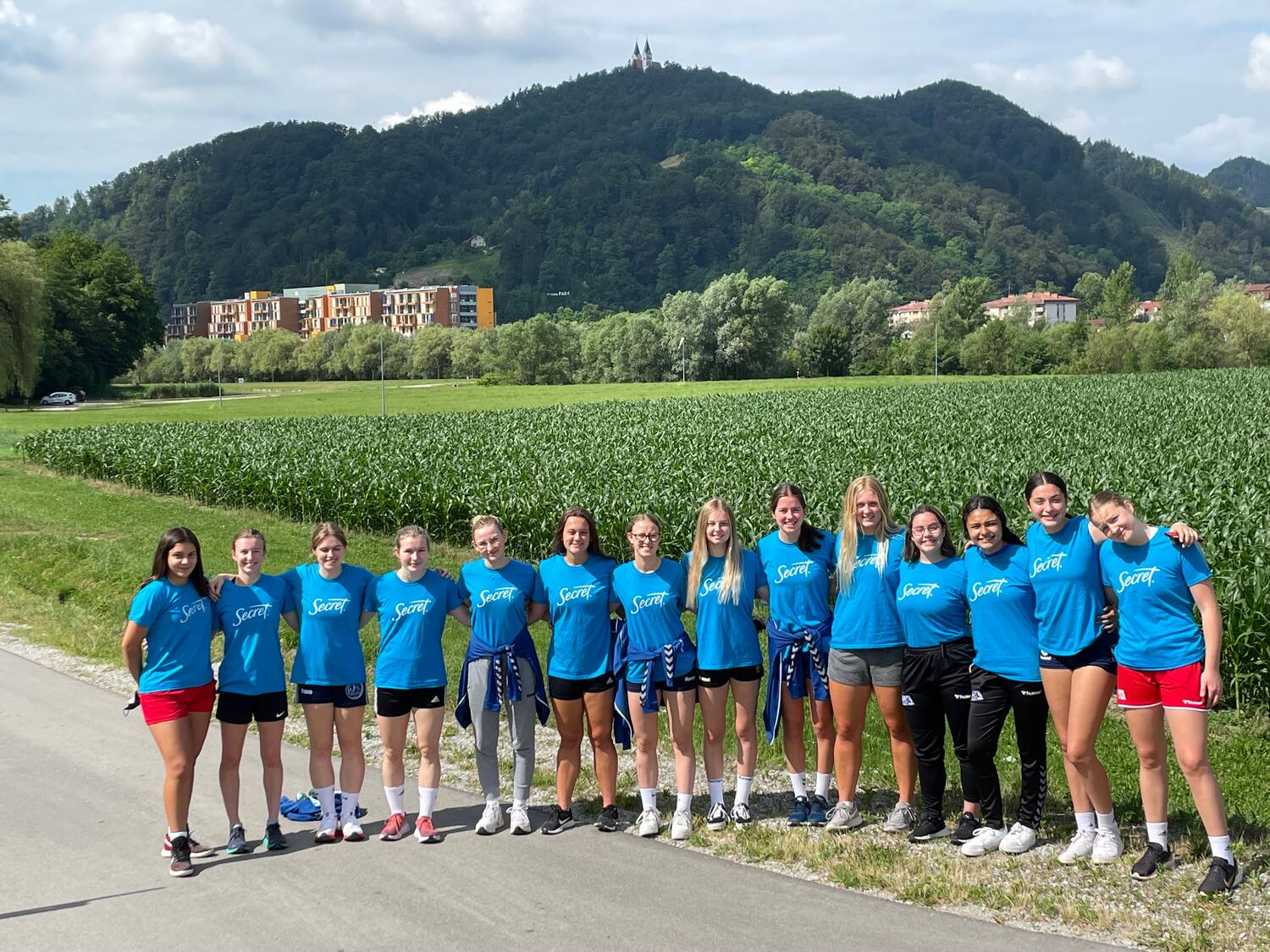 For the first time in 41 years, Team USA qualified to compete at the International Handball Federation's Women's U20 World Championships. After placing second at the North America and Caribbean Handball Confederation (NACHC) Championships in March in Mexico City, the team set their sights on the 2022 Women's U20 World Championships in Slovenia.
For small and traditionally under-resourced organizations like USA Team Handball (USATH), qualifying for a World Championships can seem like both a blessing and a curse. Although the goal of all athletes and coaches is to qualify, the preparation for, travel to, and participation in the World Championships places a tremendous burden on USATH, its athletes, and their families who must provide the resources needed for the team to perform at the highest level.
With the support of Procter & Gamble's brand Secret Deodorant, the first antiperspirant brand designed specifically for women, this young team was able to participate in the World Championships for which they had worked so hard to qualify. USA Team Handball's partnership with Secret®, a brand already recognized for empowering women in sports, provided immediate relief for the team to focus on their preparation and competition.
While on their journey to the World Championships, Team USA battled significant obstacles off the court including: travel delays, lost luggage, injuries, minimal staff, and cases of Covid, which meant the team's roster wasn't truly at full strength until the final match of the competition. The attitude of the team was "there are no problems - only solutions". This team of young female athletes held together strong and faced some of the top teams in the world, including Hungary (2nd place overall), Egypt (15th), and Poland (17th).
Team USA fought throughout the tournament and outlasted continental rival Mexico with a victory, avenging their loss in the NACHC Championships earlier this year. The results demonstrate that while this team is young and developing, they belong on the world's stage.
"I could not be prouder of the resiliency and effort of this group," Ryan Johnson, CEO of USA Team Handball, said. "With far fewer resources than their competitors and facing one obstacle after another, they continued to battle and proved themselves to be the best in our continental confederation, while making significant strides in closing the gap with our European foes. Simply put, without the support of Secret®, this opportunity for Team USA to re-introduce themselves to the world would not have been possible. We cannot thank Secret® enough for making Team USA's participation in the World Championships a reality. We look forward to continuing this partnership in the future - making even more American dreams come true."
About USA Team Handball
USA Team Handball (USATH) is the U.S. National Governing Body for the Olympic discipline of Team Handball, and is responsible for the development of grassroots programs, preparation of national teams for international competition - including the Pan American and Olympic Games - as well as the day-to-day oversight of the sport of team handball in the United States. The mission of USATH is to develop, promote, educate and grow the sport of team handball at all levels domestically, and to enable U.S. athletes to achieve sustained competitive excellence to win medals in international and Olympic competition. USATH is a member of the International Handball Federation, the North American and Caribbean Handball Confederation, and the United States Olympic & Paralympic Committee, and is headquartered in Colorado Springs, Colorado.
About Secret
Secret® was the first antiperspirant brand designed specifically for women, and for the past 60 years, Secret® has been on the forefront of women's lives, leading with innovation designed to provide superior odor and wetness protection. Through the years, the brand has proudly supported women's advancement and equality through its campaigns and communications. Its latest campaign, "All Strength, No Sweat," is a continuation of this commitment to women, celebrating those who boldly challenge the status quo, push through barriers and stand up for what they believe in, without "sweating" the obstacles that may come their way. Secret® challenges women everywhere to be all strength, no sweat.
About Procter & Gamble
P&G serves consumers around the world with one of the strongest portfolios of trusted, quality, leadership brands, including Always®, Ambi Pur®, Ariel®, Bounty®, Charmin®, Crest®, Dawn®, Downy®, Fairy®, Febreze®, Gain®, Gillette®, Head & Shoulders®, Lenor®, Olay®, Oral-B®, Pampers®, Pantene®, SK-II®, Tide®, Vicks®, and Whisper®. The P&G community includes operations in approximately 70 countries worldwide. Please visit http://www.pg.com for the latest news and information about P&G and its brands. For other P&G news, visit us at www.pg.com/news.