Trailblazer Collegiate Conference East Division to Start this Saturday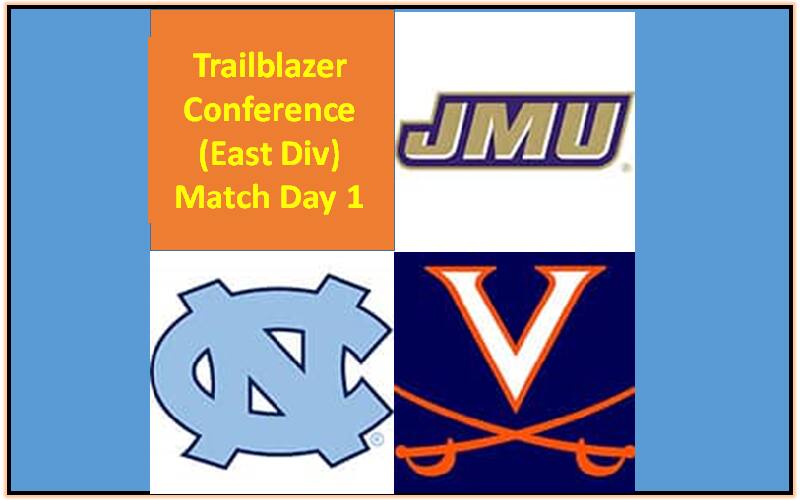 The COVID-19 pandemic has made planning and scheduling the inaugural season of the Trailblazer Collegiate Conference a real challenge, but after some fits and starts the Eastern Division of the conference will get started this Saturday, 29 January as the University of Virginia (UVA) plays host to James Madison University (JMU) and the University of North Carolina (UNC). (Johns Hopkins was unable to attend this weekend.)
The three sides will play a round robin with JMU and UNC playing at 11 AM, UVA - UNC at 2 PM and UVA - JMU at 5 PM (all times US ET). For JMU it will be their first matches of the season while JMU and UNC had the opportunity to compete last November at the Tar Heel Invitational. At that tournament UNC fielded 3 sides. Their first team Carolina and two reserve sides, Tar Heel White and Tar Heel Blue. For this inaugural conference season Carolina is fielding their reserve side, so their team this weekend will feature some of the same athletes that played for the Tar Heal White and Tar Heel Blue in November. At the Tar Heel Invitational, Virginia and Tar Heel White played to a 19-19 draw and the Virginia edge Tar Heel Blue 22-21 in the 7th place match. (Tar Heel Invitational Event Page: Link)
All 3 teams are looking forward to getting back on the court. Here are some quotes from the UVA and UNC coaches
UVA Coach Truman Brody-Boyd:

"I'm incredibly excited to see how this team does in collegiate competition. Because of COVID, at the start of the year there were less than 5 returning players. This team has had to learn the sport from the ground-up, and I'm proud of their progress. This first match day will be a great test for our team and I look forward to seeing them put it all together on the court."
UNC Coach Aaron Hamm: "We are looking forward to this weekend as it will give a lot of guys valuable experience as we lead into our premier home tournament in February, the Carolina Blue Cup. We have a strong team and are excited to go against our neighbors from JMU and UVA!
For results, match reports, match photos, videos and interviews check out the Event Page
Trailblazer Collegiate Conference East Div (Match Day 1) Event Page: Link