Action Packed President's Day Weekend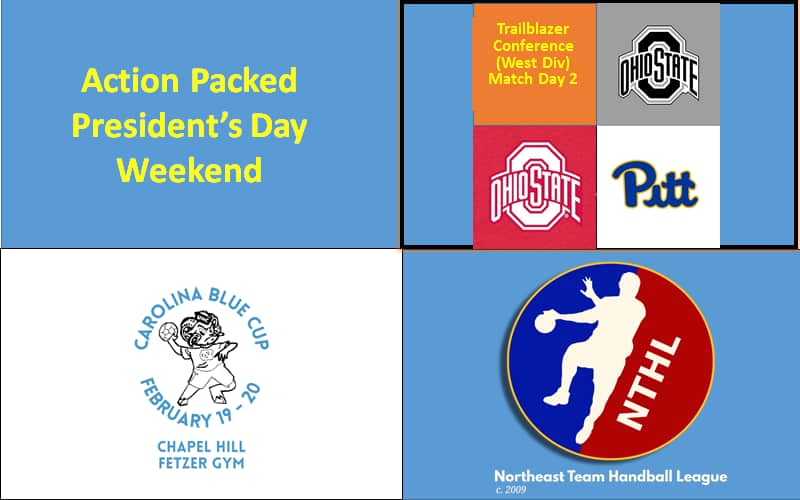 If one is looking for signs that the COVID-19 pandemic is easing a bit and that handball is back in the U.S. look no further than this weekend with 3 simultaneous competitions taking place.
Carolina Blue Cup
The University of North Carolina (UNC) will be hosting the Carolina Blue Cup in Chapel Hill. Nine teams will be competing for the title over two days. The tournament this year has a bit of a collegiate flavor with six of of the nine participants being college sides. UNC will be fielding 3 teams, their 1st team, Carolina, and two development teams, Tar Heel Blue and Tar Heel White. The other collegiate teams are Air Force and Trailblazer East Division rivals, James Madison and Virginia. Rounding out the tournament field are the DC Diplomats and two collegiate alumni sides, Carolina Blue and the UVA Alumni.
Live Stream: UNC plans to live stream most of the matches on their Instagram Account: Link
Carolina Blue Cup Schedule and Results Page: Link
Trailblazer Collegiate Conference West Division Match Day 2
The University of Pittsburgh will host the Ohio State (Scarlet) and Ohio State (Gray) teams. The West Division has had two match days get cancelled due to scheduling challenges related to COVID and these teams are eager to get back on the court. Especially, for Pitt as it will be their long awaited season debut. It will be interesting to see how they fare against Ohio State (Scarlet) which dominated Match Day 1 back in October.
Match Day 2 Schedule and Results: Link
Northeast Team Handball League (NTHL) Match Day 4
The NTHL has their first match day of 2022 in Taunton, Massachusetts.
NTHL Website: Link

Match Day 4: Schedule and Results: Link (To be provided)
2021-22 Club Competition Page: Link

Results and match reports for every sanctioned match played this season

Video links and photo galleries