Tar Heels Dominate Trailblazer Conference Match Day 1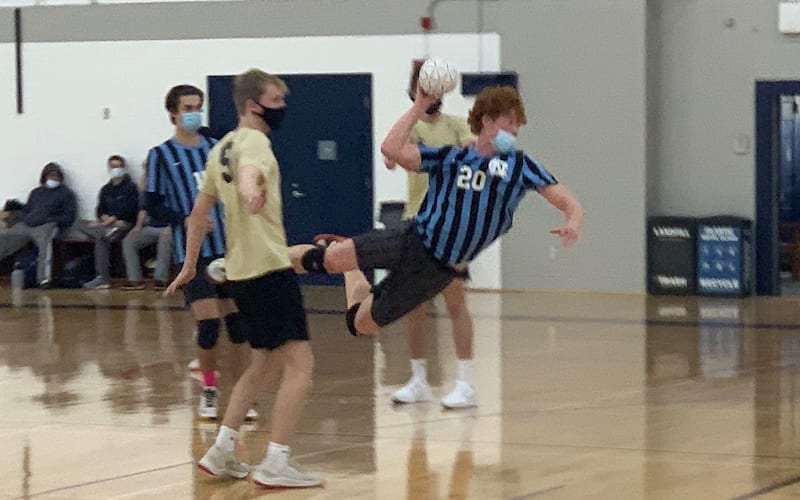 (Tar Heel Freshman Pivot, Hugh Toomey, looks to score versus James Madison) (Close up from an original photo by Calvin Courbois)
The Trailblazer Collegiate Conference Eastern Division had its first match day this past Saturday with the University of Virginia hosting North Carolina and James Madison.
The first match of the day saw North Carolina take on James Madison. James Madison managed to stay in contact with North Carolina in the first half trailing just 10-6 at the break, but the Tar Heels poured it on in the 2nd half for the eventual 30-12 win. Tyler Smith (6 goals) and Holder Wright (4) led the Tar Heels in scoring. Zachary Minor (4) and Curtis Swain (3) were the top scores for JMU.
The 2nd match saw North Carolina roll to another easy win, 25-8, over Virginia. Tyler Smith again led the Tar Heels in scoring with 7 goals with Holder Wright and Hugh Toomey adding 4 goals each. Evan Holeman, Sammy Nayhouse and Nick Winans each had two goals for Virginia.
The final match of the day had James Madison and Virginia each looking to finish the day with a win. Virginia came out on top 25-19. Nick Winans led Virginia in scoring with 6 goals with Jesper Bennet and Truman Brody-Boyd each scoring 5 a piece. Curtis Swain scored 4 goals for JMU with Chistopher Kaciban and Zach Minor adding 3 each.
Reactions from the Teams
North Carolina (Tar Heels)
Coach Aaron Hamm: "We are super pleased with how the Tar Heels performed at their first matchday. Given that all of the players had less than a year of experience, it was great to see them play some real handball and the results are a clear indicator of their hard work and persistence. Specifically, I want to shout out Holden Wright who was asked to play CB, instead of his favored outside back position, and led the team valiantly. Additionally, Roberto Alvarado showed his class in goal all afternoon. More than anything, we were happy that all 15 players rostered scored at least one goal on the weekend, a fitting reward to their efforts."

(Note: The Tar Heels are the University of North Carolina's developmental team)
Virginia
Player/Coach Truman Brody-Boyd: "

I'm very proud of how the team performed throughout our two games. We had an uphill battle against a well-practiced UNC team whose 5-1 defense gave us fits, but we stuck to our offense and got in solid reps that prepared us to be successful against JMU in the following game. Our offense had a much smoother flow in the second game, and our guys locked down JMU's shooting threats. We're looking forward to rematches next month."
Nick Winans: "It was great to be able to get out and start the season. With the start of the season so close to the start of our semester it was always going to be rough on the edges, but I'm proud of how we came together through the two matches. The first game against a good UNC team highlighted much of what we need to work on, and we learned from that and played much better against a strong JMU team. We look forward to being able to play both teams again in less than a month in league play and tournaments."
James Madison
Curtis Swain (Club President): "Saturday allowed the majority of our team to see and participate in a matchday for the first time, and they were finally able to see how fast and physical handball can be. We've lost a lot of players since 2020 but

we had a great turnout at tryouts in the fall.

Obviously, there are some technical things we will work on, but I liked the effort and intensity that our team played with. UVA and UNC are historically great programs; we are thrilled to be in a conference with them and play them multiple times this year. Kudos to all teams and officials who made Matchday 1 as enjoyable as it could be."
Colin Salig: "It was great for us to participate in our first matchday since February 2020. We have a lot of new guys with the team and I'm happy with how the boys played. We have some things we need to improve on but I'm looking forward to our next matchday. I would also like to thank UVA and UNC for participating in a competitive and fun matchday and a special thanks to UVA for hosting the matchday."
Event Page: Link (includes match reports)
Photo/Video Gallery: Link (Photos/videos courtesy of Calvin Courbois)
Results
Standings (After Match Day 1)