Jan O'Shea Passes Away at Age 84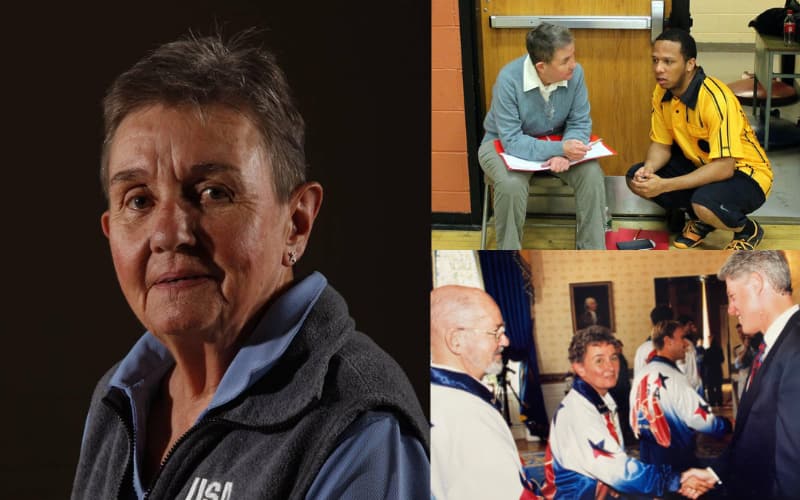 The family of Jan O'Shea has released the following obituary.
Janice Anne Bickford O'Shea, 84, died April 23, 2022 peacefully, surrounded by love.
Jan's passing is a tremendous loss for her loving family, her treasured hometown of Coventry, NY and her many close friends and colleagues across the USA and around the world. She lived a rich life that will leave a lasting impact on so many. Jan was an incredible role model, leader and mentor to many, young and old. She will also be remembered for her faithful dedication to her family, which in her case extended beyond bloodlines.
Jan was born November 19, 1937 and was raised on a dairy farm in Coventry, NY. She graduated Afton High School ('55) and Tufts University ('59). She began law school at Georgetown University Law School and graduated from St John's University Law school in 1962 (something very few women were doing at that time!) Although she didn't practice law in the traditional sense, she brought her training, innate sensibility and intelligence to every opportunity she encountered in her life.
In June 1960, Jan and Don married and so began a legendary love story. Their partnership and support of each other throughout their 43 year marriage was an inspiration to all who know them. Jan was a stay-at-home Mom while she and Don raised their five children and nephew on Long Island, NY. She and Don made sure to provide many adventures for their young family including traveling in the US and abroad. They gave their kids a great example to live by: you can do anything you put your mind to!
In the 1970's Jan was involved in the early days of Title IX and advocated for progressive action by local school districts to comply with the new law. Her athleticism led her to her work officiating high school sports, including volleyball, field hockey, softball and track and field. But it was Jan's love of football that led her to become the first female High School Varsity Football Official on Long Island. Also during this time, Jan became a leader of the Suffolk County Board of Women's Officials and the NYS Track and Field Officials Association, serving as President and in other Executive Board positions.
After the death of their son Danny at age 19, Jan and Don became very involved in the sport of Team Handball, a sport in which Danny had excelled. Their work within the sport expanded through the years and in 1996 they served as Managers for the Men's and Women's USA Team Handball Olympic teams in Atlanta, GA. After Don's passing in 2003, Jan continued in several leadership positions within USA Team Handball and organized many Northeast Team Handball League tournaments. In 2021, Jan was the proud recipient of the second annual Cavy Award for her significant contributions to the sport in the United States . "Mama Jan" cherished her athletes and the many lifelong friendships formed over the years. After Don and Jan retired in Coventry, NY in the early 1990's, Jan became very active in Section 4 Field Hockey Officiating and NYS Track and Field where she officiated and held many leadership positions on and off the field.
Never one to avoid a new challenge, Jan took over the position of Coventry Town Supervisor from Don when he died. She served three terms. Jan later became the Deputy Town Clerk working alongside her friend and Town Clerk Theresa Schultheis, and served in that capacity for eight years until her retirement in 2021. Always community minded, Jan also served in leadership positions for the Coventry Town Museum Association and Coventry Union Cemetery Association. Jan had many deep roots in the community and enjoyed many good times at the Silo Restaurant where she had her own table and was treated like royalty by the staff and owners, who were also her dear friends.
Jan's dedication to her work is only exceeded by her love and devotion to her family. She hosted the O'Shea Family reunion at her home, the "Little House", each summer. Jan's unrelenting emphasis on the importance of family gatherings is largely the reason we celebrated the 50th reunion in 2021 with over 70 people in attendance, spanning four generations. On the Bickford side, the Kark Family Reunion was held at the Little House as well, bringing together more family. She relished the time spent with family which brought her great pride and happiness.
Although Jan's battle with Progressive Supranuclear Palsy in the last years of her life brought new challenges which she handled with her usual strength and humor, it also brought an unexpected upside. Her caregiver Lee Hanyon, another country girl at heart, became more than a caregiver and friend; she became family.
Jan was predeceased by her parents Catherine Evan Comings Bickford and James Nelson Bickford; her husband Donal G. O'Shea; son Daniel James and many other beloved family members. She leaves behind her two sisters Doris Pease and Rebecca Jeffers; her brother-in-law Daniel Jeffers; her sister-in-law Madelon O'Shea; her Aunts Pauline Comings, Anne Thomas and Elsie Bickford and many dear cousins. Jan is also survived by her four daughters Margaret (Peggy and Don) Miller; Sarah (Michael) Rowan; Jeremy (Scott) Knight; Teresa (Bruce) Pirger; her fifth daughter Dazara Ware and her second son Timothy (Lisa) Lynch. Jan is also survived by her loving grandchildren Sean (Breana) O'Shea, Whitney (Joshua) Pimentel, Timothy Miller, Aislinn (Alex) Rowan-Nash, Catherine Miller, Teigan Pirger, Daniel Lynch, Patrick (Olivia) Rowan, Katie Pirger, Julia Lynch, Daniel Pirger, three great grandchildren and many loved nieces and nephews and their families.
In lieu of flowers, please consider making a donation in Jan's memory, to Mercy House of the Southern Tier (mercyhousesoutherntier.com) 212 North McKinley Ave., Endicott, NY or Hospice & Palliative Care of Chenango County (hospicechenango.org) 33-39 Court St., Norwich, NY
Friends may call at the Behe Funeral Home, 21 Main St., Oxford on Tuesday, April 26, 2022 from 4:00 PM until 7:00 PM. A funeral mass will be held on Wednesday, April 27, 2022 at 10:00 AM at Immaculate Conception Church, Greene, NY. Friends and family may share memories and condolences by visiting www.behefuneralhome.com