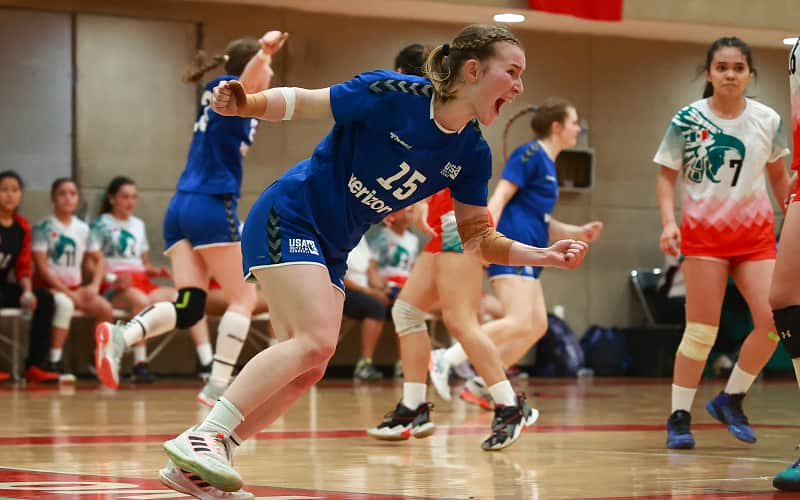 (Team USA's Emma Ready; Photo: Marcos Dominguez)
The U.S. Lost 30-29 to Mexico in the gold medal match at the 2022 Jr NACHC Championships. Unlike their pool play match, a 26-14 win for Mexico, this match was close throughout with the two teams being just one or two goals apart most of the way and the largest lead being a 3 goal lead briefly for Mexico in the 2nd half. Also, unlike the previous match the U.S. was able to respond to Mexico's marking of USA Center Back, Emma Ready with effective backcourt play from Daisy Licea, Lovisa Dobreff and Eden Nesper.
USA Head Coach, Craig Rot, Was contacted after the match and here are his thoughts on the gold medal match, athlete performances and preparation for the Jr World Championships.
On what helped turn things around from their previous match vs Mexico: "We came in very prepared for anything they might do against us defensively, all the while defending each time against the counterattack so we would force them into a set offensive battle against our defense. We also used a very determined second wave to expose their offensive/defensive exchanges, which produced a lot of second half goal scoring opportunities for us. Most important, our girls were ready to fight the full 60 minutes and we almost had it. :

Athletes worthy of some special mention: "Eden Nesper, Emma Ready, and Daisy Licea deserve special recognition. Eden was the leading scorer of the tournament, and had the most difficult task of defending against Mexico's best offensive threats. Emma led this team in all phases of the game, and was the unifying force that helped the girls develop into a team over the course of the training camp and tournament. In the end, when things weren't working, it was Daisy Licea's relentless pursuit of goals that kept us in this game. She is so fun to watch, and such a catalyst in offensive and defense."

On preparation for the Jr World Championships later this summer in Slovenia: "As we turn our focus to Slovenia, we will need to look at the entire junior pool again, and put together a strong team for the world championships. We had many key players who were recovering from injury or unable to change their schedule on short notice. Also, we will need to begin physically preparing ourselves for the rigors of the topmost level of our sport. The training camp in Europe will be key to our success at the world championship.
USA Scoring
Eden Nesper (9)
Emma Ready (6)
Vanessa Binderis (5)
Daisy Licea (5)
Lovisa Dobreff (2)
Julia Rienhardt (1)
Gabrielle Martin (1)
Mexico Scoring
Nicole Legia (8)
Fabiola Ibarra (7)
Brenda Govea (4)
Andrea Garcia (3)
Andrea Pastrana (3)
Perla Fernandez (3)
Jennifer Verdugo (2)
Match Video: Link (USA - MEX match starts at 2:09:40)
Photo Library: Link (Photos: Marcos Dominguez)
Event Page (with data from all matches): Link