USA Jr Women Lose to Mexico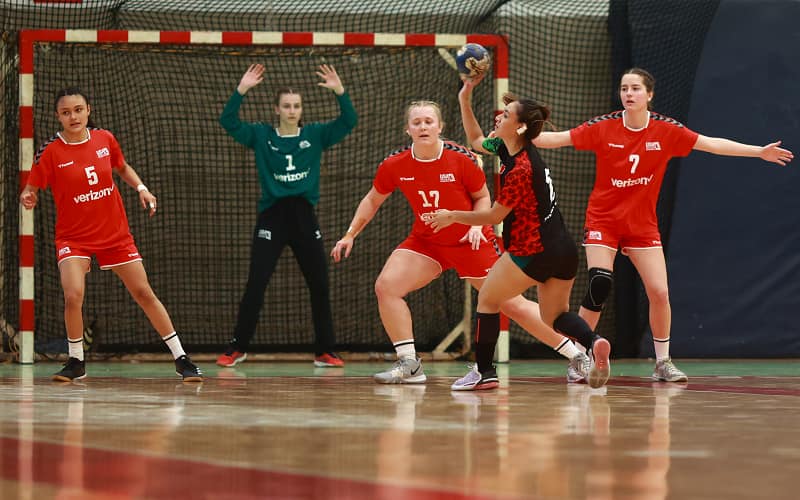 (Daisy Licea, Marissa Faulkner and Lovisa Dobreff on defense with Julia Malysz in goal; The U.S. bottled up the Mexican attack for most of the night, but struggled offensively. Photo: Marcos Dominguez)
In a battle of unbeatens last night Mexico bested the U.S. 26 to 14 to assume sole possession of first place in round robin, group play. Mexico got off to a fast start and thanks to some USA turnovers and fast breaks quickly raced ahead a 6-1 lead. Following a timeout, the U.S. was able to settle things down and thanks to a combination of great defense and goalkeeper play by Julia Malysz they were able to stem the tide and keep pace with Mexico for a halftime score of 11-6
In the 2nd half, however, the U.S. continued to struggle on the offensive end and was never able to mount a comeback. With the U.S. struggling on the offensive end, Mexico was able to gradually extend their lead to a high water mark of 14 goals (23-9) with around ten minutes left. The U.S. was able to cut into that lead the rest of the way for the eventual 26-14 final score.
Key to Mexico's defensive success was a tactical decision to defensively mark, USA center back, Emma Ready. The handball equivalent of a "box and 1" basketball defense, defensively marking an offensive player effectively removes that player from the attack. Ready, who scored 7 goals in Monday's USA victory over Canada moved to the wing and the U.S. struggled for most of the match to get into a consistent, effective rhythm on offense.
Here's some feedback from USA Head Coach, Craig Rot
Thoughts about the game:

There was a lot of good and there was a lot of bad for us in this game. If before the game, you said Mexico would only score 11 goals in the first half, I would have said I would be extremely happy. But the opposite is also true, because if you said we would only score 6 goals I would be unhappy. There are a lot of positives to build on and a lot of problems to correct.
Strengths and weakness: On defense, we played extremely well, limiting Mexico's opportunities to breakthrough our gaps. On offense, we couldn't find a playmaker to replace Emma after she was marked. This failure is mine and mine alone.
Focus: Our focus going forward is to find continuity in all phases of the game.
Tonight the U.S. gets a chance to shake off the disappointing loss with a match vs Puerto Rico. Puerto Rico lost it's first two matches to Mexico by 39 and 20 goals respectively so on paper it should be an opportunity for the U.S. to work out some of the kinks from the Mexico loss. Assuming the U.S. does take care of business they will then await the outcome of the Mexico vs Canada match to see who they will play on Friday. If Mexico wins or the match is a draw, the U.S. will get a rematch vs Mexico on Friday in the Gold Medal match. If, however, Canada pulls off an upset, the U.S. will play Puerto Rico for bronze. The U.S. - Puerto Rico match can be seen live at 5:00 PM (US ET) on the Mexico Olympic Committee Facebook page: Link
Match Report: Link
Match Video: Link (PUR - CAN match starts at 0:10:55)
Match Video: Link (MEX - USA match starts at 2:04:55)
Photo Library: Link (Photos: Marcos Dominguez)
Event Page (with data from all matches): Link
Standings (After Tuesday's Matches)
| | | | | | | | | |
| --- | --- | --- | --- | --- | --- | --- | --- | --- |
| Rank | Nation | Win | Draw | Loss | Points | Goal Differential | Goals For | Goals Against |
| 1 | Mexico | 2 | 0 | 0 | 4 | +51 | 80 | 29 |
| 2 | Canada | 1 | 0 | 1 | 2 | +17 | 54 | 37 |
| 3 | USA | 1 | 0 | 1 | 2 | -9 | 39 | 48 |
| 4 | Puerto Rico | 0 | 0 | 2 | 0 | -59 | 27 | 86 |
USA Scoring
Hannah Faulkner (3)
Marissa Faulkner (2)
Isabella Da Cruz (2)
Eden Nesper (2)
Daisy Licea (1)
Lovisa Dobreff (1)
Ariane Clerc (1)
Gabrielle Martin (1)
Emma Ready (1)
Mexico Scoring
Nicole Legia (6)
Monserrat Antunes (4)
Jennifer Verdugo (4)
Brenda Govea (3)
Fabiola Ibarra (3)
Andrea Pastrana (2)
Ashley Sanchez (1)
Andrea Sanchez (1)
Andrea Garcia (1)
Valeria Virgen (1)
Match Video: Link (USA - MEX match starts at 2:04:45)
Photo Library: Link (Photos: Marcos Dominguez)
Event Page (with data from all matches): Link