USA Rallies for 25-22 Win Over Canada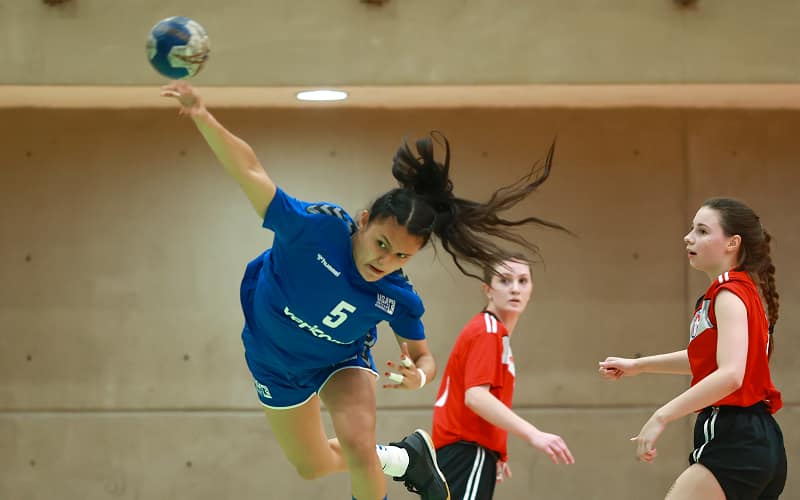 (Daisy Licea helped spark a big 2nd half comeback for Team USA; Photo: Marcos Dominguez)
The USA Jr Women's National Team started their Jr North American & Caribbean Handball Confederation (NACHC) Championship campaign with an important victory over Canada.
The first half got off to a slow start with both teams turning the ball over several times and trading scores. Canada shook off the opening game jitters first and went on a 4-0 to take an 8-4 midway through the half. Following a timeout the U.S. got back on track with a 4-0 run of their own with Emma Ready tying the match back up at 8-8 on a breakthrough goal. Canada, however, turned the tables yet again to take a 13-9 lead In the 27th minute At that point things looked dire as due to a combination of fouls and substitution errors the U.S. found itself down to just 3 court players. However, instead of Canada being able to add to the lead Eden Nesper managed to score twice, keeping the score to hold pace with Canada and a halftime score of 15-11. (The sequence can be seen on the Facebook video starting at 1:36:15) Overall, it was a disappointing first half for the U.S. and, but for a solid performance in goal by Julia Malysz the deficit might have been greater.
While Canada had the edge in the first half, the second half was an entirely different story as a combination of lock down defense and more aggressive offensive play helped turn the tables for the U.S. Key to the U.S. comeback was the installation of Daisy Licea at right back. Combined with Emma Ready at center back she provided another scoring option consistently beating the Canadian defense for breakthrough goals. Those breakthrough goals along with solid defense leading to turnovers/fast breaks resulted in a dominating 8-1 run that turned a 15-11 halftime deficit into a 19-16 lead for the U.S. Midway through the second half Canada managed to get back on track and thy rallied to to level with the U.S. twice at 19-19 and 21-21 with 5 minutes remaining in the match. Following a timeout, however, the U.S. took back control of the match for good and for a final score of 25-22.
After the match, Coach Craig Rot was pleased with the teams performance in turning a four goal halftime deficit into a three goal win. He praised the team's defensive effort and credited newcomer, Viva Kreis, with her defensive play as it took Canada's right wing out of the offense and disrupting their flow on offense. Check out the full interview here: Part 1 Part 2
In the second match of the day, Mexico easily beat Puerto Rico, 54-15. The U.S. will now play Mexico tonight at 7:00 PM (US ET) with the winner of the match moving to sole possession of 1st place in the round robin standings. The match can again be seen live on the Mexican Olympic Committee Facebook Page: Link
USA Scoring
Daisy Licea (7)

Eden Nesper (7)

Emma Ready (5)

Lovisa Dobreff (3)

Julia Rienhardt (2)

Hanna Faulkner (1)
Canada Scoring
Norah Blaise (5)

Jeanne Dolbec (4)

Elise Bonys (4)

Frederique Naud (3)

Kyia Stefaniuk (2)

Emie Allard (1)

Lyvia Paul-Hus

(1)

Teryl Gyte (1)

Annabelle Reid (1)
Match Report: Link
Match Video: Link (USA - CAN match starts at 1:02:45)
Match Video: Link (MEX - PUR match starts at 3:04:30)
Photo Library: Link (Photos: Marcos Dominguez)
Event Page (with data from all matches): Link
Standings (After matches played on Monday)