USA Comeback Falls Short in 2nd Match vs Luxembourg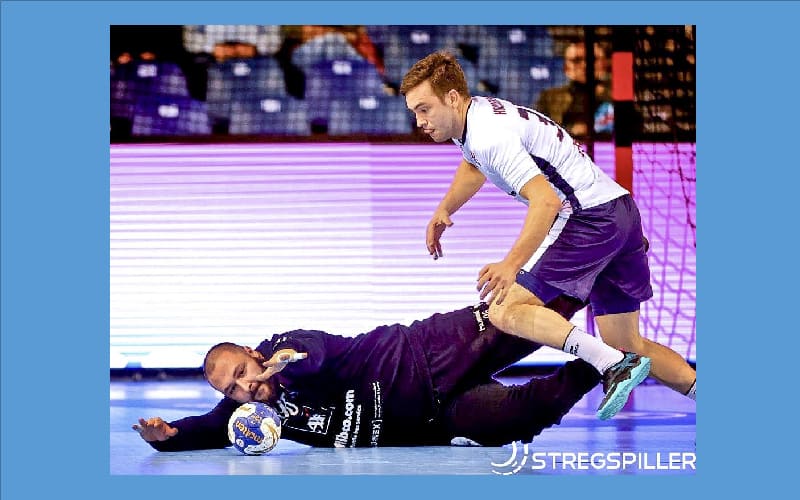 (Sam Hoddersen led the U.S. in scoring with 6 goals on Saturday. Photo courtesy of @stregspiller)
Luxembourg turned the tables on the U.S. Men on Saturday night with a 28-26 victory. Friday's match had seen the U.S. lead from start to finish to win 30-24. A relatively convincing victory with Luxembourg never really threatening to make the match closer. Saturday's match was almost a mirror image with Luxembourg leading from start to finish and the U.S. only making it close in the final minutes.
Luxembourg opened the scoring and while Amar Amitovic matched it for a 1-1 tie, Luxembourg scored 3 straight to make the score 4-1. The U.S. settled down into a better offensive rhythm, but could not fully catch up to Luxembourg. Then with the score 7-5 some miscues allowed Luxembourg to go on another 3-0 run for a 10-5 lead. The U.S. managed to cut into that lead and following a goal by Gary Hines with 2 minutes left in the half the score was narrowed to 14-12. At which point Luxembourg again responded with a 3 unanswered goals for a 17-12 lead at the break.
The first 23 minutes of the 2nd half was more of the same with the U.S. coming no closer than 3 goals. Then with the score 25-21 with 7 minutes left the U.S. called timeout and implemented a 7v6 offensive strategy. This tactical move eventually got results with the U.S. cutting the lead to 27-25 in the final minute and further narrowing it to 27-26 in the final seconds before a goal by Luxembourg at the buzzer went in for the final 28-26 score.
Sam Hoddersen had another solid performance and led the U.S. in scoring with 6 goals while Ian Hueter and Gary Hines each had 4. The U.S. men will return to their European based clubs and will likely get back together in early January for another training camp and friendly matches at a location TBD.
Post Match Interview
Coach Robert Hedin reflected on Saturday's match, the training camp and plans for the U.S. Men in the upcoming months Check out this interview to hear his perspective: Link
USA Scoring
Sam Hoddersen, 6 (2 Penalty)

Ian Hueter, 4

Gary Hines, 4

Patrick Hueter, 3

Max Binderis, 3

Alex Chan, 3

Amar Amitovic, 2

Abou Fofana, 1