USA Men to Play Two Friendly Matches vs Luxembourg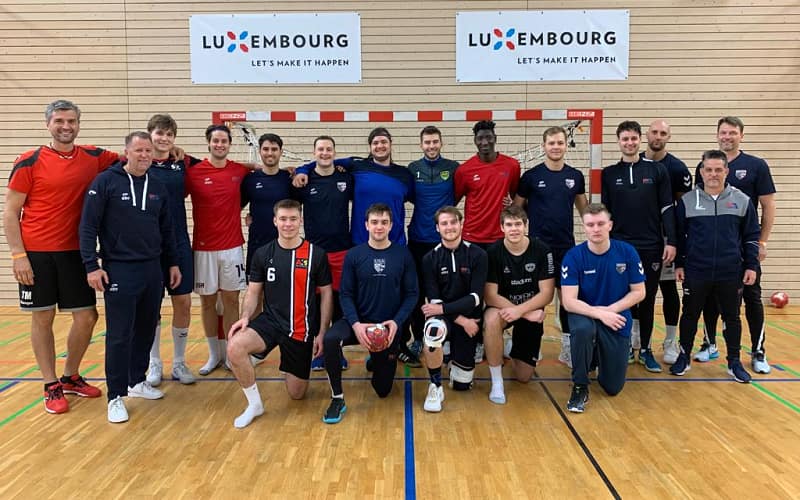 (U.S. Men training in Luxembourg)
The U.S. Men's National Team is currently training and preparing for two matches vs Luxembourg this Friday and Saturday night. Due to the COVID-19 pandemic it will be the first International matches for the men since they took part in a 3 nation tournament in Ireland in October 2019. The U.S. had been scheduled to participate in the 2021 World Championship in January, but was forced to withdraw before the tournament started due to positive COVID-19 test results.
Men's Roster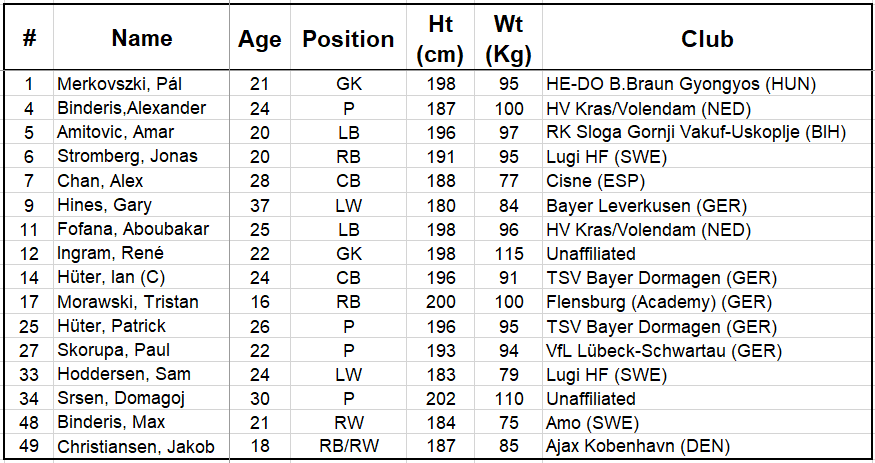 14 of the 16 athletes selected for the camp were part of the final 20 Man roster selected for the 2021 World Championships. Joining them is Pivot, Alex Binderis, who plays pivot for HV Kras/Volendam in the Netherland and right back, Tristan Morawski, who is training at the Flensburg Academy in Germany. Assuming Morawksi sees action this weekend, at 16 years old, he will likely become the youngest athlete to ever represent the U.S. Sr Men in international handball competition.
USA Staff
Head Coach: Robert Hedin
Asst Coach: Tomasz Morawski
Team Leader: Andreas Hertelt
Trainer: Camilla Sahlin Pettersen
Video Analyst: Julio Sainz
The Opposition: Luxembourg
The U.S. will play two friendly matches vs Luxembourg on Friday and Saturday night as part of the Luxembourg Federation's 75th anniversary celebration. On Friday, the Luxembourg - USA match will be the curtain raiser for a neutral site match between two of the top teams in the world, Germany and Poland.
On Wednesday, Luxembourg played Portugal, losing 39-21 to the heavily favored Portuguese side. In its most recent international competition Luxembourg won their initial Euro 2022 Qualification Group with convincing wins over Bulgaria, Great Britain and Ireland only to lose in the next phase to Estonia. In 2019 at the IHF Emerging Nations Championships the U.S. lost to Bulgaria and finished behind Great Britain. The U.S. has had several roster additions, however, since that competition and these two friendly matches will be a good opportunity to see how the U.S. will fare against a competitive, but lower ranked European side.
Quotes
Team Captain, Ian Hueter: "It's great to have the team back together and everyone is in good spirits. Not getting to participate at the 2021 World Championships was a real disappointment, but we've moved on and we are really looking forward to showing how we've advanced as a team Friday and Saturday night."

Coach, Robert Hedin: "The training camp is going well. The players look physically ready and we are making progress in integrating everyone into our system. These matches vs Luxembourg will be a good opportunity to measure where we are as a team and will help us prepare for the North American & Caribbean Championships next year."
Schedule
Friday, 5 November

Luxembourg vs USA

5:30 PM (CET) 12:30 PM (US ET) Video Link (Unfortunately, the feed is geoblocked in the U.S.)

Saturday, 6 November

Luxembourg vs USA

6:00 PM (CET)

1:00 PM (US ET) Video Link
(Note: Europe has already ended Daylight Saving Time (DST) while the U.S. ends DST this Sunday. That is why US ET is just 5 hours behind CET, instead of the usual 6 hours.)