Asian American & Pacific Islander Heritage Month Roundtable With The USATH Community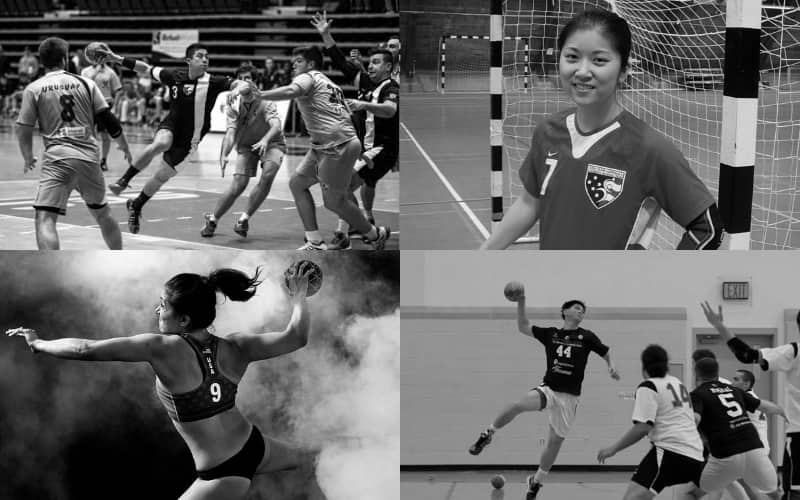 May is Asian American and Pacific Islander Heritage Month. The holiday was created in 1977 to commemorate the immigration of the first Japanese people to the United States (May 7, 1843) and to mark the anniversary of the completion of the transcontinental railroad on May 10, 1869, according to the Library of Congress. Many of the workers that laid the tracks for the railroad were Chinese immigrants. Now, AAPI Heritage Month serves as a celebration of the accomplishments of several generations of AAPI citizens, as well as a month of reflection and re-education on the obstacles and challenges still faced by AAPI citizens in the United States today.
In honor of AAPI Heritage Month, USA Team Handball interviewed several members of the handball community to celebrate their achievements within the sport and learn more about their experiences. Former Men's National Team athlete Carsen Chun, current Women's Beach Team member Rachel Wong Walker, longtime club handball player Shigang Tian, former Women's National Team athlete and 2013-2019 USA Team Handball Board member Jennie Choi and USATH Communications Manager Melissa Zhang were among those to share their thoughts on AAPI history, their role models, and more:
USATH: Tell us a bit about your handball background and how you got into the sport:
Shigang Tian: "I started my professional handball training in China in 1984. From 1984-2001, I participated in almost all national and international handball competitions. I was doing a lot of youth handball development and really involved in growing the game on the youth level. In 2004, I moved to the United States and joined New York City Team Handball Club, playing with them from 2006 to 2019. For the last two years, I have been playing for the Long Island Tigers handball club. I've participated in almost all the handball tournaments in the Northeast region and almost all of the national competitions from 2006 to now."
Rachel Wong Walker: "I got into handball in 2012 during the London Olympics. At the time, I was playing beach flag football, and a teammate was going to check out indoor handball. I've always liked trying new things, so I went to a practice and started playing for the Los Angeles Team Handball Club. The next summer, the team introduced me to beach handball. Beach handball involves 360-degree spins and lots of jumping that I felt comfortable with, since I've done both gymnastics and ice skating. I was very fortunate to be selected for the 2018 Pan American Team and played against some of the best beach players in the world. I dislocated my shoulder again in 2018, then became pregnant and gave birth to a beautiful baby boy in 2019. I've been navigating the road to recovery since then. Hopefully someday soon, I can represent the USA with honor and help grow the sport of beach handball."
Carsen Chun: "After playing both basketball and football growing up in Honolulu, Hawaii, I was introduced to team handball in my freshman year at the United States Air Force Academy. Shortly after, I was recruited for the Men's National Team and competed in the 2009 Three Nations Tournament in Timmendorfer Strand, Germany, where we competed against the Luxembourg and Ireland national teams as well as Bad Schwartau of the German Bundesliga's 2nd Division. Along with some of my U.S. teammates, I joined German club SG Nussloch in 2010 to continue my training. I was selected to the World Class Army Program for enlisted athletes in 2014 and participated in the USA Team Handball Residency Program in Auburn, where I continued my full-time training as a handball athlete."
Jennie Choi: "I first discovered handball at the United States Military Academy at West Point, where I played on the West Point handball team for all four years. I ended up earning a spot in the Army World Class Athlete Program (WCAP), so that I could fully dedicate myself to my handball training. I played on the U.S. Women's National Team from 2004 to 2007, spending a season training overseas with a Swedish handball team. After my playing career, I earned my referee certification and wanted to continue giving back to the sport in other ways. I served on the USA Team Handball Board of Directors from 2013-2019."
Melissa Zhang: "I was first introduced to handball in 2019, while working in the Communications Department of the U.S. Olympic & Paralympic Committee to tell the stories of our country's incredible Olympic and Paralympic athletes. Our chief of communications at the time asked me if I knew about, or had even laid eyes on, this incredibly popular sport in the rest of the world called handball. Of course, after doing a quick YouTube search, I was in a state of total confusion – how was it that I had never even seen this sport before? The opportunity to share this fast-paced, high-scoring, incredibly fun Olympic sport with more Americans was too exciting and unique to pass up. It didn't take me long at all to realize just how much potential handball has in America. I feel incredibly lucky and grateful to have been given this chance to work with our handball community and hopefully share this sport with many more sport-loving individuals like myself."
USATH: Who are some of your Asian American and Pacific Islander role models?
Tian: "Volleyball legend Lang Ping has always been an AAPI role model for me because she is the first Chinese coach of the U.S. Women's Volleyball Team, and she helped the U.S. women achieve great success and a historic breakthrough for their program. Olympic fencer Wang Huifeng, who won a silver medal at the Atlanta Olympics while representing China, is another one of my idols. She coaches the youth fencing program in Boston, training a large number of outstanding youth fencers for the United States. I also admire Qin Xuejing, a silver medalist in women's softball at the Sydney Olympics, who is now a junior women's softball coach in New York City. As excellent athletes from China, they are my role models. My goal is to do my best to help the U.S. Men's National Team grow and be successful in the future, so that I can be a role model for younger athletes."
Choi: "Growing up playing sports, I didn't know a lot of Asian American female athletes. So I loved watching Kristi Yamaguchi and Michelle Kwan excel in their sport, especially at the Olympics. It was exciting to see American women who looked like me compete at the highest levels and on the biggest stages around the world. In the non-sports world, I really admire Senator Tammy Duckworth. She has endured so much as a Purple Heart recipient, Iraq War veteran and Black Hawk helicopter pilot, and the first Senator to give birth while serving in office. She speaks her mind and advocates for veterans, working families, and social justice, among many other important issues."
Chun: "My biggest AAPI role model in sports is Tiger Woods. Not only do I enjoy playing golf, as he does, but also because I admire his mental fortitude when he's on the course. Nothing can faze him. Plus, he has great confidence in himself and his abilities."
Wong Walker: "I grew up watching [three3-time Olympic medalist] Amy Chow. I was a competitive gymnast, and no one looked like me, except Amy. She had style, grace, and power. The culmination of everything was when she made the 1996 Women's Olympic Gymnastics Team and they took gold, becoming the first American gymnastics team to do so. She made me feel like I could do anything. To this day, I think about her and gymnastics fondly. I remember when she came to practice at our gym and I was in awe the whole time. There weren't many athletes that looked like me, which made her success that much more special."
USATH: What has your experience been as a minority athlete in handball?
Tian: "I don't think I am a minority player in team handball because Team USA is a united big family whose family members come from all over the world. Nowadays, handball in China and even across Asia is making rapid progress, especially in the development of its club programs. As it stands, team handball in the United States is a long way from that of China, or even Asia and Europe. There is a big gap in both the number of athletes and the quality of training. I hope we can see more growth in the training of young people and in the coaching experience levels."
Chun: "I have never felt like a minority athlete in handball. Even if there were not that many Asians playing handball with me, my personal experience was that every teammate on every team I played on didn't care about my race or even if I was a minority. They treated me as a human who loved the sport, which helped me learn and grow alongside my peers. So my experience has been nothing but great for me, especially because I made some great friends by playing handball."
USATH: "How can USA Team Handball be more inclusive for Asian and Pacific Islander athletes?"
Wong Walker: "I think we need to celebrate each other's cultures. The Lunar New Year is one of the most celebrated in the world, but there was relatively little emphasis on it here in the States. I think we could celebrate it as much as we celebrate Christmas. I think that also goes for a lot of holidays, like Juneteenth, Chanukah, and Ramadan. We can always emphasize those holidays a little bit more to make others feel more included in handball.
We should also try and work with the Asian handball federations and work together to build this sport in our respective countries. We've definitely heard about our work with the European handball federations – making an effort to also get involved with Asian handball would also go a long way towards helping the sport grow and benefit a diverse range of communities."
Chun: "I think USA Team Handball needs to grow the sport because of the sport and its potential in this country, not because we are lacking in a certain race. As long there is equal opportunity and the best players are chosen, then hopefully those in the AAPI community can step up and proudly represent their heritage."
Choi: "I think inclusion stems from representation and accessibility. If people see more AAPI in leadership roles, committees, and within the community, they may be more inclined to learn about the sport and play or get involved. Also, spreading the word and reaching out to AAPI groups and organizations around cities and schools, and partnering with other events in an area could be great opportunities to grow handball around the country."
Tian: "I think the environment of American handball is very good and has great potential. It gives athletes from different regions enough space for development and fair opportunities. This will be enough for AAPI players to show what they can do. So, I think we should be doing everything we can to recruit players into this environment and help them show off their talents. If we all work together, we can make USA Team Handball outstanding, both as a culture and as a team."
Zhang: "One of the things I love most about handball is its potential to be one of the most inclusive sports out there. It's easy to learn and there are virtually no barriers to entry; you don't need any expensive equipment or facilities, all you need to play is a ball and maybe some tape for some goals. I think we have a long way to go in terms of welcoming a more diverse group of individuals and getting more marginalized communities into the sport. We're working hard with our newly established DEI Committee to lay out the steps to achieve that in the future, so that our handball community is one that is diverse, equal and inclusive to all. I look forward to the day when I see higher levels of representation in sport as a whole."
USATH: What are some resources to learn about AAPI businesses, books, organizations, or media to support?
Wong Walker: "A book recommendation is Minor Feelings: An Asian American Reckoning by Cathy Park Hong. I started diving into more books with social justice messages last year. I read this book, and a lot of the message resonated with me. I thought it was a good reflection on how an Asian American woman has had to grow up in the United States. It also touches on some Asian American history that I think people forget. It brings a lot back to the forefront and offers a lot to think about."
Zhang: "In terms of media, I've really enjoyed watching Minari and Hasan Minhaj's Homecoming King in recent years. I think both did a great job at expressing what it's like to move to the United States as an Asian immigrant family, which is what my mother and father experienced when they came to America for graduate school, leaving their families and friends behind as the only individuals from their respective families to leave China. Especially with the recent rise in hate crimes against Asians in this country during the pandemic, I truly hope that we're able to see more representation and more open dialogue around racial injustice as a whole."
Choi: "There's a media outlet called NextShark which features a lot of Asian American news on a wide range of topics such as entertainment, politics, culture, etc. They're on all the major social media platforms too so easy to follow and digest. Authors like Amy Tan and Jhumpa Lahiri have written some great books about the Asian American experience and coming from immigrant families - most well-known are probably The Joy Luck Club (Tan) and The Namesake (Lahiri). I've also learned that Asian Chambers of Commerce in cities are a great resource to get to know local businesses, events, and contacts."