USA Team Handball Announces Women's National Team Preliminary Roster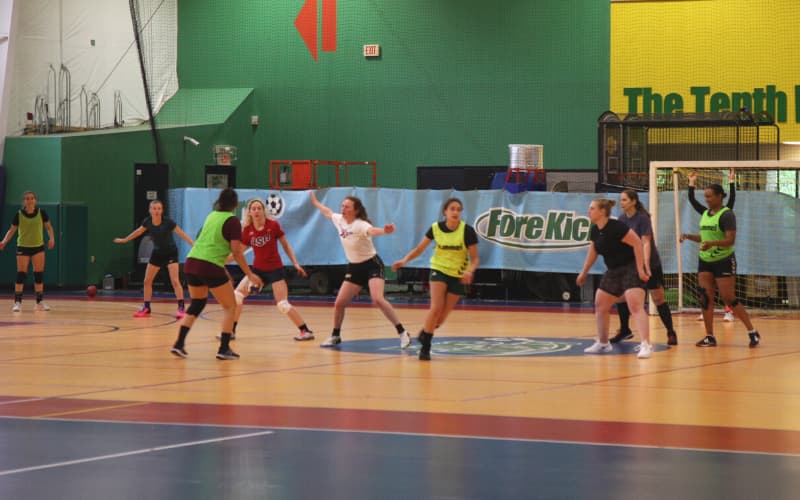 USA Team Handball (USATH) Women's National Team interim head coach Julio Sainz announced today the preliminary roster of 28 athletes for the Women's National Team. The Selection Committee met as stipulated by selection procedures on June 7, 2021.
The committee was comprised of Sainz, Women's Junior National Team head coach Craig Rot, Women's Beach National Team head coach Lisa Dunn, recently retired Women's National Team handball athlete and former USATH board member Tomukei "T" Ebuwei, current USATH board member and athlete representative Mark Ortega, and USATH CEO Ryan Johnson (non-voting member).
"I'd like to commend our coaching staff and all of the athletes that participated in this process for their commitment to the sport. The last year has been incredibly challenging for athletes to train and stay prepared for these kinds of opportunities," said USA Team Handball Chief Executive Officer Ryan Johnson. "Our entire community is behind these athletes as they prepare for the NACHC Women's Championships later this summer in Elgin. We can't wait to see them take the court and represent Team USA."
A total of 53 candidates were evaluated during the process, with 28 earning a spot on the preliminary roster and eight getting added to the Women's National Team pool. The final roster selection will be announced on the day of the technical meeting for the 2021 North American and Caribbean Handball Confederation Championships, to be held in Elgin, Illinois this August.
The list includes local talent from clubs including Boston Team Handball Club, Rogue Handball Club, Army West Point Handball Club and New York City Handball Club. It also includes an array of American players currently training abroad in clubs from France, Norway, Germany, Denmark, Sweden and Canada.
"I feel the selection of these athletes was fair and inclusive; we looked at this selection process from a holistic perspective, and the selection committee assisted me well in keeping our vision. The group is very balanced, as we selected athletes from all areas of the development spectrum," said interim head coach Julio Sainz.
"As I promised, we looked at our local talent and found good athletes based here in the U.S. who form our local competition. Also, we felt it was important to allow experienced players to begin passing their knowledge and experience to the up-and-coming generation; therefore, the group has a combination of talent that not only will help us with our immediate task of qualifying for Worlds, but will help with the future outlook of our program. I am confident we will be able to represent our country well."
U.S. Women's National Team (Preliminary Roster)
Name

Age

Club

City/State of Residence

Binta Carvalho

30

Boston Team Handball Club

Chicago, Illinois

Bruna Lima

29

Boston Team Handball Club

Quincy, Massachusetts

Cecile Brown

20

Iddretslaget

ROS

Oslo, Norway

Christine Marie Kaffka

23

Army West Point Team Handball

Scott Township, Pennsylvania

Eden Nesper

16

TV Hannover Badenstedt

Hanover, Germany

Elizabeth Hartnett

30

Rogue Handball

Fullerton, California

Emilie Johansson

20




Linköping, Sweden

Emily Myrmo

20

Bærum Topphåndball

Gjettum, Norway

Emma Ready

17

Vikhammer HK

Malvik, Norway

Gabrielle Martin

17

Handball Quebec Team & Celtique Handball Club

Montreal, Canada

Isabela Da Cruz

15

Boston Team Handball Club

Belmont, Massachusetts

Jennifer Fithian

37

Rogue Handball

Concord, New Hampshire

Julia Taylor

31

Draveil Handball

Bretigny-sûr-Orge, France

Karen Schultze

22

ASV Schwarz-Rot 06 e.V.

Aachen, Germany

Kathy Darling

39

Rogue Handball

Colorado Springs, Colorado

Maria Vallone

30

Rogue Handball

Rochester, New York

Marissa Faulkner

19

Team Handball Academy

Lake Barrington, Illinois

Mckenna Smet

31




Ashburn, Virginia

Moa Liberty Bengtsson

17

Kärra HF

Gothenburg, Sweden

Nicole Andersen

24

A.S Cannes-Mandelieu Handball

Cannes, France

Ria N Browne

25

New York City Team Handball Club

Brooklyn, New York

Sanna Wheeler

19

Oppegård IL

Norway

Sarah Gascon

39

Rogue Handball

Auburn, Alabama

Shani Levinkind

30




Colorado Springs, Colorado

Sif Skov Christiansen

19

Hillerød Håndbold Klub

Hillerød, Denmark

Sophie Fasold

27

TSV Nord Harrislee

Kiel, Schleswig-Holstein, Germany

Teasia Stewart

23

Army West Point Team Handball

Pikesville, Maryland

Zoe Lombard

29

Rogue Handball

Myrtle Beach, South Carolina
About USA Team Handball
USA Team Handball (USATH) is the U.S. National Governing Body for the Olympic discipline of Team Handball, and is responsible for the development of grassroots programs, preparation of national teams for international competition - including the Pan American and Olympic Games - as well as the day-to-day oversight of the sport of team handball in the United States. The mission of USATH is to develop, promote, educate and grow the sport of team handball at all levels domestically, and to enable U.S. athletes to achieve sustained competitive excellence to win medals in international and Olympic competition. USATH is a member of the International Handball Federation, the North American and Caribbean Handball Confederation, and the United States Olympic & Paralympic Committee, and is headquartered in Colorado Springs, Colorado. For additional information, please visit usateamhandball.org