U.S. Collegiate Handball: A Long Tradition and Poised for Growth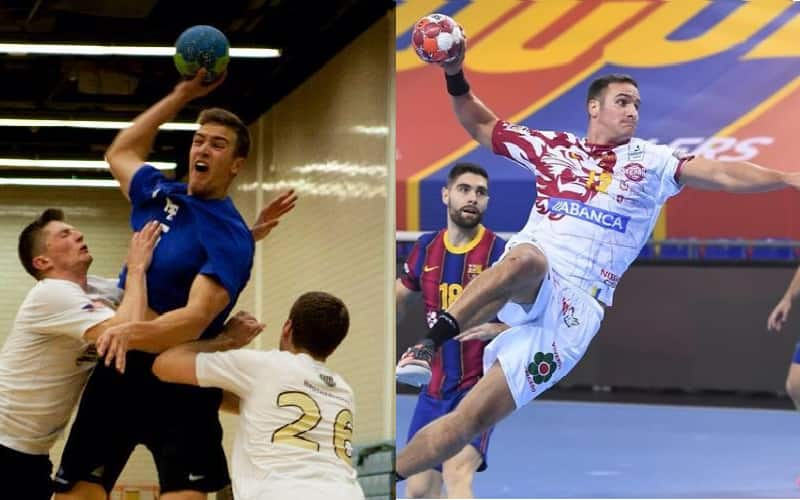 (Drew Donlin playing for Air Force in 2013... Playing this past season with Leon Ademar against the World's top pro team, FC Barcelona)
Background on Collegiate Handball
Colleges have been playing handball in the U.S. since the 1970s. The number of clubs has ebbed and flowed over the years, but currently there are 15 Men's programs and 4 Women's programs. The longest running Men's programs are Army (West Point), Air Force, North Carolina and Texas A&M while the two women's programs with the most tradition are Army (West Point) and North Carolina.

For many years collegiate teams simply played in the open Club National Championships, but since 1996 a separate Collegiate National Championships has been held, with the lone exception of 2020 which was cancelled due to COVID-19. Army (West Point) has been the dominant team with 13 consecutive national titles to their credit. On the Women's side Army has also been the top program having won 7 of the last 8 championships with Penn St being the program to interrupt their streak winning the title in 2019.

Collegiate programs have also been a primary source of player development with several national team athletes getting their first exposure to handball with their collegiate club. The most current example for Team USA, is pivot, Drew Donlin. As shown in the photo, Donlin first played at Air Force from 2011 to 2015 and after graduation was selected for the U.S. Men's National Team player pool. While representing Team USA at the 2019 PANAM Games he got scouted as a top prospect and spent the last two seasons playing professionally for Leon Ademar in Spain's top competition, the Liga ASOBAL. Donlin highlights vs FC Barcelona: Link

Poised for Growth

The International Handball Federation (IHF) has recognized college programs as a key component for the sports development and has provided USA Team Handball a grant and resources to foster collegiate development. The effort is multifaceted, but key elements include focused efforts to start new club programs, improve the competition structure and to raise the overall level of play.
First and foremost are efforts to help facilitate the establishment of new college clubs across the country. Starting a new club can be a challenging endeavor and USA Team Handball is eager to work with any college or university that needs assistance to get their program off the ground. It's challenging... but, it can be done. If you're interested in starting a new program be sure to reach out to USA Team Handball and we'll do our best to provide guidance and assistance in making it happen.

Planning is also underway to upgrade the college vs college competition structure. The four established Women's programs (Army, North Carolina, Ohio St and Penn St) will play in a conference this season and a Men's two division Mideast Conference is being organized with a Western Division that will tentatively include Michigan, Ohio State, Cincinnati and Pittsburgh and an Eastern Division that will include Penn St, Virginia, James Madison and North Carolina. Also in the works is a conference in New England with American International College, Central Connecticut State and Sacred Heart University expressing interest in participating. And, out west, there are tentative plans for a Southern California Conference with collegiate teams competing in both beach handball and indoor handball.

Finally, also under development is Team CHAOS (College Handball Athletes for Olympic Success). This club will be composed of top men's athletes from several colleges and will train together and compete in open tournaments periodically throughout the season. It's envisioned that this team will serve as a feeder to U21 and Sr National Teams and will prepare top prospects for a post college transition to clubs in European Leagues.
Interested? Let us Know
So, whether you're interested in starting a college club, having your college club play in a newly formed conference or applying to join Team CHAOS please drop us an email at info@usateamhandball.org and we'll put you in touch with the right Working Group or Point of Contact.