Edina Borsos Selected As WNT Head Coach For Paris 2024 Olympic Cycle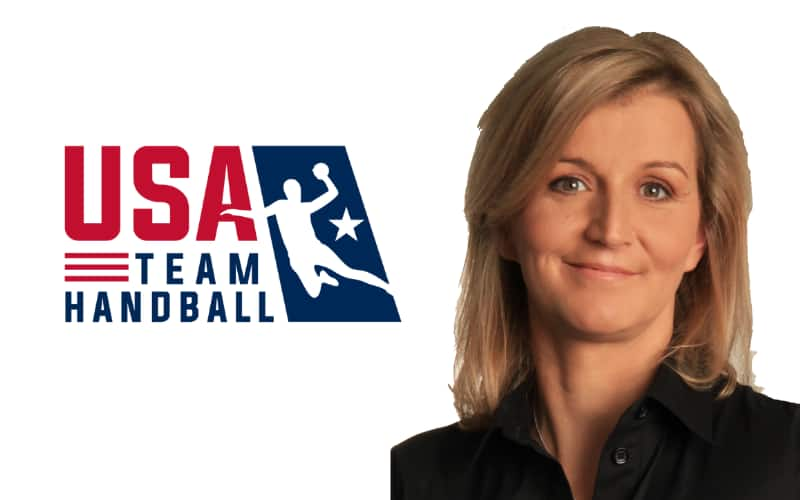 Edina Borsos, an European Handball Federation Pro Master Handball Coach and lecturer with extensive international coaching and playing experience, has been named the U.S. Women's National Team Head Coach for the events leading up to and, if qualified, through the 2024 Olympic Games in Paris, France.
The events in which she will serve as head coach include:
2023 NACHC Women's Championship

2023 Pan American Games

2023 IHF Women's World Championship

2024 Olympic Games
"I could not be more excited about the present and future of our women's program," said USA Team Handball Chief Executive Officer Ryan Johnson. "Julio has done a tremendous job rallying our team and faced tremendous obstacles in preparing our athletes in the midst of a pandemic with ever-changing protocols and concerns for athlete health and safety. His work has been exemplary and I am thrilled to see him continue to prepare our team for competition in Elgin, which hopefully will lead to a World Championship appearance."
Borsos served as General Manager of the French Women's National Handball Team for 15 years, working with the team through three Olympic Games, eight World Championships, and eight European Handball Championships. During that time, France won a world championship title at the 2003 tournament hosted in Croatia, and two runner-up titles in 2009 and 2011. She has also coached in the top handball league in Hungary since 2005 and serves as a Professor of Physical Education at the University of Physical Education in Budapest, Hungary.
"I'm incredibly honored to be selected for such an important and exciting opportunity, and I cannot wait to continue learning more about all aspects of the American handball community," Borsos said. "Especially as we continue to approach the 2028 Los Angeles Olympic Games over the next seven years, there could not be a more critical time to develop the United States into a leading handball nation. I am eager to devote my time and energy into contributing to the Women's National Team's growth and progress, which will certainly be reflected in 2028 on the world stage."
Borsos will begin as an advisor to the U.S. Women's National Team through the upcoming team activities and competitions of 2021, as Julio Sainz will continue to lead the program through the 2021 NACHC Women's Championship, and if qualified, the 2021 IHF Women's World Championship this December in Spain.
"This transitional period gives Edina time to develop a deeper understanding of our program and to learn about the challenges and opportunities associated with USA Team Handball," Johnson said. "Edina has incredible, world-class playing and coaching experience, but there are a lot of unique challenges associated with American handball that are not often understood by those with predominantly European experience. Edina's credentials in handball are readily apparent, but it was her attitude and approach, along with her vulnerability in acknowledging what she hopes to soon learn, that separated her as the best candidate for the next Olympic cycle."
Julio Sainz and his coaching staff conducted in-person and virtual tryouts in the last few months, putting together a preliminary roster of athletes for the upcoming NACHC Championships in August. Sainz, an IHF Master Lecturer and longtime national team coach for both the men's and women's programs, will also lead the Women's National Team this month as they travel to Elche, Spain for a training camp opportunity prior to the world championship qualifier.
"I have been honored to serve the program, and moving forward I will continue to serve the program with the transfer of knowledge to the newly selected coach," Sainz said. "I will remain at the program's disposal as long as needed."
"I would like to thank the members of our working group for their time and energy in sifting through the applications and evaluating interviews with me," Johnson said. "I know I speak for our entire working group when I say that we were blown away with the level of applicants that we received, truly elite handball coaches from all corners of the globe. I am grateful for their interest in USA Team Handball, and I think it is a strong indicator of the potential for this program."
About USA Team Handball
USA Team Handball (USATH) is the U.S. National Governing Body for the Olympic discipline of Team Handball, and is responsible for the development of grassroots programs, preparation of national teams for international competition - including the Pan American and Olympic Games - as well as the day-to-day oversight of the sport of team handball in the United States. The mission of USATH is to develop, promote, educate and grow the sport of team handball at all levels domestically, and to enable U.S. athletes to achieve sustained competitive excellence to win medals in international and Olympic competition. USATH is a member of the International Handball Federation, the North American and Caribbean Handball Confederation, and the United States Olympic & Paralympic Committee, and is headquartered in Colorado Springs, Colorado. For additional information, please visit usateamhandball.org