Gabe Goodreau Joins NBC Olympic Production Team As Handball Consultant For Tokyo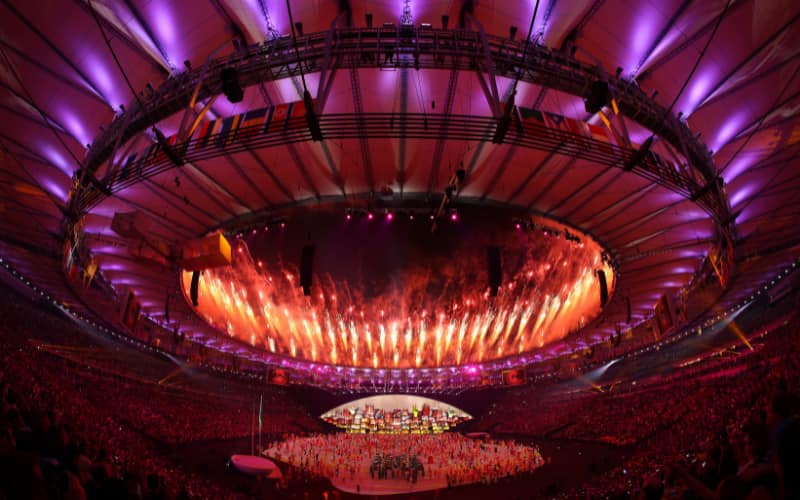 After a year-long delay, the Tokyo Olympics are finally about to start. As a result, Gabe Goodreau is also about to start a very important job.
The former Men's National Team and Men's Beach National Team goalkeeper will travel to Connecticut later this month for his second time working with the NBC Olympics production team to cover the Olympic handball competition.
With the men's and women's handball tournaments spanning almost the entire length of the Games, Goodreau will be actively helping the production team for more than two weeks.
Some of his responsibilities will include explaining the rules and history of handball, logging statistics, providing insight on players and teams, and fielding any other needs the team might have for the handball coverage.
1996 handball Olympian Dawn Allinger Lewis has also been assisting the NBC production team as a color commentator for the handball competition. Longtime collegiate and national team handball coach Myles Bacon previously held the position for the Beijing 2008 Olympic Games, but after Beijing, wasn't able to participate. As a result, Lewis began reaching out to look for new people.
Goodreau was still training in the USA Team Handball Auburn University residency program when Lewis reached out to USA Team Handball board member and national team coach Mark Ortega, who was coaching Goodreau at the time.
"Dawn reached out to our coach, Mark Ortega, asking him if he knew anybody who might be able to help out for this with NBC. Mark came up to me in practice, telling me about this opportunity with NBC to be the handball stats person for the Olympics," Goodreau said. "That's how it all started. I jumped in and signed on for Rio. I had never done anything like it before."
For Rio 2016, Goodreau worked with Brooklyn Nets radio voice and announcer Chris Carrino, who was handling the play-by-play commentary for handball. He had a computer in the booth with live updated statistics, and would write things on a whiteboard for Carrino to look at and reference, for more seamless and informed commentary.
"As the Games went on, Carrino began picking up things that I had been telling him from the start. I felt his excitement level start to dial up," Goodreau said. "He has a great voice – listening to him take that radio voice for basketball and use it for handball was amazing. It went very well."
Goodreau was diligent in his preparation, emailing friends in Europe to confirm pronunciations for athletes' names. As a certified referee, he also applied much of his refereeing knowledge to identifying calls and explaining rules.
"I understand the rules of the game and I know what the referees are signaling in the moment. I can tell if there's a turnover, if they're going to give a yellow card, so I came up with a pretty easy system to show them each rule or penalty," Goodreau said. "I think being a referee has also helped me in some aspects of playing as well, because I can see the referee's action after, like, or the way he blows the whistle. It has helped me specifically with the NBC stuff because I'm capable of seeing something and relaying that quickly. Refereeing has definitely helped my understanding of the game better."
Goodreau said he's looking forward to the challenge that the Tokyo Games will present for his role and responsibilities, due to the COVID-19 pandemic. Due to social distancing, he most likely won't be in the same booth as the commentators.
"I think what I'm looking forward to most is the challenge of creating a new system. Since I won't be able to sit there with them, I'll have to get over that hurdle and figure out how we're going to do this and try to keep it as seamless as last time," Goodreau said. "I love being around that environment and seeing what goes into creating what we see on television. I also really enjoyed meeting new people and being able to try to teach somebody the sport of handball."
Goodreau and his wife recently welcomed a son, Owen, so he said he will spend much of his downtime between handball matches FaceTiming his family. Despite spending time away from the baby, he is excited for the opportunity and all of the handball he'll get to watch.
"I love the top level of handball, so having my job for two and a half weeks be to watch handball is incredible. After this year of COVID and not having any tournaments, I'm looking forward to the games and being really focused on them," Goodreau said. "That is my only purpose is to watch the games and pay attention to what's going on. I love watching sports, so this is right up my alley to be around the Games and watch handball at the highest level."
The men's handball tournament will kick off on Saturday, July 24, and the women's tournament will start on Sunday, July 25. The Olympic handball schedule can be found here.