Nieuw Volendam: Christine Mansour Starts International Beach Handball Team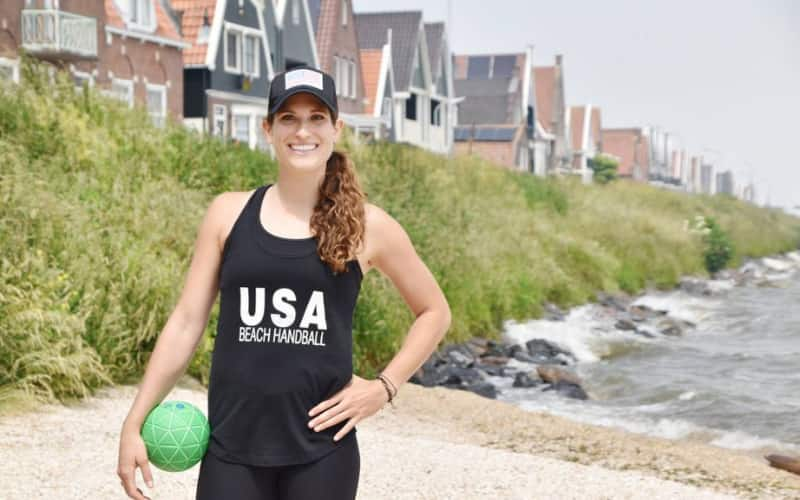 From Nieuw Volendam, published on July 6, 2021

After the enormous success of beach volleyball, more and more beach variants of popular sports arose in recent years. In addition to foot volleyball, beach football and beach tennis, beach handball is now also on the rise worldwide. If it is up to Christine Mansour, a handball village like Volendam can't stay behind in this special new trend. The 28-year-old sports fan from America was part of an international exchange program with HV Kras Volendam and is now determined to put Volendam on the international map with a new women's beach handball team.
It's new, it's summery, it's cosy, social and healthy. Beach handball is the best sport there is, according to Christine. And as a highly skilled top athlete, Christine has plenty of reference material. "From a young age, my parents encouraged me to try all the sports I liked. As a child I eventually lost my heart to basketball and I have played it intensively ever since, but when our family later moved to the coast of Florida, I also discovered beach sports. Since then I have known that there is nothing more beautiful for me than working out with sand between your toes."
Partly because of her basketball talent, Christine won a scholarship to the prestigious Harvard University, where she not only played for the college basketball team, but also successfully completed three studies: Spanish, Psychology and Economics.
"I really had an amazing time there," Christine says. "What I remember most about Harvard are the people. You hang out with a lot of people from all over the world. That international character has inspired me enormously. On the one hand, all the new contacts I made made me want to travel and discover more of the world. On the other hand, this has also fueled my love for photography and storytelling."
In addition to her studies, the enterprising Christine started working as a journalist and photographer for 'The Harvard Crimson', the Harvard student newspaper. ,,I soon discovered that as a journalist or photographer it is often much easier to come into contact with people you would normally never come into contact with. I enjoyed portraying people's stories, then continued to develop myself in video productions and eventually founded my own video marketing company: CM Narrative."
'In beach handball
,
for example , a goal counts double
if you
catch the ball in the air and throw it
into the goal before you land
'
It was only when Christine moved to San Diego (California) after Harvard that she began to devote herself to beach handball. ,,Once on the sunny beach of San Diego, I was immediately sold to beach handball,' laughs Christine. ,,Beach handball combines the relaxed and social aspect of beach sports with the strategy and agility of handball, but it is also a unique sport because it also involves a certain aesthetic responsibility. In beach handball, for example, a goal counts double if you catch the ball in the air and throw it into the goal before you land. You also receive double points if you make a kind of pirouette jump of 360 degrees when scoring. This also makes beach handball very beautiful to watch."
As a former basketball player, Christine developed rapidly as a beach handball player and in no time she was playing with Team USA on beach handball fields throughout North America. After winning the North American Championships, she was able to compete with Team USA in the World Championships in Italy last year, but unfortunately the corona virus threw a spanner in the works.
"At that time, I was approached by Mark Ortega," says Christine. ,,At the time he was the coach of the women's team of HV Kras Volendam and was looking for an international talent to add to his team. Because Mark is also from America and knew me from the beach handball world, he apparently had his sights on me." And although Christine had never heard of Volendam before, this was an opportunity she wouldn't pass up. ,,I was immediately looking forward to further developing myself in the field of handball, while also discovering more of the world at the same time."
Christine was amazed when she arrived in Volendam. ,,I immediately fell in love with the dike and the old bowl with all those beautiful houses, and I was also happy and relieved that everyone was very nice to me. I was amazed at the special, jovial and often humorous manners in this village. I could really enjoy that. The language gap made it difficult for me and even though everyone really tried their best to get me involved, it was quite difficult for me to acclimate to this new social environment at first."
The transition from beach handball to indoor handball also turned out to be more difficult than Christine had initially foreseen. "Beach handball and indoor handball are really two completely different sports", Christine explains. ,,Not only because of the different surface, but also the rules, strategies and the technique you need are very far apart. So I really had to start from scratch to master indoor handball and it soon turned out to be impossible for me at Eredivisie level."
'I have felt
very lonely at times
. Luckily
I had very nice
people around me'
Christine admits that she has had a hard time at times. ,,I sometimes felt very lonely, and it was of course a huge disappointment that I was unable to master handball. Luckily I had very nice people around me. Before I moved into my current apartment in Amsterdam-East, I lived with Candy Mühren and later also with her family Vincent Gruwèl and Roos and Nico van Eijck. I felt very welcome and supported there. I also got a few nice business assignments through the internet, for example with my company CM Narrative I was able to make company videos for Succes Schoonmaak, Smit Elektra, Lockmaster, and HV KRAS Volendam."
Despite the disappointments Christine had to deal with, she didn't give up. She saw opportunities, and with her entrepreneurial attitude she immediately took the initiative to put them into action. Christine: ,,Initially my goal was to learn more about indoor handball in Volendam, and to eventually bring that knowledge back to America, but I soon became aware that my real passion lies with beach handball. Since this is still a totally unknown sport in Volendam, I decided that I could do more if I would use my time here to pass on my knowledge of and love for beach handball."
When Christine shared her new intentions with the club, the ball started rolling. ,,There were immediately some ladies who were interested in learning to play beach handball and the new coach of the women's team of HV Kras Volendam, Serge ter Horst, also happened to have extensive experience in the beach handball world. He immediately offered to coach a new women's beach handball team."
However, Christine's ambitions were not limited to the boundaries of the association. Inspired by her experiences as a student and video marketer, she came up with the idea of entering into a collaboration that transcends borders as well as sports disciplines. She started an international women's beach handball team in which the knowledge and experience of American beach handball players is combined with Dutch beach handball players from the national team and indoor handball players from Volendam. ,,I noticed that all the players I approached were very enthusiastic, and one of the American team members, Missy Browne, even stays in the Netherlands for two whole months to play with our new team. That is of course fantastic."
Christine: ,,Before I knew it, this idea had become reality. I designed the uniforms, set up the training and match schedule, arranged tournament registrations, managed the budget, arranged the arrival of the American players, for which I needed special exemption letters, also arranged accommodation for these team members and set up a complete marketing strategy for the team. It was quite a lot of work, but I am very happy with all the help and support I get from HV Kras Volendam."
Our team is now complete, with players from California, Atlanta, Colorado and Volendam. Our own beach handballs and uniforms have already arrived, and we have already started training with the Volendam ladies on a beach handball field in Amsterdam-Noord. In a few weeks, all American players will arrive in the Netherlands and strengthen the team."
'I even
think we have a chance to
become
European champions within a few years
'
"It's unreal, but everything seems to fall into place," Christine continues. ,,Beach handball is a real seasonal sport. The tournaments are played exclusively in the summer months, and because most American players work largely from home since the arrival of the corona virus, they were able to make arrangements with their employers to work from the Netherlands during the beach handball season."
"It's a new sport", says Christine, "but beach handball has really gained momentum in recent years. Beach handball is still growing in popularity in the coastal areas of America and you are now seeing more and more teams being formed in more and more places in Europe, more and more of which are taking part in the European Beach Handball Tournament. It is one of the fastest growing sports in the world and I really believe that beach handball can grow very big."
According to Christine, Volendam cannot be left behind as a handball village par excellence. ,,This is the time to jump on this moving train, and by combining the indoor handball experience and expertise from Volendam with the beach handball experience of our various American players, I am convinced that we can go very far with this new women's team.
I even think we have a chance to become European champions within a few years," Christine concludes. "Due to our special international collaboration, the energy and motivation of the players is very high at the moment, and this creates the magic you need to perform miracles in sports."
"Next month we will travel together to Portugal for our first European competition. It all goes very fast, but it also feels very good. I'm really looking forward to it and I'm especially curious about what the future will bring us. Not only with our new women's team within this European championship, but also in the longer term with regard to beach handball in general."
Research beach handball and beach sports fields
HV KRAS / Volendam always looks ahead "and despite the difficult corona period when we had to close, we continued to look optimistically to the future", the association says in a response. "Not only for the supporters, but also for the community. One of the projects that the board is currently working on is investigating whether beach handball can be added to our sports offer. The idea was suggested by the Technical Committee and a group of enthusiastic members who would like to see the Beachhandball sport in Volendam. They see this new form of handball as a possible new addition to the existing range of field handball, indoor handball, walking handball and speed handball.
Our research started with the expectation that beach handball will promote strength and health on different levels. Not only is sand a safe and healthy surface for the human body to exercise on, but it also gives our members access to a new sport.
Beach handball is currently one of the fastest growing sports in Europe and is a focus sport of the International Handball Federation (IHF). In addition, it is a potential Olympic sport after 2028.
Together with the municipality, we are actively investigating possibilities for creating beach sports fields in Volendam. We believe that the arrival of beach sports fields can propel the community towards a more complete range of sports and ultimately create a win-win situation.
Of course we are also proud that KRAS/Volendam has formed an official women's team under the leadership of Christine Mansour. We are also in talks with the members who play in La Grosso's, which is full of HV KRAS/Volendammers, to further strengthen the collaboration."
Sponsors wanted!
Christine and HV Kras Volendam are still looking for sponsors to cover the costs of the European Beach Handball Championship.
Does your company want to support the new international beach handball team? Please contact Joost Ooms: 0622774652