Two-Time Olympian Chryssandra Hires Continues To Embody Olympic Values And Give Back To Sport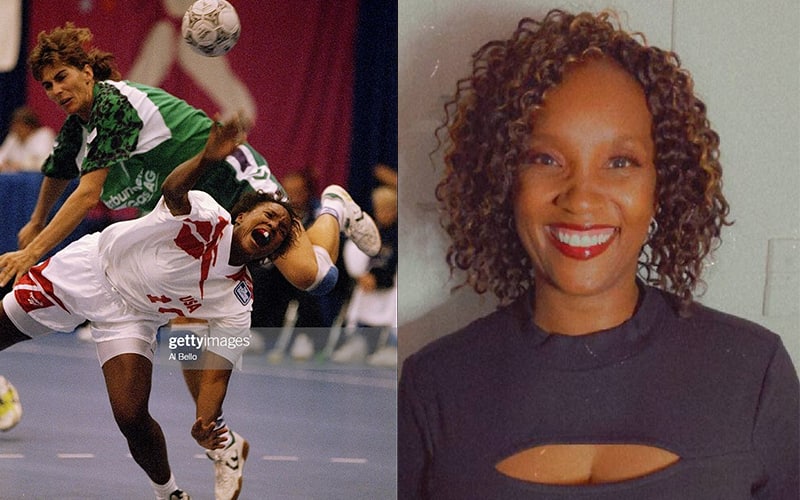 Two-time Olympian Chryssandra Hires still lives by the Olympic values of excellence, friendship, and respect, more than two decades after her final appearance for the U.S. Women's National Handball Team.
USA Team Handball's 1995 and 1996 Female Athlete of the Year, Hires uses these ideals to guide her decisions every day and has instilled those values into her children, encouraging them to "be strong, goal-oriented, competitive, honest and fair."
As an in-school suspension supervisor, Hires also teaches each of these values to her students, earning the nickname "Big Momma." Hires said that, as "Big Momma", she offers hugs and positive encouragement to all, as well as provides student-athletes with feedback and training advice.
It is no wonder that she continues to live by these values, as her Olympic experiences in Barcelona 1992 and Atlanta 1996 were filled with incredible memories and joyous moments that remain with her today.
In 1992, Hires said she'll never forget walking in the Opening Ceremonies in front of thousands of fans. She watched her friend Mike Conley, Sr., break the Olympic triple jump record. She watched her brother Quincy, a USA Track & Field athlete, break the 400m and 4x400m relay records.
And, in 1996, her family came to Atlanta to watch her compete against the world's best handball players.
"Having my family in Atlanta for the '96 Games was amazing. They had been so supportive of my career and pushing me all my life," Hires said, who was inducted into the Connecticut Women's Basketball Hall of Fame in 2014 thanks to a stellar high school career at Bristol Eastern High School. "To have my mom in the stadium was one of the greatest moments I could share with her. My spirit, heart and soul were all so full."
Hires' involvement in the Olympic Movement did not stop after her playing career. After retiring from the team in 1997, Hires served on the USA Team Handball Board of Directors for several years. She also served on the United States Olympic High Performance Planning Committee for two years.
She has also since used her love of the Olympics and sport in general to give back to her community, officiating basketball and volleyball events anywhere from the high school level to elite scrimmages and friendly matches.
As Hires reflects on Black History Month and Black athlete experiences, she remembered her own challenges as a minority athlete in handball.
Hires' experience differed from that of her Caucasian teammates, facing additional obstacles when it came to her presence on the team.
"When I was voted by my teammates to serve as captain of the 1996 Olympic Team, it was questioned by some who wanted to see a different look," Hires said. "They wanted to see a Caucasian face to help with marketing."
Her teammates stepped up to defend her, organizing a second voting process that upheld Hires as the team captain for the 1996 Olympics.
This was not an isolated incident in Hires' athletic experience. When she traveled with her teammates to Europe for international competitions, the University of North Carolina at Chapel Hill alum was viewed differently by handball fans.
"In some countries, fans would try to rub the color off of our hands or touch hair to see if it was real," Hires said. "In Germany, when the Berlin Wall came down, we arrived and a guard took photos with our white teammates, but refused to take one with me. He raised his gun and was very afraid because he thought I was a ghost or spook."
Hires did not let her experiences with discrimination deter her from continuing to uphold the Olympic values. She continues to be an ambassador for handball, leading youth handball clinics when possible, staying in touch with her Olympic teammates and meeting with her former teammates in Colorado Springs when she has the opportunity.
Hires still has many ideas to help USA Team Handball expand its outreach and build a more inclusive and diverse community of athletes. For her, nurturing the Olympic movement starts locally.
"I would like to see more involvement in the community and growth in the grassroots programs," Hires said. "We need more financial resources to get more awareness for team handball. With the Games in Los Angeles [in 2028], we can capitalize on the media and marketing with more events."
Hires is familiar with this type of grassroots campaign. In fact, she helped spearhead a similar one right after the 1996 Games.
"We had the same scenario in Atlanta. We became involved in the schools and the Boys & Girls Clubs," she said. "We started handball leagues there – the kids had fun and adults enjoyed watching it. We need to keep growing community involvement and developing various sports in their communities. Schools need more support for their PE programs to get kids back to playing and participating in gym class. Recreational centers need more support to encourage more at-risk kids to participate."
Hires knows the power of making small, but continuous, positive changes, having seen it occur in real time across South Carolina, where she currently lives with her family.
"More people should be watching our young people use their voice to vote and take a stand against injustice," Hires said. "They are working together to continue to make a change. The narrative and culture are slowly changing. The acknowledgement that change is necessary is a big victory here in the south."
And a fellow athlete has served as a particularly inspiring story for Hires.
"Being able to see a statue of [WNBA player] A'ja Wilson be placed on the very grounds her grandmother [at the University of South Carolina] could not walk on was very historical and inspirational," Hires said. "This shows that sports does have the power to break down barriers."