2021 NACHC Women's Championships (Match Day 3 Summary)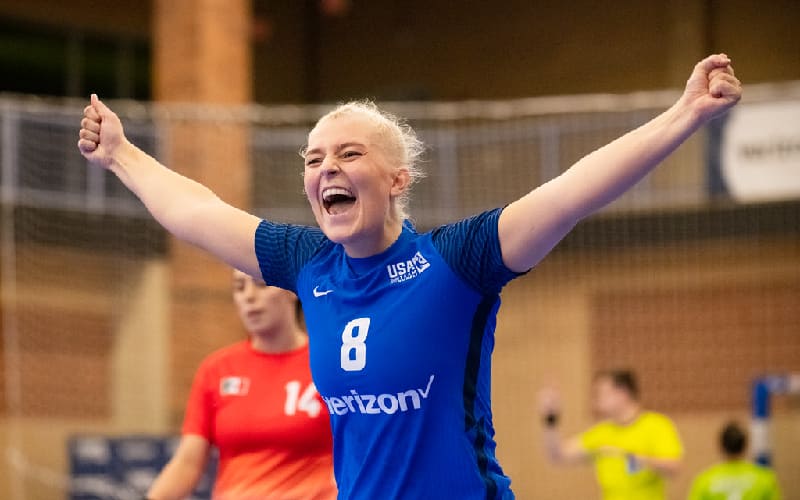 (Team USA's, Saga Nordin) (Photo: Richard Immel)
Note: For up to the minute results, be sure to check out our tournament page: Link
Greenland stayed undefeated and Mexico picked up its first win of the tournament. Here's a summary of last nights action and a preview of today's Gold and Bronze medal matches.
Greenland - Puerto Rico 26-23 (10-8)
With Greenland and Puerto Rico already qualified for the Wednesday's gold medal match, on paper there wasn't much to play for in this final pool play match. As often is the case, though, once the game got started and remained close throughout the intensity picked up for a hard fought match. Puerto Rico jumped out to an early 2-0 in the opening minutes, but Greenland responded and they took their first lead (4-3) twelve minutes into the contest. They gradually built up an 8-4 lead, but Puerto Rico closed the gap for for a 10-8 halftime lead.
Greenland controlled the first 20 minutes of the 2nd half with lead fluctuating between 2-4 goals, but thanks to a frenetic sequence of turnovers, fast breaks and empty net goals Puerto Rico turned the tables and eventually took a 22-21 lead with 3 minutes left in the contest. Greenland, however bounced back and the two teams were tied at 23 all with just 1:42 left in the match at which point Greenland scored 3 goals in rapid succession to close out the match with a somewhat deceptive result of 26-23.
Based on last night's contest we should be in for a pretty exciting rematch tonight.
On Demand Video: Link
Photo Gallery: Link
Match Scoring
Greenland (26)


Aviana Kajangmat (7)
Ivana Meincke (3)
Kathrine Mikkelsen (3)
Lykke Hansen (3)
Andrea Heilmann (2)
Nuunu Lukassen (2)
Josephine Gadgaard (2)
Sandra Rothberg (2)
Christina Lange (1)
Ivalu Bjerge (1)
Puerto Rico (23)

Zuleika Fuentes (4)

Sheila Hiraldo (4)

Nathalys Ceballo (3)

Jaline Maldonado (3)
Alanis Benitez (3)
Adriana Carbrea (2)
Joanne Vergara (2)

Lizaberth Rodriguez (1)

Ciris Garcia (1)
Mexico - USA 25-21 (14-12)
With both teams looking for their first win in the tournament the U.S. and Mexico had a spirited, hard fought contest. Thanks to goals by Teasia Stewart and Binta Carvalho the U.S. took an early 2-0 lead in the match. Mexico, however responded with 4 unanswered goals to take a 4-2 lead. The U.S. fought back and managed to tie the score back up at 7-7 on a goal by Emma Ready. Mexico then scored 3 straight goals to take a 10-7 lead with 9 minutes remaining in the half. Following a time out the U.S. settled down a bit, and the teams traded goals for the remainder of the half which ended 14-12
The 2nd half got off to a good start for the U.S. with Sif Skov Christensen scoring right away to cut the lead to one (14-13). But, that was the closest the U.S. would get in the 2nd half as Mexico managed replied with 2 straight goals to make it 16-13. For the remainder of the half Mexico would have the upper hand with the lead eventually reaching 5 goals before settling on the 25-21 outcoume.
While a competitive contest it was also error filled with both teams committing a lot of turnovers. Making it even more challenging for the U.S. was an unofficial count of 7 missed or saved fast breaks. Performing better on just that one statistic alone may have tipped the scales of the contest. Tonight, both sides will have the opportunity to rectify Tuesday's mistakes and take home the bronze medal when they meet again at 5:00 PM CT.
Photo Gallery: Link
Match Scoring
Mexico (25)

Cinthia Gallegos (6)
Itzel Vargas (5)
Debanhy Arriaga (4)
Ana Hernandez (3)
Fernanda Rivera (3)
Jaqueline Lopez (1)
Tamara Robles (1)
Lucero Quezada (1)
Gemma Leal (1)



USA (21)

Binta Carvalho (4)

Sif Christensen (4)

Saga Nordin (3)

Maria Vallone (2)

Sarah Gascon (2)

Julia Taylor (2)

Moa Bengtsson (2)

Teasia Stewart (1)

Emma Ready (1)
Final Pool Play Standings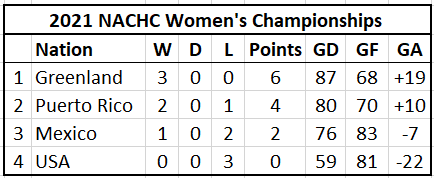 Tonight's Matches
Wednesday, 25 August

5:00 PM

3rd Place Match:

USA vs Mexico

7:00 PM

1st Place Match:

Greenland vs Puerto Rico
The U.S. will get another chance to beat Mexico with the added incentive of going home with a bronze medal. The gold medal match will also be a replay between Greenland and Puerto Rico. In addition to taking home a gold medal the winner of the match will also qualify for the 2021 World Championships this December in Spain.
Live Streaming
Tonight's matches will again be live streamed and available on the USA Team Handball YouTube Channel: Link