2021 Senior Women's National Team Tryouts To Be Hosted In May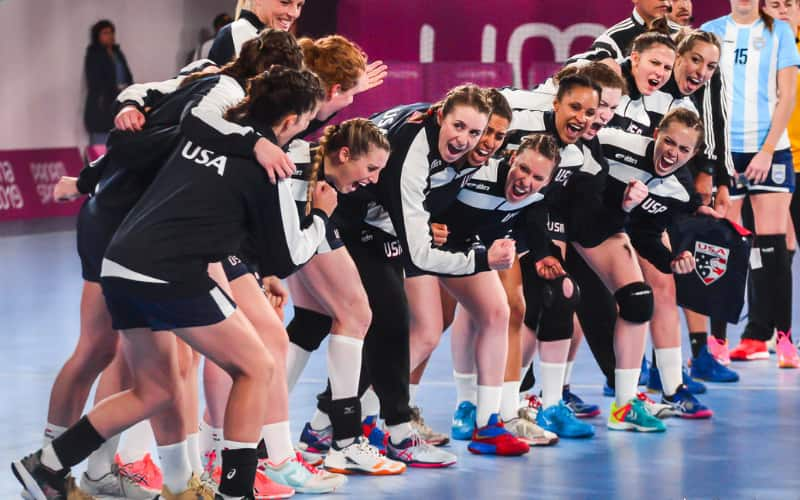 In accordance with selection procedures published on the USA Team Handball website, USATH is pleased to announce the following open tryouts and evaluation camps for the Senior Women's National Team. The evaluation camps will serve as an assessment for athletes seeking participation in the 2021 NACHC World Championships' Qualifier. Additionally, the evaluation camps will serve as an assessment opportunity for athletes seeking to be selected as National Team Pool Members for future competitions.
Tournaments:
2021 NACHC's IHF World Championships' Qualifier: August 21-27, 2021 (Chicago, IL)
2021 IHF World Women's Handball Championship: December 2-19, 2021 (Host country: Spain)
Virtual/Video Submission Evaluation Dates: (all are subject to change)
Submit videos and complete all required information through the USATH designated portal on the GMTM platform, which can be found HERE. The portal will be open May 3-31, 2021.
In Person Evaluation Camp: May 29-30, 2021
Location: Fore Kicks (located at 10 Pine Street, Norfolk, MA 02056)
Times: Saturday, May 29, Session 1: 9:00-11:00 am (Location TBD)
Session 2: 1:00-6:00 pm (Fore Kicks)
Sunday, May 30, Session 3: 10:00 am-3:00 pm (Fore Kicks)
Tryout requirements for In Person Evaluation Camp:
Registration: Preregistration is required HERE.
Handball experience: Not required. However, according to selection criteria:
In selecting athletes to be members of teams participating in the above-mentioned tournaments and entering the National Team Pool, the Women's National Team Selection Committee will consider information, specifically observational and statistical evaluation, of both objective and discretionary nature, that pertains to the criteria listed here and in Section 2 in the categories of Offensive Performance, Defensive Performance, Goalkeeping Performance, Psychological Skills and Preferred Hand, Preferred position, Versatility (ability to play other positions), Physical Efficiency required for the sport, and technical-tactical Readiness. The selection procedures of a team handball player has to concern itself with the individual's overall performance and his/her contribution to the performance of the team as a whole in interaction with the other players. Click here to view the complete selection procedures.
Senior Women's National Team Age Requirements: According to competition selection rules, all athletes must be at least 16 years old to be selected for the qualification events. However, there are no age requirements to be added to the National Team Pool.
Athletes' Intake Form: Required. Form must be completed at the time of the registration. Form can be found HERE.
Medical Insurance: Required. All participants must show proof of primary insurance coverage.
COVID 19 Protocol: Specific protocols will be announced soon. Federal, State, and Local regulations related to COVID-19 safety and risk mitigation will be rigorously enforced.
USATH Membership: Required. Athletes must be current members of USA Team Handball, and in good standing.
Physical Efficiency Tests: Evaluation team will run physical efficiency test such as Beep test, Cooper test, anthropometric measurements, and physical ability tests (vertical jump, speed, coordination tests, etc).

Minimum eligibility requirements for an athlete to be considered for nomination to the Team:
Nationality and Passport requirements:
Athletes must be a national of the United States at the time of nomination and hold a valid U.S. passport
that will not expire for six months after the conclusion of the competition.
Background Check: Required. If selected, all athletes ages 18 or older will be required to undergo a background screening in accordance with the current USOPC Background Check Policy. No exceptions.
SafeSport's Training: Required. If selected, all athletes ages 18 or older as of the Closing Ceremony will be required to complete the U.S. Center for SafeSport's online training.
For further evaluation camp inquiries, please contact:
Women National Team Coach, Julio Sainz, at julio@usateamhandball.org