Women's Junior National Team Spotlight - Viva Kreis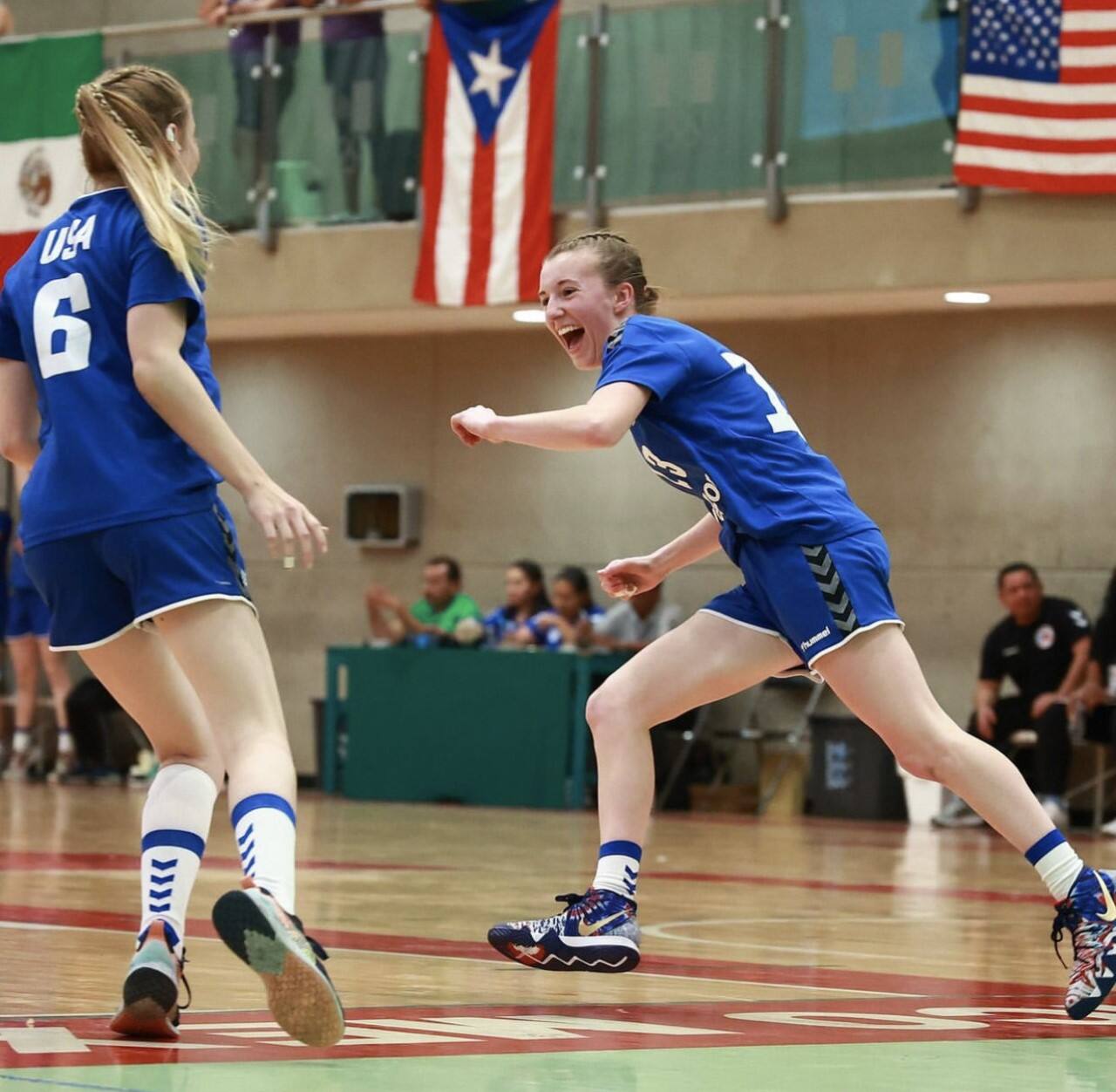 This girl is on fire! She could hardly contain her excitement. "Mom, Mom, I want to learn to play this sport! I want to learn to play team handball!" After playing an adapted version of the game just one time in her middle school gym class, Viva Kreis' fire was lit for the game of handball!
But her fire seemed as if it just might be extinguished as quickly as it began, as Viva's mother, Mary, searched north to south, east to west to find a place for her daughter, then 14, to learn to play. There were no clubs, no teams, no training for the sport in the Pittsburgh, Pennsylvania area. None.
And that is when Mary stumbled across a group of men, many with international playing backgrounds, who met occasionally to practice the game just south of the city. The plan was for her to watch the men play given her age and inexperience - but one Good Samaritan of Handball changed all that.
Andrew Burick, the unofficial manager of the unofficial team, who is also a parent of two young children, immediately fostered a mentorship with Viva. He not only encouraged Viva to come down from the stands to the court to try her hand at the game, but he brought her a women's handball - the very first handball Viva had ever seen. And he let her keep it!
This girl has been on fire ever since that day - having yet another sport catch her attention. Viva was already an accomplished student-athlete having learned to swim at age 2, starting soccer at the age of 4, running track beginning at 7, playing basketball starting at 8, and running cross country since 11. She also volunteers in her community with veterans and children causes, has been elected the Class President for all four years of high school, excels in academic competitions, and is at the top of her class. How could anyone possibly fit in one more sport? Viva could and did. Until…
Bam! The pandemic hit! No sooner than Viva had practiced with an actual handball for the first time - the pandemic hit. No more handball. No more sports. No more school. No more being a teenager. What was there left to do?
Again, It was Burick to the rescue. This time he shared with Viva that she could apply to be a part of the newly created Youth Advisory Council for USA Team Handball. Viva interviewed over Zoom in Spring 2020 - her first time on Zoom and her first time interviewing for a job. She shared her own creative ideas for bringing attention to the sport, was given the opportunity to serve on the Council, and her work began.
The Council's mission is to grow USA Team Handball's presence with new ideas and methods including social media to boost interest in the sport of handball with American teenagers and young adults. Viva, along with her council teammates, have been enhancing USA Team Handball's presence on TikTok, Twitter, and Instagram with attention-seeking ideas such as "day in the life" videos spotlighting USA Beach and Team Handball athletes during the pandemic.
The first opportunity Viva had to play team handball again was in May 2021 at the U.S. Senior Women's National Team tryouts in Boston. As she attended her high school classes via Zoom during the drive to Boston, Viva was the epitome of a dedicated student-athlete. At the camp, she had her first formal instruction in the sport, showed great potential, and was named to the senior national pool at the age of 16. And her fire was ignited once again!
After a strong cross country season qualifying for the Pennsylvania State meet and a successful basketball season leading her team in scoring, Viva was excited to learn of the tryouts for the U.S. Junior Handball National Team in Chicago - and again she was off! Her athleticism, positive attitude, and coachability shined as she was added to the roster for the team for the North America & Caribbean Junior Handball Championships in Mexico City in April 2022.
The U.S. earned the silver medal in the Championships qualifying them for the World Junior Handball Championships in Slovenia in June. New to the sport, Viva was thrilled to play in every match in Mexico City and celebrated scoring her first international goal. Currently, Viva is at the Senior Women's National Team's training camp at the Maison du Handball just outside of Paris, France for two weeks where she is learning the ins and outs of her position as left wing for the team. After this training camp, she and her three Junior teammates at the Senior camp will join the entire Junior National Team in Hungary for their own training camp prior to departing for Slovenia for their World Championships beginning June 22.
This is the first time since 1981 when the U.S. Junior National Team has qualified for the International Handball Federation World Junior Handball Championships. After a 40 year gap, this young team and these young players are making history for the U.S.
Viva understands better than anyone that one moment in time can completely change your future - it happened for her when her passion for handball caught on fire in a school gym class. Long live, Viva, and long live your fire!