Women's Junior National Team Spotlight - Isabela da Cruz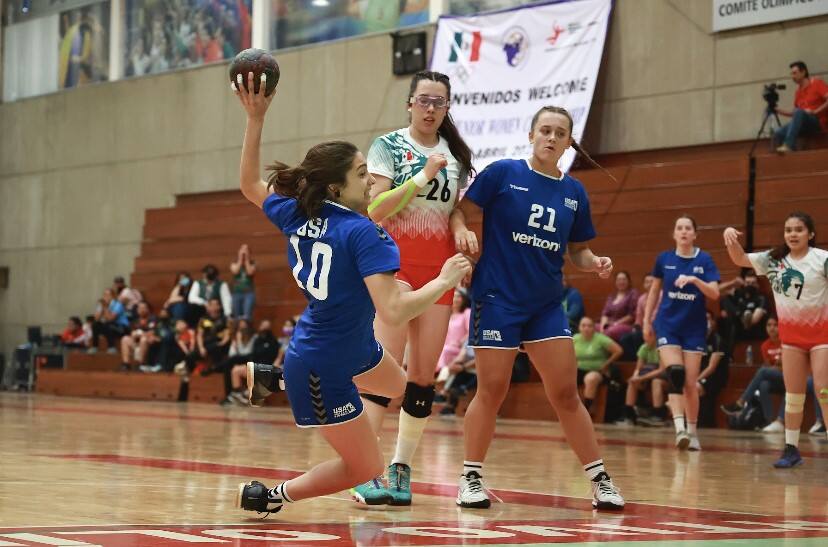 Isabela - your wings will carry you in the direction you want to go! Those wings have certainly carried you this far - from Brazil, to the US, and now to France. All of this in your short 16 years of life! And, you, as a young woman and team handball player have been the pilot of your wings and the pursuit of your goals.
"The greatest gifts you can give your children are the roots of responsibility and the wings of independence," wrote Denis Waitley, author of The Psychology of Winning. And Isabela's parents, Marcelo de Cruz and Kelli Bonadio de Oliveira Ramos taught their daughter the "roots of responsibility" and now have given her "wings of independence".
Isabela began playing handball in Brazil at age 11, and with her parents' support, within a year she had earned a spot on the U14 team, at the age of 12, with a highly successful handball club in Brazil - Sports Club Pinheiros. But when the family made the decision to move to the U.S., it became tough for them to find a team handball club for juniors for Isabela to train and compete with in the Boston area. Driven to continue learning and playing the sport, Isabela started playing with the adult team of the Boston Handball Club.
Living in Boston, however, made things easy for Isabela to attend the U.S. Senior National Team's training camp and tryout held in Boston in 2021. Isabela's wings carried her to a spot in the player pool for the Senior Team, an accomplishment at the age of 15. But Isabela wanted more! She shared with her parents her desire to improve her skills and her goal to play handball in Europe. And Isabela's parents began their quest to find a safe environment for her to study, practice handball, and live in Europe.
No place, no team or school situation, no living arrangement seemed to be quite appropriate to Isabela's parents for sending their 15 year old daughter to live, study, and play on another continent.
That was until the USA Handball National Team Governing Body hired Edina Borsos as their U.S. Women's Senior National Team Head Coach. As a European Handball Federation Pro Master Handball Coach and lecturer with extensive international coaching and playing experience, Coach Borsos was just the right person to help Isabela spread her wings to Europe. Isabela's father reached out to Coach Borsos, who had worked as the General Manager of the French Women's National Handball Team for more than 15 years. She was able to arrange for Isabela and her parents to talk with Géraugh Gaillard, a native of Dijon, France who was living in Boston. Gaillard then contacted the coach of the JDA Dijon women's handball team, Anthony Favier. It was Coach Favier who ultimately made the arrangements for Isabela to play with his club, attend a school for athletes, and to live with a welcoming Alibert family. Isabela has become the fifth child in this family of handball players who have received her as another daughter.
Yes, Isabela made this decision to soar with her wings to France without speaking a word of French. Yes, Isabela made this decision to follow her heart at the cost of leaving her family behind in Boston. Yes, Isabela continues to dream to be a professional handball player someday. Until that day arrives, she will continue to train in France, moving to a new handball club and a new school this September. She will also continue to spread her wings and pursue her goals with both the U.S. Junior and Senior National Teams.
As Johann Wolfgang von Goethe, one of the greatest German literary figures of the modern era, poetically said, "There are only two lasting bequests we can hope to give our children. One of these is roots, the other, wings." Isabela can thank her parents, who she hasn't seen since February, for the roots that give her confidence, and for her wings that give her flight, when she finally reunites with them after the IHF World Junior Handball Championships ends in July. Use your wings, Isabela, and continue to soar.