Women's Junior National Team Spotlight - Julia Malysz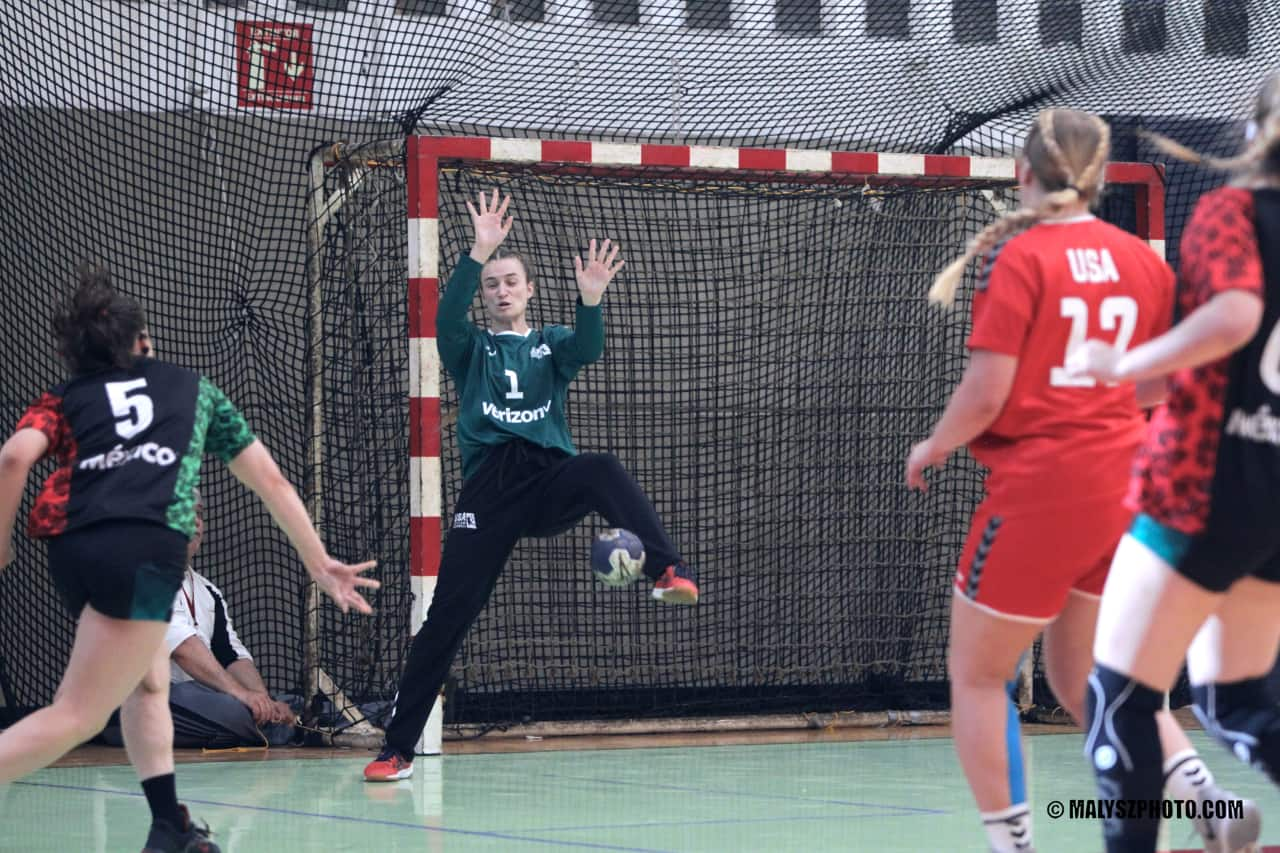 What does a father do when his daughter sets her sights on being a goalie for the U.S. Olympic Women's Team Handball Team someday!? Well, build her a handball net in the family's driveway - a goal of her own, of course! And then what do you do, as parents, if she wants to learn more about the sport? You take her to your home country of Poland to see a match, of course.
This was just the beginning for now 16 year old Julia Malysz, who began playing team handball at age 11. An after-school program near her home in Illinois, organized by a former Polish player and coach, Coach Małgorzata Gunka, gave Julia her first opportunity to play the sport. This Polish club, Tatra Team Handball, captured Julia's attention and solidified her love for the sport.
When Julia chose to learn the position of goalie, her father built her a handball net from two-by-fours and goal netting imported from Poland in the family's driveway. And when Julia decided she wanted to pursue team handball beyond this recreational, after-school program, her parents, Jerzy and Renata, took her to Poland, their home country.
Returning to Poland was the most natural step for Julia's family, as her father played the sport for 20 years, both in Poland and in the U.S. Julia's first opportunity to see a handball match first-hand was in Poland. Julia's enthusiasm and dedication to progress led her to attending a handball camp in Poland as well. She admired and studied the goalkeepers - not able to take her eye off of them - or the ball.
Julia again followed the footsteps of her father at the age of 13 by joining the same handball club that her father once played for - the Chicago Inter. These two generations have now both played team handball in both the U.S. and Poland.
Having gained more experience in the goal, Julia was accepted to the U.S. Youth National Team at the age of 14 which is when she began working with U.S. Coach Craig Rot, who also lives in the Chicago area. Julia finally played in her first handball game as the U.S. Youth National Team's goalkeeper in Montreal in October 2019 at the International Handball Federation Trophy Tournament. The team finished fifth and Julia couldn't wait to play more - she couldn't wait to get back in the goal and to get her hands and feet on more handballs.
Her goals were set and she was on a mission to achieve them - one by one. As a goalkeeper for the adult Chicago Inter team, Julia traveled with the team to compete in the California Cup both in 2021 and 2022 where her team was one of the top competitors. Her team also played in the Michael Lipov Memorial in 2021 which is hosted by the hometeam - the Chicago Inter. Less than six months later, the team took 3rd place in a very competitive field at the USA Team Handball National Championships in Michigan.
Mind you, Julia isn't just your average goalie. No, she is a MVG - Most Valuable Goalkeeper. She was given this honor at the 2022 California Cup despite her team not winning. This is evidence that Julia's MVG skills must have shined bright in the California sunshine.
Many people ask Julia - why do you want to be a goalie? Isn't it scary to be in the goal with strong players taking shots at you nonstop and being under stress continuously? To that Julia responds that she thrives on the challenge that goalkeeping presents. It requires both a high level of mental focus and physical coordination. As a goalkeeper, she accepts the challenge of literally having to be able to take an athletic beating from the handballs fired at you and…keep on keepin' on.
Julia's summers are no longer spent just practicing in her driveway with her home-built handball net. Currently, Julia is a member of the U.S. Junior Women's National Team having just goaltended for the team at the North America & Caribbean Junior Handball Championships in Mexico City in April. The U.S. Juniors placed second qualifying them for the World Junior Handball Championships in Slovenia in June - the U.S.'s first team since 1981. In preparation for the World Championships, Julia, along with three other Junior players, are training for two weeks with the U.S. Senior Women's National Team just outside of Paris at the Maison du Handball. Prior to the World Championships, the U.S. Junior Women's National Team will have their own training camp in Hungary where Julia will continue to hone her goalkeeping skills in preparation for some tough competition. One thing is certain - Julia has the drive to excel and has her sights set on what lies ahead for her. Oh lá lá, this goalie is a "keeper" for sure!