Beach Men's National Team Roster for 2022 World Games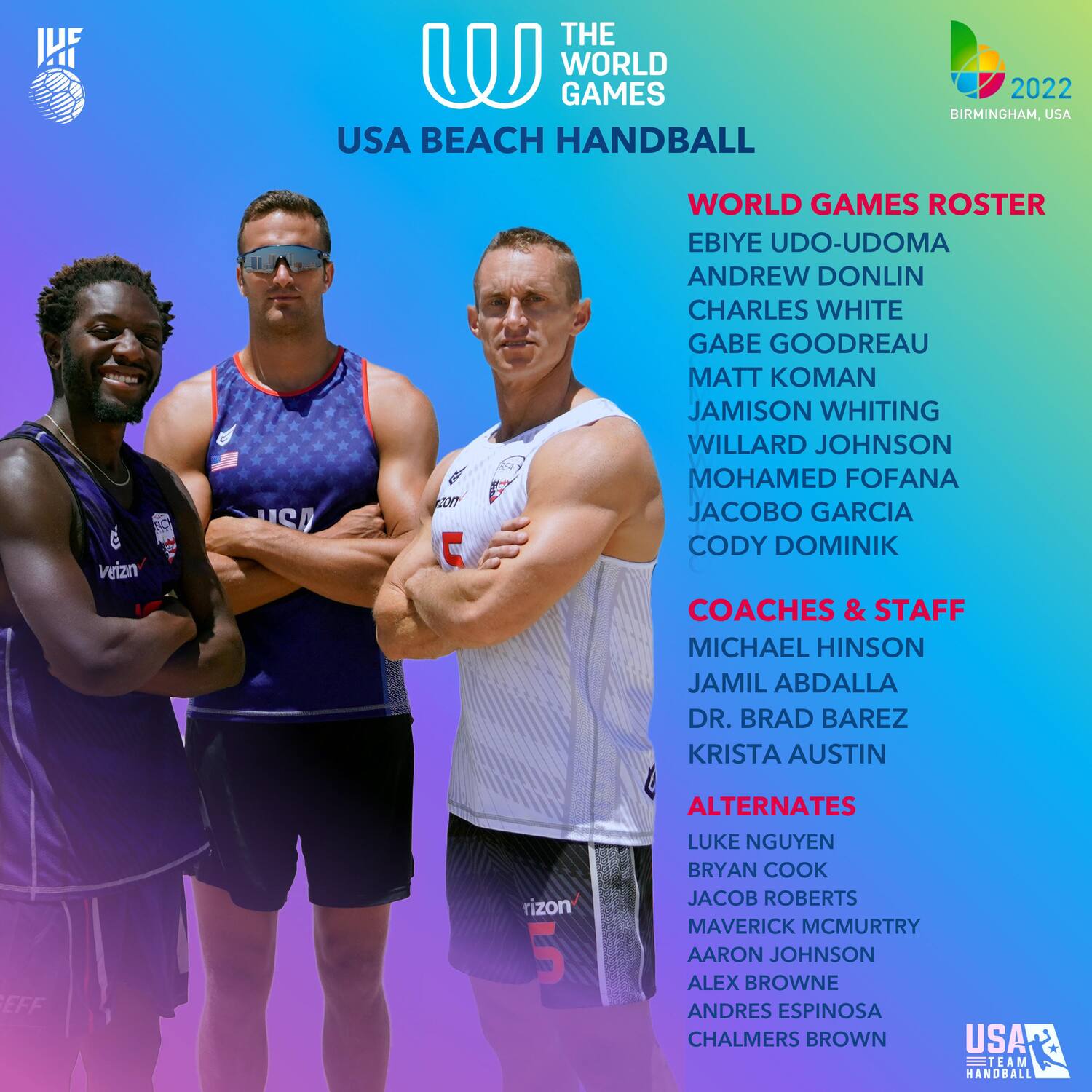 FINAL ROSTER FOR SR. MEN'S BEACH TEAM ANNOUNCED
The team will be competing in the upcoming World Games in Birmingham, Alabama
The 10 athletes (and 7 alternates) that will represent the U.S. at The World Games 2022 have been selected.
Final Roster (name, state, position)
* Ebiye Udo-Udoma (CA) - (c) Offense
* Charlie White (CA) - Offense
* Cody Dominik (CA) - Offense
* Jacobo Garcia (CA) - Offense
* Drew Donlin (CA) - Offense
* Mohamed Fofana (CA) - Defense
* Willard Johnson (WA) - Defense
* Jamison Whiting (MN) - Defense
* Matthew Koman (CA) - Defense
* Gabe Goodreau (CA) - Goalkeeper
Coaches & Staff
* Michael Hinson - Head Coach
* Jamil Abdalla - Assistant Coach
* Dr. Brad Barez - Athletic Trainer
* Krista Austin - High Performance Manager
Alternates
* Aaron Johnson (CA) - Offense
* Alex Browne (CA) - Offense
* Maverick McMurtry (CA) - Offense
* Andres Espinosa (CA) - Defense
* Chalmers Brown (CA) - Defense
* Jacob Roberts (KY) - Goalkeeper
* Bryan Cook (CA) - Goalkeeper
* Loc Nguyen (UT) - Goalkeeper
The selection committee consisted of Sr Men's National Team Coach, Michael Hinson, Sr Men's National Team Assistant Coach, Jamil Abdalla, Athlete's Advisory Council Representatives and High Performance Manager, Krista Austin.
Among the 10 selected athletes are 5 members (Udo-Udoma, Dominik, Fofana, Johnson, Koman) who participated in the ninth edition of the IHF Beach Handball World Championships in Heraklion, Greece last month. They will be joined by 2022 NACHC beach handball continental champions Charlie White, Jacobo Garcia, and Jamison Whiting, as well as longtime indoor & beach national team goalkeeper Gabe Goodreau and recent NACHC indoor handball continental championship winner Drew Donlin.
"To compete for the USA Team at The World Games on American soil is something I will remember for the rest of my life," Charlie White, Men's Beach National Team Athlete, said. "We have an incredibly talented team that can compete with the best in the world. It's time to focus and play up to our potential. I hope we show the American people how dynamic and exciting our team and this sport can be. I want us to end up on the podium in Birmingham."
The World Games will be taking place in Birmingham, Alabama July 7-17, with the beach handball event competition from July 11-15 at national historic landmark Sloss Furnaces. USA Team Handball will be competing in the event for the first time and in the men's draw Brazil, Argentina, and Puerto Rico were grouped with Team USA. Stay up to date with all the action going The World Games 2022 Birmingham on social media using the handle TWG2022.
Facebook - https://www.facebook.com/TWG2022/
Instagram - https://www.instagram.com/twg2022
Twitter - https://twitter.com/twg2022
Live Updates and Streaming
Official Websites