2022 USATH Fall Kickoff Series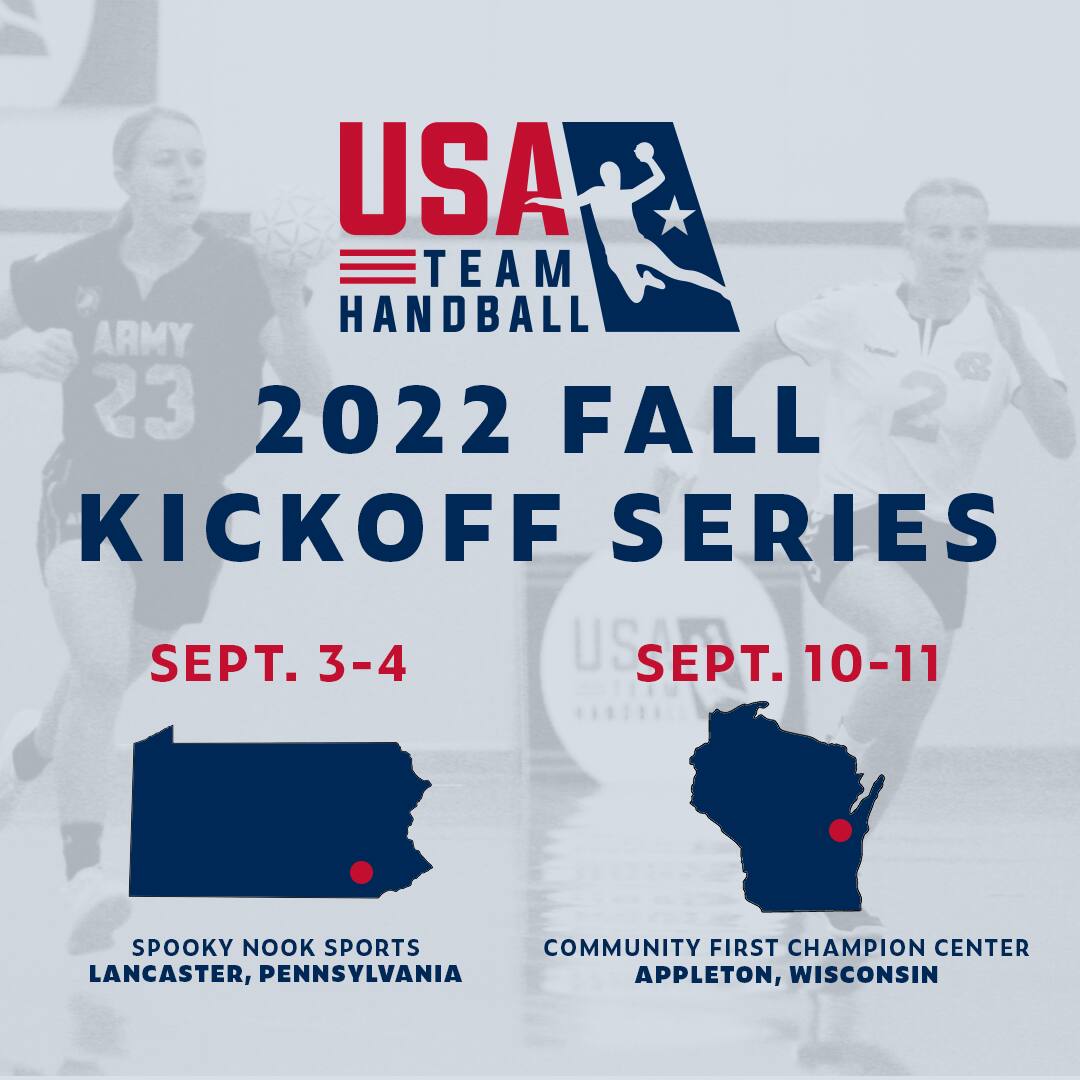 USA Team Handball is excited to announce the 2022 USATH Fall Kickoff Series, scheduled for the weekends of Sept. 3–4 and 10–11. These two tournaments mark the start of a busy 2022/2023 handball season. The Kickoff Series is intended to provide clubs with opportunities to prepare their teams while showcasing the sport to new and existing local and regional communities. These events will serve as development opportunities for established teams and new entrants into the sport.
The first event will take place at Spooky Nook Sports, located just outside of Lancaster, Pennsylvania. Spooky Nook Sports is the largest indoor sports complex in the United States, providing regulation courts and playing fields for more than a dozen sports under one roof. In addition to the 700,000-square-foot indoor facility, The Nook offers an outdoor field hockey pitch and a climate-controlled dome used for field hockey, soccer, football, and more.
The second tournament will be hosted at the Community First Champion Center in Appleton, Wisconsin, in collaboration with the Fox Cities Convention & Visitors Bureau. The Community First Champion Center (CFCC) is the Midwest's premier indoor ice and hard-court sports complex. This 164,000-square-foot facility opened in November of 2019 and features a year-round ice rink with seating for up to 1,000; a fieldhouse with four basketball or eight volleyball courts; and a seasonal arena that can be an ice rink or four basketball courts or six volleyball courts.
"We are excited to be welcoming USA Team Handball to the Fox Cities and introducing this sport to our community" said McDaniel, Sports Marketing Manager with the Fox Cities Convention and Visitors Bureau. "We are thrilled to partner with the Community First Champion Center as the event's host facility and showcase this facility and this sport like never before."
Located in the thriving and welcoming Fox Cities/Greater Appleton area, the CFCC is just off of Interstate 41 east in central Wisconsin. Visitors will find hundreds of restaurants, stores, and family-friendly attractions as well as more than 2,000 team-friendly hotel rooms within 10 minutes of the facility.
Interested teams can continue to register for both events on https://usateamhandball.sport80.com/
Links:
For more information on Spooky Nook Sports, visit https://www.spookynooksports.com/manheim/
For more information on the Community First Champion Center, visit https://championcenterwi.com/
For more information on the Fox Cities Convention and Visitors Bureau, visit https://www.foxcities.org/
Contact Information
Martin Branick
Event Coordinator – USA Team Handball
Martin.branick@usateamhandball.org
(404) 358-5986
Matt Ten Haken
Sports Marketing Director- Fox Cities Convention & Visitors Bureau
mtenhaken@foxcities.org
(920) 734-3358
Abby McDaniel
Sports Marketing Manager- Fox Cities Convention & Visitors Bureau
amcdaniel@foxcities.org
(920) 734-3358
Adam Ligocki
General Manager – Community First Champion Center
ALigocki@sportsfacilities.com
(920) 659-4914