Ohio State Beach Handball Clinic and Tournament a Success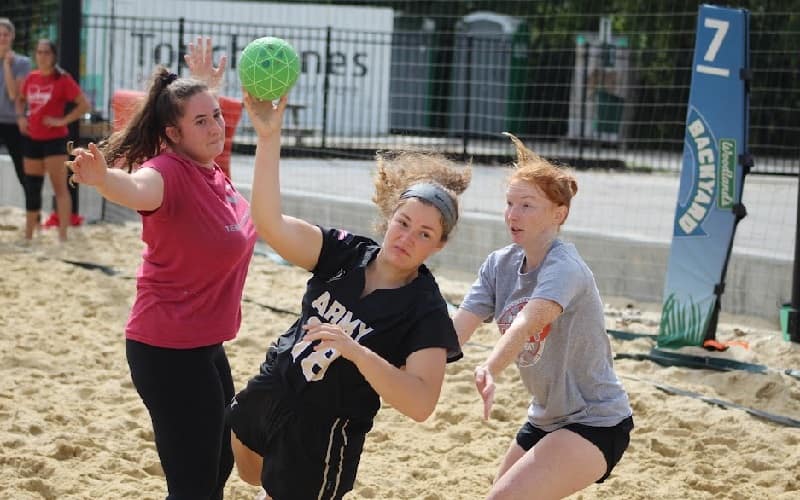 (West Point's Emily Minner looks to score against Ohio St defenders Malka Steinberg (left) Ariane Clerc (right))
The 4th annual "Ball at the Beach" Handball Tournament was held this past Saturday in Columbus, Ohio with teams from Ohio, Kentucky and New York participating. The tournament was a simple round robin format and The Team Handball Club at the Ohio State University won both the Co-Ed and Women's Divisions. Carmen Turero, who played for both the Kentucky Stags in the Co-Ed Division and for Ohio State in the Women's Dvision was selected as the Tournament MVP and Jacob Roberts of the Kentucky Stags was selected as the Tournament Most Valuable Goalkeeper.
Results
Co-Ed Division
Ohio State

Columbus Armada

NYC Team Handball

Kentucky Stags

Littmus Test
Women's Division
Ohio State & Friends

West Point (Army)
Tournament Photo Album: Link
Beach Handball Clinic
Prior to the start of the tournament USA Men's National Team Beach Handball Coach, Michael Hinson, conducted a clinic focused on basic beach handball skills. Here's Coach Hinson's perspective on beach handball's prospects in the Midwest:
"This past summer we were able to have several players and potential coaches participate in a tournament in the Canary Islands. At the tournament they were exposed to beach handball competition at the highest level and now really understand what it takes to be the best in the world. This clinic and tournament is an example of how they are now passing that knowledge along to more athletes. I'm really proud of the work JD Orr, Max Littman, Joey Williams and several others players are putting in, and can't wait to see how explosive the sport becomes in the next 2-3 years."
Women's National Team Assistant Beach Handball Coach, Michi Mensing also participated and was pleased with the results:
"We had a great turnout and were especially excited to see so many college players come out and test their skills on the sand. Starting with talent recruitment early is key to growing our national team player pools and we will see many of the faces again next weekend in Atlanta, which shows me that they want more and are ready to dream big."
Indoor Collegiate Match
On Sunday, Ohio State and West Point played a traditional indoor match with West Point winning comfortably, 21-8.
Match Video: Link