2021 NACHC Post Tournament Reactions, All Star Team and Top Scorers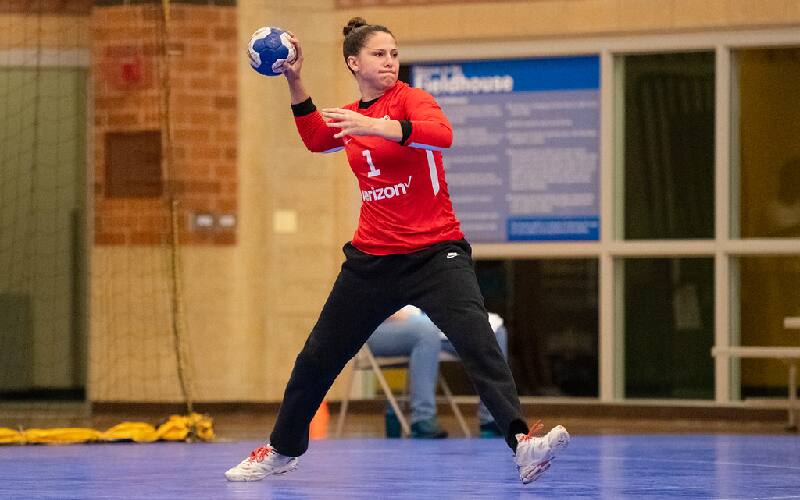 (2021 NACHC Tournament All Star GK, Sophie Fasold; Photo: Richard Immel)
2021 NACHC Women's Handball Championships USA Post Tournament Reactions
Here are some post tournament reflections from the USA staff and Women's National Team Captain
USA Women's National Team Interim Head Coach, Julio Sainz:
"The tournament result was not what we wanted and, of course, not meeting our objectives was a disappointment. However, there were moments during the competition that we showed our potential such as the first half vs Greenland during pool play. I think that our new generation of athletes have a lot of potential and will become the foundation for the further development of our Women's National Team.
There were also some great individual performances. Sophie Fasold was outstanding in goal throughout the tournament and very deservedly was named to the All Star team. Emilie Myrmo also had a great game in goal vs Mexico and Eden Nesper's consistence performance on right wing shows that she has a real future with this team as well."
USA Women's National Team Captain, Sarah Gascon
"It wasn't our best showing, but a great learning experience for our younger teammates. Although we had some great moments our Achilles heels were the unforced errors and lack of offensive production. Our goalies played great but we needed to capitalize offensively. We need to be better and use this experience to prepare us for 2023 Pan Am Games qualification next year.
USA Team Handball CEO, Ryan Johnson
"While the tournament results weren't what we hoped for, this was a great opportunity for our athletes and USA Team Handball to host a major tournament for the first time in several years. We learned a lot about the logistics required and we look forward to hosting more events and exposing more Americans to live, in person handball."
2021 NACHC Senior Women's Championship Tournament Page: LINK
The 2021 NACHC Tournament Page has been finalized and includes links to all official match reports, photo galleries, full match video replays, post game interviews and more.
Here are a couple items that were recently added:
Official All Star Team
Goalkeeper: Sophie Fasold (USA)

Left Wing: Zuleika Fuentes (PUR)

Left Back: Lykke Hansen (GRL)

Center Back: Nathalys Ceballos (PUR)

Right Back: Josephine Gadgaard (GRL)

Right Wing Jailene Maldonado (PUR)

Pivot: Ivana Holm (GRL)

MVP Sheila Hiraldo (PUR)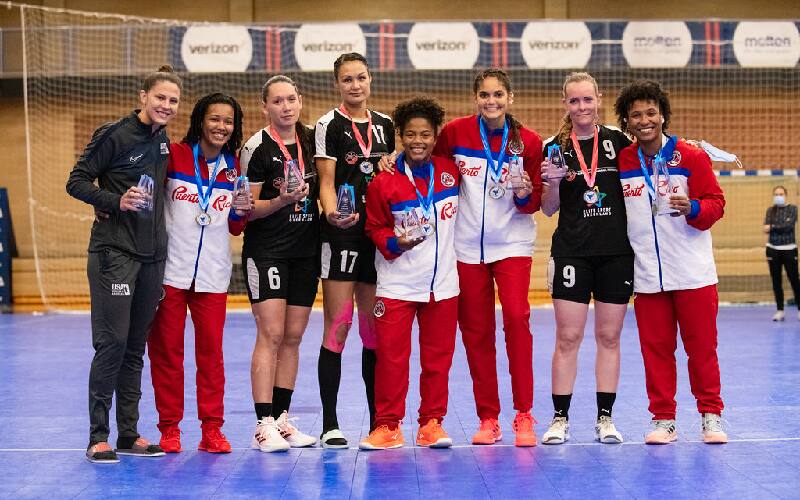 (NACHC All Star Team/MVP; Photo: Richard Immel)
(L to R: Fasold, Fuentes, Holm, Hansen, Ceballos, Maldonado, Gadgaard, Hiraldo)
Top Scorers List
Nathalys Ceballo (PUR)

24

L

ykke Hansen (GRL)

20

Gemma Leal (MEX)

19
Zuleika Fuentes (PUR)

18
Debanhy Arriaga (MEX)

17
Aviana Kajanmat (GRL)

15
Itzel Vargas (MEX)

15
Sheila Hiraldo (PUR)

15
Anja Heilmann (GRL)

14
Cinthia Gallegos (MEX)

14
Erika Graciani (PUR)

14
Julia Taylor (USA)

12
Jaqueline Lopez (MEX)

11
Complete Scoring List: Link