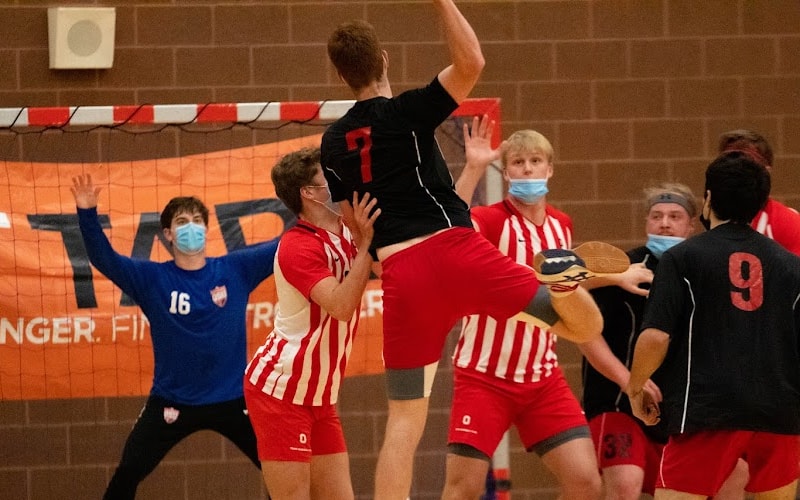 (Cincinnati's Ryan Young goes up for a jump shot vs Ohio St defenders Charlie Young, Luke Bolte and GK Ryan Wise)


The Trailblazer Collegiate Conference started their inaugural 2021-22 season on Sunday, 21 November, with the Ohio State University hosting the University of Cincinnati on campus at the Recreational and Physical Activity Center (RPAC).
Ohio St's 1st team, Ohio St (Scarlet) dominated the competition with two easy victories. In the opening match, Ohio St (Scarlet) controlled the match from start to finish for a lopsided 51-18 victory over Cincinnati.
In the second match of the day, Cincinnati took on the Ohio St 2nd team, Ohio St (Gray). This match was more competitive with Ohio St (Gray) leading by a score of 20-16 at the half time break. In the 2nd half Gray was able to wear down a tired Cincinnati squad for the eventual 39-27 result. Lyle Avery led the Buckeyes with 12 goals while Mitchell Klutchar added 9. Lucas Peiro Aguilera (11 goals) and Ryan Young (8) paced the Bearcats.
In the final match of the day, the two Ohio St teams faced off and Scarlet made sure there was no doubt as to which side was the 1st team as the easily defeated Gray 42-14. The Scarlet defense was particularly effective limiting Gray to just 33% shooting (14 of 42 shots). For Scarlet, Matt Bolger scored from everywhere for 18 goals while Charlie Harper added 7. Gray was led in scoring by Mitchell Klutchar and Daniel "Dirt" Ronis-Tobin with 3 goals apiece.
The league will go on hiatus till next January when the University of Pittsburgh will host Match Day 2 of the Western Division and James Madison University will host North Carolina, Virginia and Johns Hopkins for Match Day 1 of the Eastern Division.
Results and Match Video
Post Game Interview with Ohio State's, Matt Bolger: Link (Interview starts at 1:13:40)
Match Day 1 Photo Album: Link
Current Standings


The inaugural season of the Trailblazer Collegiate Conference is being supported by USA Team Handball as part of an initiative to further grow collegiate club handball in the U.S. The Trailblazer Collegiate Conference is intended to showcase college handball and to encourage the establishment of new college club programs and conferences. Individuals interested in starting a new collegiate handball club or conference should contact USA Team Handball at info@usateamhandball.org for further information.