Beach Handball Referee Camp Trains Four New Officials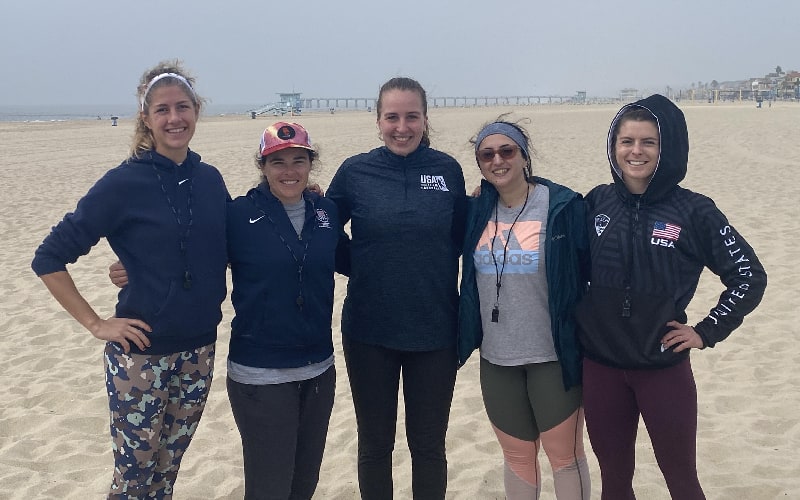 (Left to right, Kaitann Scherer, Kimberly Popp, Michelle Mensing, Anahita Pirnia and Melissa Browne)
A successful beach handball referee certification camp was held this past weekend in LA. The 2 day camp included 4 hours of lessons covering all sections of the rule book, referee responsibilities before, during and after the match, body language and progressive punishment and cooperation between referees. The participants were also taught the basics of timekeeper, score keeper and delegate tasks as they will also have to perform or support these tasks in domestic competitions. With the acquired knowledge and skills the participants then officiated friendly competition matches as referees, timekeeper, scorekeeper, delegate for a total of 4 hours. Rotating responsibilities after each set.
Initially the participants were paired with an experienced referee, then as their confidence progressed they were were paired with each other to officiate matches. After each set the entire cohort received feedback on their performance and areas that needed improvement. At the end of the second day all participants were sent an online rules test containing 30 questions based on the IHF Beach Handball Rule Question Catalog.
Certification Requirements:
8 hours of theory and praxis on beach handball

USA Team Handball Membership

SafeSport training

Passing grade of >80% on the rules test
Melissa Browne (CA)

Katiann Scherer (CA)

Anahita Pirnia (SC)

Kimberly Popp (CA)
Once all requirements are fulfilled the U.S. will have 12 certified beach referees.
Anyone interested in becoming a certified beach handball referee should contact the National Referee Committee at referee@usateamhandball.org