Jan O'Shea Retires From USA Team Handball After Over 35 Years of Service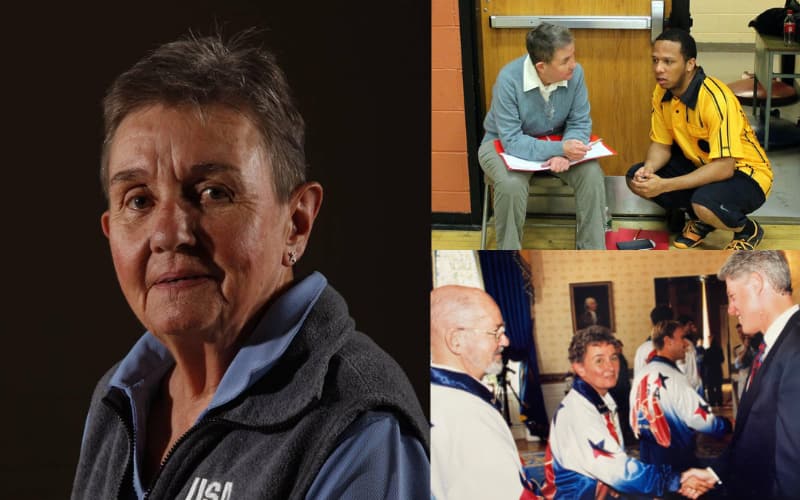 USA Team Handball (USATH) would like to formally recognize Jan O'Shea, who, after over 35 years of service to team handball in the United States, has officially retired from handball as of May 1, 2021.
From her work with the U.S. Women's National Team program, USATH membership body, USATH National Championships, and Northeast Team Handball League, Jan has been behind much of what has allowed American athletes to play handball. With Jan's involvement at so many different levels of the sport, it is difficult to compile a comprehensive list of her impact on this sport in America. She has been instrumental in so many aspects of the handball community over this time.
During USATH's preparation for the 1996 Atlanta Olympic Games, Jan served as the resident Women's National Team Manager in 1995 and 1996 – her husband Don was the Men's Team Manager during that same period. Jan and Don were named to the 1996 Olympic Team as respective Olympic Team Managers. They also both served as Women's and Men's Team Managers for the 1995 Pan American Games in Mar del Plata, Argentina.
Outside of her work with the national team program, Jan served as the USATH Membership Committee Chair for many years, establishing and implementing membership categories and costs for the USA Team Handball community. She was also a driving force of USATH's National Championships for many years. Jan was actively involved in creating and reviewing Site Selection Criteria for the annual event, and was a voting member of the National Championship planning committee for multiple years. In addition to serving as a staff member at Nationals, setting up the event, running technical meetings, and running a smooth competition, Jan also directed and monitored registration for many National Championship editions as Registration Director.
Jan also was instrumental in ensuring the safety of USATH athletes and community members. She worked with the U.S. Anti Doping Agency (USADA), serving as the Doping Site Coordinator and Liaison with Doping Control Officers for USATH for many years. Jan also served as USATH's Membership Liaison for SafeSport and ran all implementation of SafeSport training and educational opportunities. On the regional level, Jan also created a bevy of opportunities for those in the Northeast, founding the Northeast Team Handball League and serving as the Northeast Team Handball League Commissioner from 2008 to 2021. Jan started the league from scratch and grew it to multiple divisions for each gender during her 13 years of running the league.
In addition to her work in handball, Jan also found the time to stay involved in other sports as well. She worked as a certified field hockey and track and field referee and official for many years. She also served on the Greene, New York City Council for many years and was involved in the Empire State Games for several years along with her husband Don. USA Team Handball would like to formally thank Jan for her tireless efforts in sport over so many years – team handball would not be where it is without Jan's immense and invaluable impact on so many. Thank you, Jan.
—
Thoughts and reflection upon retirement:
"In the lead-up, it was exciting and challenging to manage a team of young women who were passionate about the sport of handball – a truly 'different' sport. They were like family! (Although they didn't like it when I did bed checks!)
I enjoyed the travel and shepherding 20 or so females around the world – Lake Placid, Japan, Korea, Rio de Janiero, the Dominican Republic, Norway, Sweden, the Czech Republic, and Romania. The team was welcomed everywhere, albeit the accommodations varied from third world to first. I remained active in handball by working local and national tournaments, and by being involved in the overall management of handball on the national level. Thank you Mike Cavanaugh!!"
-Jan O'Shea
From friends in the USATH community:
"It was my pleasure to have worked side-by-side with Jan for very nearly three decades. Whenever I would give her an assignment she would accept it, ask a few questions, needed little guidance and always performed the task at an exceptional level. She NEVER sought attention or praise or center stage, and was always willing to stand up for the rights and fairness of teams and members. No detail escaped her and no job was too little or too large for her capabilities. If you wanted something done on time and in a professional manner, Jan was a go to person. She was quick to point out weaknesses in procedures and equally quick to suggest thoughtful solutions to issues. Selfless, trustworthy, loyal, passionate, reliable, a team player, and friend – that is Jan O'Shea."
-Michael Cavanaugh, USATH CEO (1986-1997, 1999-2005, 2014-2019)
"Jan has been a pillar in the handball community for 35 years. Those new to the sport will never experience the kindness, passion and work ethic of someone like her. From tryouts, training camps domestic and abroad, local and national tournaments, Olympic Festivals, Pan American Games, and World Championships to the Olympics, there is not a handball memory without Jan in it. Whether it were on the bus, bench, behind the scenes, or a game of spades, she always brought a sense of security and family wherever we traveled around the world. Jan will be dearly missed as a member of the Board, countless committees, events, as a team mom, and friend. Thanks for all you have given to the great sport of handball and of yourself. Love you Jan!"
-Dawn Allinger Lewis, 1996 Olympian
"Jan has been a very special person in my life since first meeting her in 1993. I was a rookie, just learning the game, and had just graduated college. She took all of us rookies under her wing, being there as a source of support and comfort. She has always been genuine and trustworthy, and truly was passionate about our handball family. I definitely couldn't have navigated my handball career (player, coach, worked for USA Team Handball in collegiate development) without her support and guidance!"
-Lisa Eagen, 1996 Olympian
"Thank you Jan for your dedication and tireless work. You have left a legacy in the foundation of USA Team Handball. The USA Team Handball family will always appreciate your commitment and showing up when needed most."
-Kim Clarke, 1988, 1992, and 1996 Olympian
"Jan started out as a volunteer and became a pillar in the handball community. She lived the highs and lows with our team; two Olympic Games, Pan American gold medals, to fighting for, and losing our sleeping cars on the train to Hungary. We are grateful for her commitment and contribution to the sport."
-Dannette Leininger, 1992 and 1996 Olympian