Coach Julio Sainz Discusses Upcoming Women's National Team Tryout And Qualifier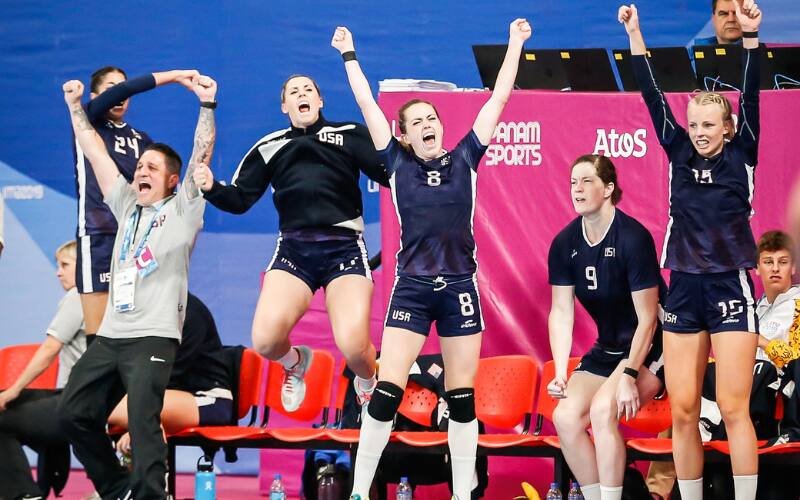 With a very busy/exciting summer coming up for the Women's National Team after a long hiatus due to the COVID-19 pandemic, USA Team Handball caught up with interim head coach Julio Sainz to hear his thoughts on leading the women's program tryouts in Boston this May. Sainz was appointed head coach of the U.S. Women's Senior National Team in March 2021. Sainz, who holds a Master Coach distinction from the International Handball Federation, has worked with both the U.S. Senior Women's and Men's National Teams for over 12 years.
He has served a variety of roles during his time with USA Team Handball, most recently as an assistant coach and video analyst for the Men's National Team during preparation for the 2021 IHF Men's World Championship. He held the same role for both the men and women competing at the 2019 Pan American Games in Lima, Peru. Take a look at our conversation with Sainz ahead of the Women's National Team tryouts, being held May 29-30 in the greater Boston area:
1. Please introduce the coaching staff and their roles with the Women's National Team
JS: When our CEO Ryan Johnson asked me about the possibility of serving the Women National Team program, I knew that it was important to discuss who was going to help me coach the team. I reached out to Craig Rot and Martin Bilello, who I worked with during the 2019 Men's Junior World Handball Championship in Spain. They both did a fantastic job in Spain, with Craig as first assistant and goalies' coach, and Martin as team manager and live analyst. Consequently, I was happy to begin this new adventure supported by these two exceptional professionals.
Nonetheless, we were missing a coach who could understand the game from the perspective of women; therefore, I decided to extend the invitation to Noelia Anton Bolanos, and she became the last member of the coaching staff. Noelia played at the highest level of competition in Europe in her home country of Spain, where she played in the Spanish's Division de Honor. I feel that bringing Noelia onboard not only serves a strong asset for the coaching staff, but also for the women on the team, who now have a support system who can understand the game from their own perspective.
2. Can you talk about your vision for the future of the U.S. women's handball program?
JS: Today marks my 51st day as coach of the Women's National Team program, and we have not stopped working since the day I was appointed. We engaged the team immediately and had a conversation that highlighted and acknowledged the work of the former staff and celebrated their achievements.
I felt that it was important to have an organic transition to our new line of work, and as of today; we continue to build on what was previously established. We have kept what had worked and rapidly discarded any issues holding us back. Afterwards, I presented the team and the staff with my vision, and I will be happy to share it with you too.
As you already know, we had the short-term goal of building a competitive team to compete at home against our friends in North America and the Caribbean for the first time in 32 years. Therefore, we immediately started to work on the micro cycles of preparation for this upcoming tournament. The preparation work has included planning camps, tryouts, and an overall revamp of the national team pool. We felt that it was important to send a message of inclusion to all available athletes in our community, and as of today; the engagement remains ongoing. We remain actively searching for new talent both locally and outside of the United States. Our main objective is to build a highly competitive team and qualify the team to the 2021 Women's World Championships. Additionally, we have re-engaged with our club network, and are now creating new lines of communication with club leaders, as we feel the clubs have an important role in all our goals. Our results as a country must represent everyone who is a member of our community, and we feel that it's time to look to our clubs for talent development and inclusion.
In terms of long-term goals, my vision is to continue developing coaches in all regions, clubs, colleges, and all those with the drive to help with the development of the sport. We need coaches to be competent, and I feel that in the long run, this is a very important role that I want to play as a national team coach. Coach development has a strong correlation to the level of competition in any program. Strong coaches develop strong athletes, hence leading to strong teams and competition. Additionally, we feel it is important to regionalize the development of the sport, and we are already working on several ideas to be implemented as soon as we finish our qualification tournament. At the moment, the qualification tournament remains our primary goal, as well as bringing the team back to the highest level of competition.
3. Who should consider attending the in-person Women's National Team tryouts in Boston?
JS: Any female athlete who feels that they have the talent to become a National Team member should attend the tryout. You can not only to use this tryout as a way to be selected for this upcoming tournament, but also use it to be considered for the future opportunities that will be available to the Women's National Team program.
I am looking at this new process from a holistic perspective. All athletes who have the drive to compete and proudly represent our program at the highest level of competition will have an opportunity to showcase their talent to the coaching staff.
4. Why is this tryout an important event?
JS: This tryout is important for many reasons, and I will list the top three reasons why I believe this upcoming tryout is so significant. The first is the opportunity to become a new member of the Women's National Team pool; I feel it is time to refuel the pool, and the tryout will serve as a source of new talent identification.
Secondly, any athlete selected will have the exciting possibility of competing at a Handball World Championship later this year. Lastly, I cannot think of a better way to represent our country than by playing in front of our families, friends and our handball community. Our hosting of this qualification tournament makes it even more special!
5. How should athletes, especially those who are new to handball, prepare for this tryout? What can they expect?
JS: The key word that I have been using is readiness. We all know the impact of the COVID-19 pandemic to our community and competitions around the world. Therefore, showing up to this tryout ready to compete and to absorb new technical and tactical ideas is a must.
Hence, all athletes must be ready to show multidimensional readiness, and they must be able to adapt to the demands of modern handball. In other words, the athletes must be ready to execute from all playing positions on the court, with the exception of those who will try out for the goalkeeper position. Generally speaking, the tryout will be an array of collaboration activities, combined with testing and decision-making exercises.
6. What qualities will you be looking for in tryout attendees?
JS: As I mentioned before, my main goal is to allow athletes of all age groups and levels of development to have a voice during this tryout. Nonetheless, there is a certain profile for the international competition that we must somehow strive for, and our goal is to search for those athletes who can rapidly adapt to the trends of contemporary handball.
7. What is your goal with the upcoming North American and Caribbean Handball Confederation (NACHC) Championship/World Championship Qualifier in Chicago this August?
JS: My goal is to put the best team possible on the court in Chicago this summer – I hope that we can show the handball community, both at home and abroad, how much potential this program has and how much potential American handball players have in general. We certainly are hoping that we will have a great performance at the tournament that will hopefully lead USA Team Handball to a very bright future. Also, with this being the first in-person handball competition hosted in the United States in a very long time, I cannot wait to welcome our friends from the NACHC region for a great event and a great display of our incredible sport!
Please click here to register for the upcoming Women's National Team tryout in Massachusetts this May.