USA Team Handball to Part Ways with Christian Latulippe After Eight Years of Leading the Women's National Team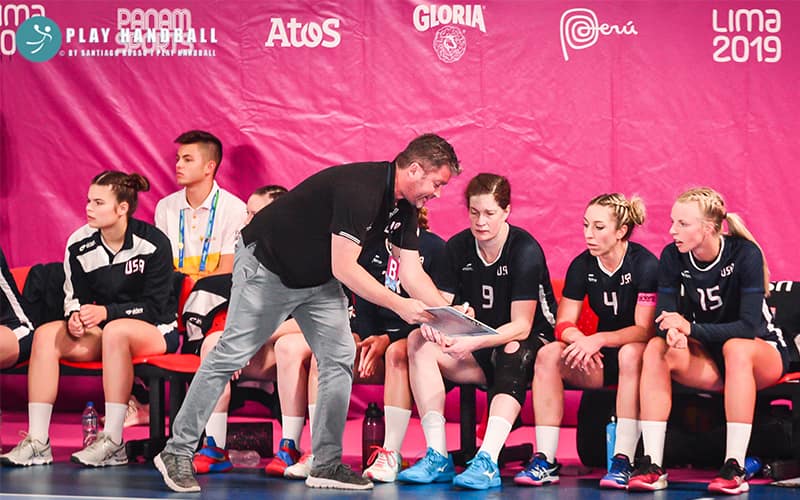 USA Team Handball is proud to recognize Christian Latulippe for his service to the National Team program since 2013. Latulippe dedicated eight years of coaching to USA Team Handball, beginning with the Auburn University residency program in 2013.
He briefly served as the head coach of the Men's National Team from April to June 2013, then spent the last eight years years building the Women's National Team program. He has also coached for a number of men's and women's club teams in France, and served as the assistant coach for the Canadian Men's National Team for three years from 2009 to 2012.
"We are incredibly grateful to Christian for leading all efforts surrounding our Women's National Team for almost a decade. He has made a huge impact on countless athletes who have played in our program, and his contributions cannot be understated," said USA Team Handball chief executive officer Ryan Johnson.
"I have no doubt that Christian's efforts will continue to have a lasting influence on our women's program moving forward. We've been very lucky to have had Christian's contributions to our sport over the last decade, and we wish him all the success moving forward."
The Women's National Team last competed in the 2019 Pan American Games in Lima, Peru, earning a fourth place finish with a close 24-23 loss to Cuba in the bronze medal match.
Captained by Sarah Gascon, the women had qualified for the Pan American Games by earning wins over Canada in the qualifying tournament. It had been eight years since the U.S. women's handball program had made an appearance in the Pan American Games.
"Time and again, Christian has donated his time, money and efforts to give us the opportunity to compete over the past 15 years. It is unique and humbling to have a coach that believes in you and those around you and pushes you to be your best – Christian was all of that," said Jennifer Fithian, U.S. Women's National Team athlete and USATH Board member. "Thank you for all the time, energy, and passion that you have given to this program. You built this program and have always believed in me and my teammates and have whole heartedly believed in the dream my teammates and I have been chasing."
The women were invited to play a number of international friendly games in April of 2020 by German club TV-Hannover Badenstedt and the Luxembourg Handball Federation, but were unable to do so due to the COVID-19 pandemic.
The Women's National Team's next competition will be later this year, as they look towards the North American & Caribbean Qualifier in 2021 for their opportunity for a spot in the 2021 IHF Women's World Championships. The World Championships will be held this December in Spain.
USA Team Handball will provide more information on the process for a Women's National Team head coach in the coming weeks.
About USA Team Handball: USA Team Handball (USATH) is the U.S. National Governing Body for the Olympic discipline of Team Handball, and is responsible for the development of grassroots programs, preparation of national teams for international competition - including the Pan American and Olympic Games - as well as the day-to-day oversight of the sport of team handball in the United States. The mission of USATH is to develop, promote, educate and grow the sport of team handball at all levels domestically, and to enable U.S. athletes to achieve sustained competitive excellence to win medals in international and Olympic competition. USATH is a member of the International Handball Federation, the North American and Caribbean Handball Confederation, and the United States Olympic & Paralympic Committee, and is headquartered in Colorado Springs, Colorado.
Media Contact: Melissa Zhang | (508) 768-5649 | Melissa.Zhang@usateamhandball.org