Teasia Stewart's Resilience Has Put Her in A Position to Succeed with Team USA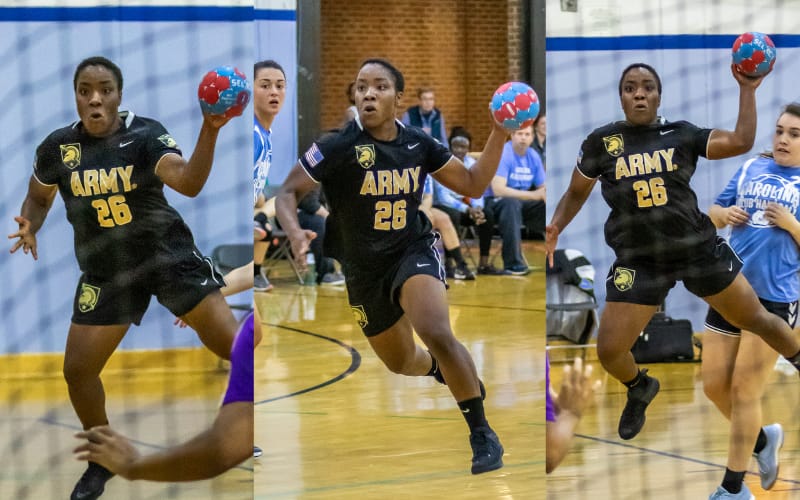 Teasia Stewart always knew she was going to be back on the court.
Even after suffering several injuries at the United States Military Academy, including a torn labrum in December 2017 and a concussion last September, Stewart hoped that she would be back playing handball with her West Point Team Handball teammates.
It is that perseverance that has landed Stewart on the U.S. Women's National Team roster for the upcoming 2021 North American and Caribbean Handball Confederation (NACHC) Championships in the greater Chicago area.
Injuries can take a toll on even the most motivated athlete's psyche, as Stewart found out. But it did not get her down for long.
"I got discouraged [after tearing my labrum].The first couple of months I was upset with myself [for getting injured], but I quickly understood that injuries are a part of the game," Stewart said. "You can't really go through life with a negative attitude and expect things to get better. Eventually, I realized I could support my teammates and participate in the game in other ways."
In addition to being 'the loudest on the bench' during games, Stewart found another way to participate by watching game film. She watched West Point Team Handball's games, but she also took inspiration from professional handball matches around the world. She watched men's and women's matches, finding players who matched her playing style and picking out moves she wanted to incorporate into her own play. She even became a bit of a coach during games.
"I gave feedback to my teammates that were willing and interested," Stewart said. "I don't know everything about handball, but since I'm sitting on the bench, I have a bit of a different perspective than the players in the game." The film also helped me understand how significant shot placement is and how to move without the ball, so I'm hoping that will help me when I play with new and more skilled players."
Once she was fully recovered from her labrum injury, Stewart was finally able to play with her teammates for the second semester of her sophomore year, just in time to help West Point win the 2019 Collegiate National Championships. Most of the 2020 season was cancelled due to the COVID-19 pandemic and Stewart suffered her concussion in the fall of 2020.
Missing valuable game experience and practice time would normally spell trouble for athletes, due to getting out of shape and missing the nuances of the sport. Tryouts for a national team often can already be a nerve-racking endeavor without the lack of recent playing experience. But Stewart was not fazed.
"I was extremely nervous [going into Team USA tryouts], because I hadn't played handball in over a year because of COVID and injury," Stewart said. "But during the pandemic, I did a lot of running, even though I'm not a fan of it. And because of my conditioning at West Point, I knew I would be at my physical best [at the tryouts]. I've never been scared of anyone."
This same attitude is reflected in some of Stewart's role models: basketball stars Derrick Rose, Diana Taurasi, and LeBron James.
"Derrick Rose is one of my favorite athletes because he remains persistent even when he's injured. Injuries keep knocking him down, but he keeps getting back up," Stewart said. "He always delivers when his team needs a bucket. He's not afraid of anyone. It's the same with Taurasi and LeBron –they always deliver."
Stewart has always been involved in sports, most of which involve a lot of running. In middle school, she ran track, competing in the 100m, 200m, and triple jump events. She also played basketball all throughout middle school and high school.
However, Stewart had never picked up a handball until she arrived at West Point. She had planned on playing basketball in college, but changed her mind during her senior year of high school. A friend of hers at West Point suggested that she try handball because it was similar to basketball.
"I thought I'd try something new and give [handball] a challenge," Stewart said. I used to feel pressure [to perform] when I was playing other sports, like basketball, rugby, and volleyball. I don't feel any pressure when I'm playing handball. I just love to play."
Stewart will get the chance to keep playing the game she loves, but she is also excited to 'pick the brain' of some of her teammates and coaches, including U.S. Women's National Team assistant coach and former competitor Noelia Anton-Bolaños.
"I played Noelia a couple times at West Point.She's one of the best, if not the best player I've ever played against," Stewart said. "She does a lot of moves that I've never seen. We play similar positions and she has a lot of knowledge and experience that I don't have yet. I feel like she will help me and the team get better as well."
The two connected back in March of 2021, with Anton-Bolaños showing Stewart how to do a handball move over video. Stewart said she has not mastered the move yet, but is looking forward to spending more time with Anton-Bolaños and the other coaches, so that she can continue to learn more about the sport and improve her game.
"It's exciting to be on the team because it's almost guaranteed that I'll get better [as a handball player]," Stewart said. "[While competing,] I want to see other people's perspectives on handball, get some experience and put the team in a position to win this August and punch our ticket to the World Championships."