U.S. Beach Handball To Train And Compete In Spain and Portugal This Summer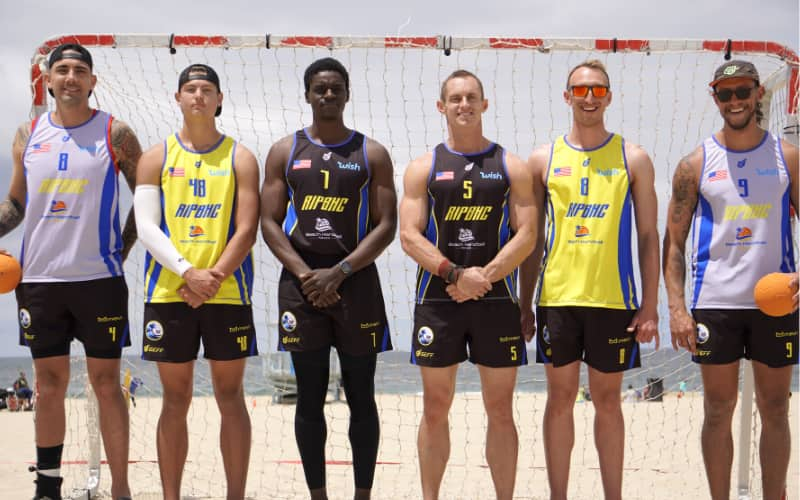 Members of the U.S. Men's Beach Team will join Spain this summer for a training camp in the Gran Canary Islands. There they will compete in an exhibition tournament, the Torneo Internacional de España, with the countries of Portugal, Spain, Poland and Germany. The exhibition tournament amongst the five national teams is invite only and will be used for preparation for the European Championships in July.
Following the international tournament, they will travel to compete in the Arena 1000 tour in Spain and Portugal. The tour's Spanish circuit will welcome 120 teams across 10 divisions. A special exception was made for American-based RIP Beach Handball Club. The Nazare, Portugal Arena 1000 tour stop is part of the European Beach Tournament, and will welcome the best club teams from across the continent and across the globe.
"This tournament in the Canary Islands will provide invaluable experience for us as a team against top European national teams. It's also a dream come true to get to compete in the prestigious Arena 1000 tour afterward," said Men's Beach Team athlete Charlie White. "I used to watch the Arena tournaments on television when I was working in Barcelona and I'm super excited to finally participate! The arenas are packed with fans and atmosphere looks incredible for the final games – some of the top players from around the world are there and I look forward to competing with them."
Led by Men's Team coaches Michael Hinson and Jamil Abdalla, the USA Beach Handball team and RIP Beach Handball Club will take on both top tier international teams and elite European beach handball clubs in June and July.
"This summer will be very important as we will start building up momentum for 2022. Next year we have three major tournaments with the North American and Caribbean Championships, followed by the World Championships and concluding with the World Games in Birmingham, Alabama," Hinson said. "This trip to Spain and Portugal will be invaluable for the development of some of our younger players and will allow some of our experienced players to create more of an understanding of what it takes to be successful at the highest level on the world stage."
The team was selected from players in the U.S. Men's Beach Handball pool. The schedule of events is as follows:
Gran Canary Islands, Island of Spain:
June 15-17, 2021
National Teams, Training Camp (Spain & United States)
Gran Canary Islands, Island of Spain:
June 18-20, 2021
National Teams, Torneo Internacional de España
Orihuela, Spain:
June 25-27, 2021
Clubs, Arena 1000 Tour Orihuela
Nazare, Portugal:
July 2-4, 2021
Clubs, Arena 1000 Tour, European Beach Tour
Team Roster:
Head Coach: Michael Hinson
Assistant Coach: Jamil Abdalla
Manager: Maria Boldina
| | | |
| --- | --- | --- |
| Name | Hometown | Position |
| Chalmers Brown | Marlboro, NJ | Defense / Wing |
| Alex Browne | Palo Alto, CA | Wing / Specialist |
| Rajarshi Chattopadhyay | Rockville, MD | Defense |
| Bryan Cook | Redondo Beach, CA | Defense / Goalkeeper |
| Cody Dominik | Seal Beach, CA | Centerback / Wing |
| Andres Espinosa IV | Playa del Rey, CA | Defense |
| Matthew Koman | Cincinnati, OH | Wing / Pivot / Defense |
| Luke Nguyen | Salt Lake City, UT | Goalkeeper |
| Ebiye Udo-Udoma | Los Angeles, CA | Centerback / Wing |
| Charles White III | San Francisco, CA | Wing / Specialist |
| JD Orr | Dublin, OH | Goalkeeper |
| Dale Farrow-Harris | Columbus, OH | Defense |
| Mike Zahour | Aurora, IL | Goalkeeper |