Isabela Da Cruz is Ready to Begin Her Journey to the Top with Team USA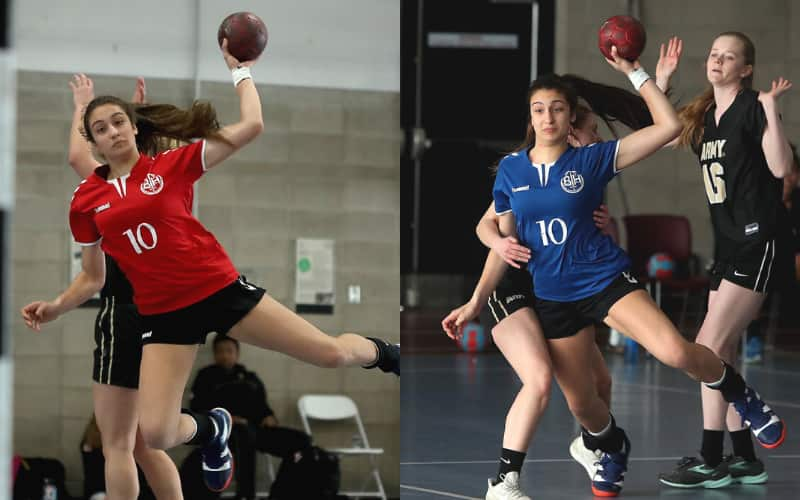 Isabela Da Cruz is at the beginning of a long handball journey. Making the U.S. roster for the 2021 North American and Caribbean Handball Confederation (NACHC) Championships this summer is just the first step.
The 15-year-old plans to play handball professionally someday and hopes to use this tournament to springboard towards a long career with Team USA and in European handball leagues.
"I tried out for the U.S. Women's National Team because I really love to play handball. The more I play, the better I feel about my skill set," Da Cruz said. "Making the team will help me play more outside the U.S and set me up to play professional handball. My father and I are trying to find some connections with schools outside the U.S. to study and play handball in, and talking to my older teammates about that stuff also helps."
However, her professional handball dream was not always fully formed. Da Cruz only recently began pursuing a career in professional handball in Brazil, prior to moving to the States.
"When I first played in Brazil, I didn't really practice," Da Cruz said. "I was just playing handball to have some fun and exercise, so I didn't practice that much. I practiced like two days a week."
But eventually, she learned how much she loved to play handball, and started investing more in her handball career.
"In Brazil, right before we moved, I joined a competitive handball club," Da Cruz said. "That experience made me realize that I wanted to play handball professionally. So, when I moved here and found Boston, it really helped me move to the next stage of my career towards professional handball."
She joined Boston Team Handball Club two years ago and has seen a marked improvement in her skills, thanks to increased competition and a significant age difference between herself and her competitors and teammates alike.
"Playing with Boston is more challenging because I'm playing against adults and they have more handball experience than I do," Da Cruz said. "For example, take [Assistant Coach] Noelia Anton-Bolanos. She's really skilled and to play with her or against her is really challenging, and it's really helped me improve. Boston has really helped me improve in a short amount of time."
"I'm always nervous when I play handball," she added. "But, in tournaments, I'm not as nervous because I'm playing with Boston; they've made me really comfortable playing with them. They don't judge me at all and they're always trying to help me get better."
Part of playing any sport professionally is watching game film to understand the strengths and weaknesses of an athlete's game and how they can be improved (or exploited by the opposing teams) during games. In order to facilitate her own improvement, Da Cruz and her father recently began watching more high-level handball.
"My father and I watch all the European games together.We watch the Men's and Women's [EHF] Champions League all the time," Da Cruz said. "We also watch the other European professional leagues – we really just watch everything we can. I like it because I can get ideas for drills and scoring moves from the best handball players in the world."
Da Cruz especially looks up to fellow Brazilian Eduarda "Duda" Amorim and Russian national team right back Anna Vyakhireva because she plays similar positions to them; she has started to model her game and some of her moves after theirs.
"[Vyakhireva] is really short, but she is a lefty and she does these crazy fakes that I want to emulate," Da Cruz said. "I really admire her because she's so fast that no one can catch her. I want to be that fast on the counterattack, but I also want to develop my skills along with my speed."
She has even started to practice those fakes on a goal in her backyard outside of practice and competitions. The goal came in handy for those situations, but it also helped when she was preparing for the Women's National Team tryouts in Boston this past May.
"I started practicing more of those fakes – especially on the new goal, because of the [NACHC] tryouts," Da Cruz said. "My father said, 'you need to practice, because practice with Boston will not be enough for you right now.' So I practiced with Boston and I practiced at home. I do a lot more practicing now than I did in Brazil."
Even though she had been training quite often in preparation for the tryouts, Da Cruz still felt incredibly nervous as the tryouts approached. But, her father helped alleviate her stress by telling her that she was not eligible for the team.
"My father actually told me I couldn't make the team because I was 15," Da Cruz said. "He told me, 'You need to be at least 16 to make the team, so don't worry, just take it as practice' I was really stressed out, but then, when he told me I couldn't make it, I was like "Okay, great! I just went out and competed."
There was just one problem.
"I found out I actually could make the team on the last day of the tryouts," she said. "I was really stressed out again. But, my father really helped me by saying, 'You're 15, you still have so much to learn. So, just focus on your game."
Now that she has made the team, though, Da Cruz has fewer reasons to be worried. That has allowed her to look forward to learning from her older, more experienced teammates.
"My main goal at the tournament is just to play the best I can and try to learn from other players," she said. "I'm looking forward to watching my teammates play and gathering information from them. They will have a lot of wisdom for me as a young player."
Eventually, she hopes to turn that wisdom into success on the court and eventually, a ticket to professional handball.
"Eventually, I want to move to Europe, because there are a lot of opportunities for me to play professional handball there," Da Cruz said. "I want to learn more about that from my teammates, some of whom have played professionally in European leagues. For now, though, I really want to enjoy the championships this summer and represent Team USA to the best of my ability."