Get To Know The National Referee Committee And Its Leaders, Tugomir Anusic and Rafael Marques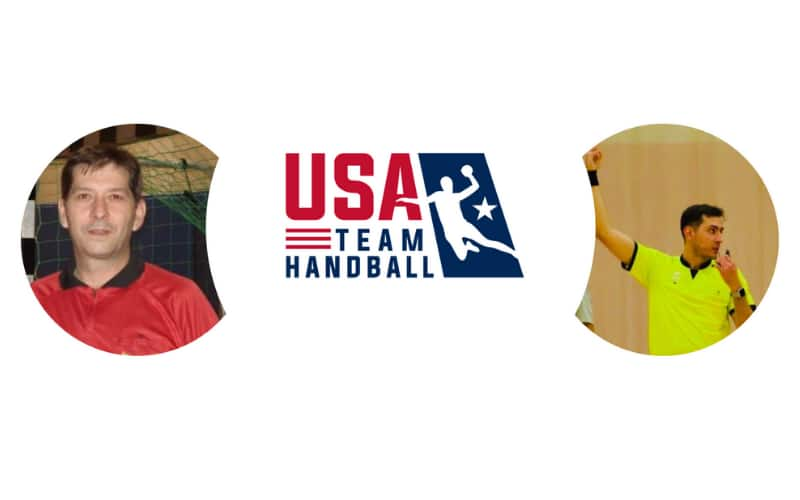 As USA Team Handball continues to develop and build its referee community, we sat down with Tugomir "Butso" Anusic and Rafael Marques of the National Referee Committee (NRC) to discuss their efforts and goals for American referees in the future. Anusic serves as the Chair of the NRC, and was an international handball referee for the International Handball Federation who refereed more than 2,500 games in his professional career. Anusic participated in the 1996 Atlanta and 2000 Sydney Olympic Games, and made appearances in numerous world championships and Pan American Games. Marques serves as Deputy Chair, and is an active referee for USATH who currently participates in national and continental competitions.
Go to our Referees page for more information and resources regarding handball refereeing. Get to know Anusic, Marques, and the NRC in our Q&A below:
Tell us about the NRC and what its mission/purpose is for handball referees in America:
TA & RM: "The USA Team Handball - National Referee Committee serves the community with the purpose of regulating, governing, administering, and overseeing all the referees' and game officials' matters of the sport of team handball in the United States.
The USATH – NRC takes very seriously its mission to ensure and promote that all team handball matches are officiated at the highest level through enforcing the playing rules while providing a safe and fair environment to all handball athletes."
Why is it so critical for the development of handball to have certified referees?
TA & RM: "The development of team handball in the United States has been growing rapidly and receiving a lot of attention from our community, and of course lots of attention overseas. As the technical level of players, clubs, and national teams improve, the level of referees must also match that expectation and even exceed it.
With the new criteria and requirements for referee certification, we believe that we will have officials with extensive knowledge of the rules and their interpretations, which is very critical so that handball matches are officiated in the fairest matter. Altogether, developing certified referees will help players achieve better results on the court.
The greatest handball athletes worldwide, for instance, understand the rules very well and apply them during their performances. In other words, while the referees are making critical decisions, they are also educating players, coaches, and the spectators through enforcing the rules properly. Therefore, we believe that the development of certified referees must be brought to a higher standard to meet the new tendencies of this sport in the States."
What will be some of the main priorities for the NRC over the next few years?
TA & RM: "Our biggest priority is to develop an efficient outreach program to increase the number of certified referees nationwide, so as more sanctioned tournaments happen, there are qualified officials within local and regional areas. We will also invest in the development of technical delegates, which is an important pillar of the officials team and is a crucial position to support the referees while they are on the court.
We are very excited to also have pairs of U.S. referees on the international stage. We currently have one pair pursuing this path and we hope their success reflects on other referees to do the same. We will also prioritize quality education when running referee clinics. We've seen positive feedback from our community from the Referee Education Program classes in partnership with the IHF and taught by IHF lecturer Per Morten Sodal. We realized that our community has greatly benefited from it, and we will keep doing these clinics throughout each season."
What are some things that you are excited about when it comes to the referee community in the U.S.?
TA & RM: "The most exciting thing is that we can make friends for life while being a referee. Working with your partner and other referees gives us a chance to get to know each other very well in which meaningful friendships are born from it."
For those individuals out there who are potentially thinking about getting started in becoming a handball referee, what would you say to them?
TA & RM: "Being a referee requires dedication, and of course, passion. These two elements are present in our daily life in many things we do, so it is very easy to apply them towards refereeing skills. While commitment is a big part of this job too, getting to be on the court in our opinion is the most gratifying opportunity and of course the best 'seat' to watch a handball match!"
Can you talk about some of the upcoming activities/educational opportunities that the NRC will be hosting?
TA & RM: "We will have the 3rd and last set of classes of the Referee Educational Program taught by Per Morten Sodal, likely after the Tokyo Olympic Games. We are also excited to hear the schedule of competitions post-pandemic which will be a key factor in our planning for future workshops, outreach opportunities and in-person certification opportunities.
While we wait for this to happen, we have started to run Certification Level 1 classes online and we're very excited to welcome Bora Bozkurt and Ezekiel McClintock from San Jose, California as the youngest pair of referees to receive their referee certification in USATH history!"