USA Team Handball Partners With TeachAids To Promote Concussion Education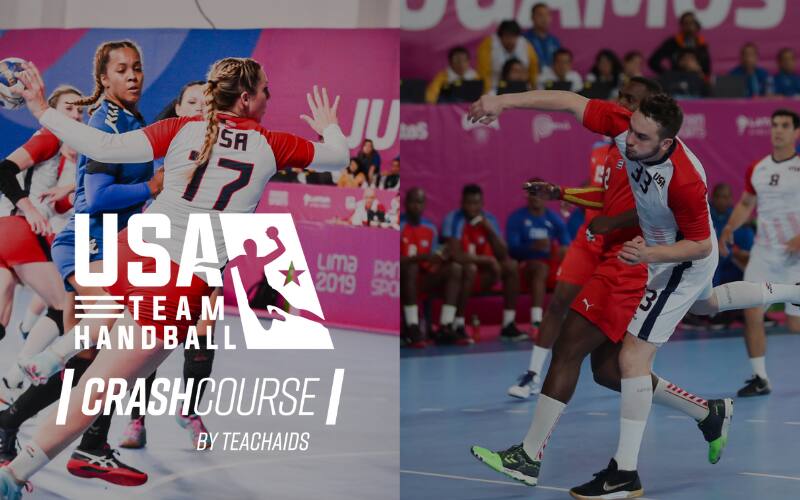 Colorado Springs, Colorado (July 12, 2021) — USA Team Handball, the National Governing Body for the Olympic sport of team handball, announced today it has formed a special partnership with award-winning nonprofit TeachAids to offer concussion education offerings to its athletes, coaches and members.
In collaboration with more than 100 medical and industry experts, TeachAids is a nonprofit leader in global health education innovation that was founded out of Stanford University in 2009 by Dr. Piya Sorcar.
Their concussion education, CrashCourse, serves to improve understanding and awareness surrounding concussions among athletes in all sports. The curriculum integrates state-of-the-art technology and interactive features to appeal specifically to athletes growing up in our digital native generation.
"Our utmost priority for handball players of all ages and levels is their health and safety," said USA Team Handball CEO Ryan Johnson. "The addition of CrashCourse to USA Team Handball's educational resources is incredibly valuable as we work to prevent injury and ensure a safer handball environment for all. We are delighted to be joining the many NGBs who are working with TeachAids in sharing this valuable concussion education with their respective sport communities."
"There are a number of injuries seen in the sport of handball. Most often known and reported are injuries to the shoulder and knee; however, 30 percent of all handball injuries are head and neck," said Women's National Team captain Dr. Sarah Gascon. "More specifically, mild traumatic brain injuries are hard to diagnose and recognize since they cannot be tested in a laboratory when they occur. Instead, coaches, parents and athletes have to rely on symptoms that present themselves after an athlete is injured. But how does one identify the symptoms if they do not know what they are? TeachAids provides our handball community the most impactful concussion education available to assist coaches, parents, and athletes on concussion symptoms, understanding and identifying the severity of concussions, and the importance of timely reporting. USA Team Handball's partnership with TeachAids is of the utmost importance and necessary to assist our community. As an athlete and sports scientist, I am proud USA Team Handball is committed to the health and safety of our athletes."
While developing curricula for the CrashCourse product suite, TeachAids collaborated with a multitude of U.S. Olympic and Paralympic National Governing Bodies, including USA Archery, USA Artistic Swimming, USA Baseball, USA Bobsled & Skeleton, USA Cycling, USA Diving, USA Fencing, USA Field Hockey, USA Football, USA Gymnastics, USA Hockey, USA Karate, US Lacrosse, US Ski & Snowboard, USA Rugby, US Ski & Snowboard, US Soccer, US Speedskating, USA Taekwondo, USA Triathlon, USA Water Ski & Wake Sports and USA Wrestling. TeachAids continues to work with Olympic and Paralympic athletes to ensure a safer sporting environment.
"We are excited to join together with USA Team Handball to produce and distribute evidence-based concussion education. Their leadership team has shown incredible dedication and commitment to protect our greater sports community." said Dr. Piya Sorcar, Founder and CEO of TeachAids.
The CrashCourse curriculum will be instituted for free throughout USA Team Handball's programs nationwide starting today via their website and other channels. To learn more about CrashCourse by TeachAids, visit http://crashcourse.teachaids.org.
____________
About USA Team Handball: USA Team Handball (USATH) is the U.S. National Governing Body for the Olympic discipline of Team Handball, and is responsible for the development of grassroots programs, preparation of national teams for international competition - including the Pan American and Olympic Games - as well as the day-to-day oversight of the sport of team handball in the United States. The mission of USATH is to develop, promote, educate and grow the sport of team handball at all levels domestically, and to enable U.S. athletes to achieve sustained competitive excellence to win medals in international and Olympic competition. USATH is a member of the International Handball Federation, the North American and Caribbean Handball Confederation, and the United States Olympic & Paralympic Committee, and is headquartered in Colorado Springs, Colorado.
About TeachAids
TeachAids is an award-winning 501(c)(3) nonprofit social venture that creates breakthrough software addressing numerous persistent problems. Their HIV/AIDS health education has been instituted in 82 countries. Also being used worldwide is their CoviDB education initiative, a community-edited platform organizing resources across a comprehensive set of topics relating to COVID-19. In partnership with 19 of the US Olympic and Paralympic Committees' National Governing Bodies, TeachAids has also launched the CrashCourse multi-sport concussion education product suite. These evidence-based applications are available online and in virtual reality. All TeachAids products are available at no cost. For more information on TeachAids visit TeachAids.org or follow us on Twitter @TeachAids, Facebook @TeachAids, LinkedIn @TeachAids, YouTube at TeachAids, and Instagram at @teachaids.
Media Contact for USA Team Handball
Melissa Zhang
(508) 768-5649
melissa.zhang@usateamhandball.org
Media Contact for TeachAids
Michelle Kafka
(407) 603-5716