Multisport Athlete Vince Marchbanks Continues To Spread His Love For Handball In Retirement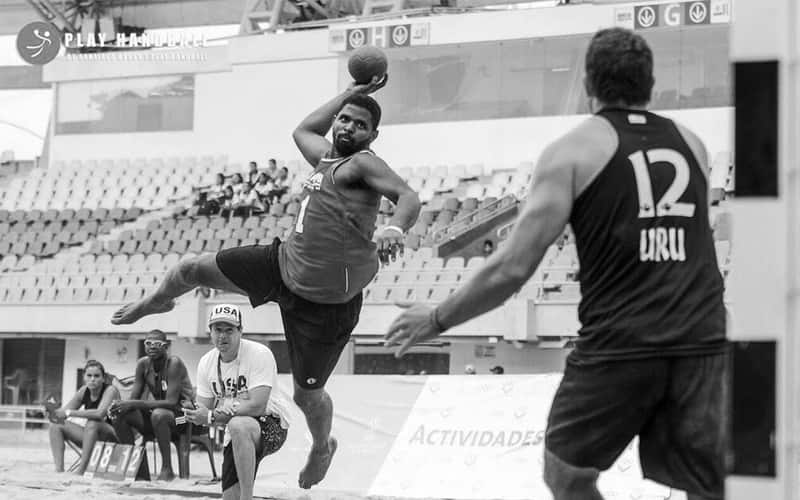 Vince Marchbanks did not originally plan on playing beach handball. He was bound for dodgeball superstardom, competing for a gold medal with USA Dodgeball on the international stage and for national championship titles with the most decorated club dodgeball team in the United States, Team DOOM.
Nicknamed the "LeBron James of dodgeball," Marchbanks first learned about handball from U.S. Men's Beach Handball athlete Ebiye Udo-Udoma.
Udo-Udoma and Marchbanks had competed against each other in a national championship for dodgeball and were friends off the court . Udo-Udoma switched to handball and Marchbanks stuck with dodgeball. Eventually, however, Udo-Udoma convinced him to give handball a try.
Marchbanks then had to choose between indoor and beach handball. According to Marchbanks, the decision was fairly easy because of one key difference in the games.
"I gravitated to beach handball as opposed to indoor, as I pride myself on always playing with style," Marchbanks said. "Beach handball was the first sport that rewarded, and even encouraged, style."
Beach handball also shares some of the characteristics with the sport LeBron James plays, requiring style, finesse, and grace, which was more of Marchbanks' speed than the contact-oriented defense of indoor handball.
"In beach handball, you have to prevent the offensive player from advancing the ball by beating the person to the spot and standing your ground. This style of limited contact leads to a lot fewer injuries," Marchbanks said. "As a father and architect, I need to stay injury-free. I need my knees to lift my children in the air and my eyes to read plans and details while at work."
Despite the differences between beach handball and dodgeball, the skills Marchbanks had learned in other sports were transferable. Marchbanks – a gold medalist with USA Dodgeball – was able to quickly pick up on the technical differences between the sports. However, there was one small issue with Marchbanks' transition from dodgeball to handball.
"Dodgeball helped me in beach handball because I had developed a strong throw through training to hit people with dodgeballs. However, it didn't help me in handball because I had to learn to miss people with the ball," Marchbanks said. "There were several instances where I rocked the goalkeeper in the face or chest with a sandy ball due to the muscle memory I had developed playing dodgeball for the past 10 years. Sorry to our goalies, especially the Lapin brothers!"
Fortunately, Marchbanks was able to correct the issue with his throws in time to compete with Udo-Udoma and Team USA in time for the 2016 Pan American Championships. He helped the team win its first-ever gold medal at the tournament and also competed at the 2016 Beach Handball World Championships in Budapest, Hungary.
Unfortunately, Marchbanks' beach handball career had to end following the World Championships. Between work, dodgeball, raising a family, and the copious amounts of sand tracked into the Marchbanks home, it ultimately became too much to balance.
However, Marchbanks has not stopped championing the sport to former teammates and friends. He said he has always encouraged his dodgeball friends to try out beach handball, bringing several people out to the beach to try.
"One of them still plays for Team USA: Charlie White. I love seeing how successful he has become and am one of his biggest fans," Marchbanks said. "Since I've stopped playing, I still find myself promoting the sport via social media and my friends are always happy to tag or share handball videos with me. Also, international dodgeball players have asked me to help them get into the sport and I help do the legwork to find them a league or team that plays in their area."
His caring personality has extended far outside of connecting athletes to new sports, however. Much like LeBron James, Marchbanks has taken it upon himself to be a role model for his friends, family, and local community.
"While I get a lot of grief from the dodgeball community about my nickname, I am honored to be mentioned in the same breath as LeBron James. He's an amazing athlete, a great husband, very present in his children's lives, and very outspoken when it comes to the plight of Black people in America," Marchbanks said. "I want to be known for the same thing. I want to provide opportunities for Black kids to succeed like LeBron does."
Shortly after the recession in 2008, Marchbanks took a position with College-Ready Middle Academy #4 as an after school counselor. In this role, Marchbanks was responsible for creating a dodgeball curriculum for the students as part of a program called the After School All-Stars, designed to keep students off the streets until their parents returned from work.
"I had an amazing time with the kids from College-Ready, as they never had the opportunity to play dodgeball at school, let alone with a high-level instructor. "They would watch my videos and come to school the next day and try my moves on their friends," Marchbanks said. "I helped keep about 40 kids off the street for months; it was one of the most rewarding jobs I ever had. It taught me how important it is to create opportunities for minority children to have fun and shine outside of school."
Marchbanks plans to return to the All-Stars program soon, in the hopes that he can help implement a dodgeball tournament for the kids. In the meantime, however, Marchbanks has also tried to be an educator to his colleagues at his architecture firm, especially during Black History Month.
Although Black History Month is bittersweet for Marchbanks, as "it is the shortest month of the year and is often full of performative actions," he also recognizes its potential as a vehicle for educating people about Black history.
"At my office, the month of February is filled with facts about Black people from every field – poets, architects, inventors, civil rights leaders and more," Marchbanks said. "Before the pandemic, we would gather every week to watch Black films together and even share our favorite poems by Black poets. We would end Black History Month with a party in the office where we'd order soul food and dance."
Ultimately, Marchbanks sees Black History Month as just the start of a larger educating movement.
"Black history is American history and should be treated as such by all schools, companies and organizations throughout this country," he said. "I think all companies and schools should use Black History Month as an opportunity to truly embrace and celebrate Black people and Black culture. [For Team USA] to be inclusive, all voices must be heard and given equal opportunity to express themselves."