After January Training Camp with Team USA, Pál Merkovszki Cannot Wait To Get Back To Work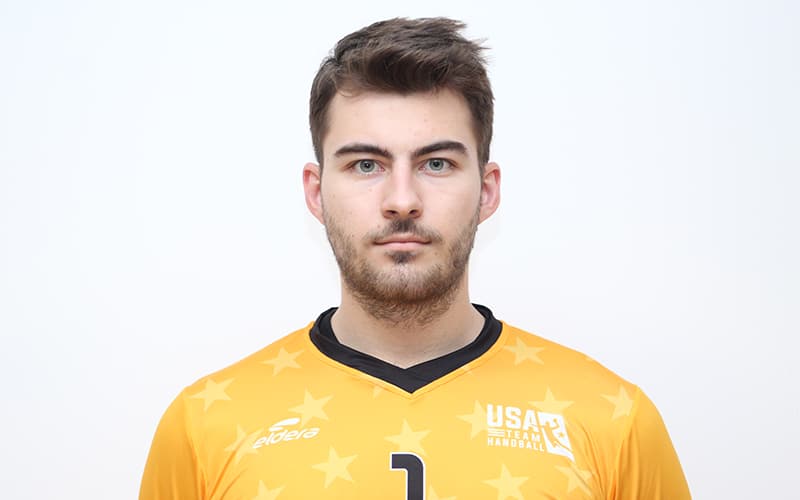 Pál Merkovszki tried to approach the 2021 IHF Men's World Championships with quiet confidence. He had some experience competing in international competitions as a member of the Hungarian National Junior Handball Team. He had played against tough competition in Hungary's top league.
Even with all of his experience, however, Merkovszki was still nervous as Team USA's pre-World Championship training camp approached. In fact, he had been uncertain about applying to Team USA in the first place.
The 20-year-old could have chosen to try out for the national team of either Hungary or the United States. He was born in Myrtle Beach, South Carolina, so Merkovszki has both American and Hungarian citizenship.
Merkovski found out about the Team USA opportunity through an email. One of his close friends had found USA Team Handball's article on selecting the World Championship roster and sent it to him; after some deliberation, Merkovszki applied to the team, hoping to get his opportunity to compete against the world's best.
Just hours after he submitted his application, Coach Robert Hedin asked to speak with him over the phone.
"We had a very long talk – almost two hours – because I had to decide whether I wanted to change national teams. I was a newcomer for the team, so even though I had played for a national team before, I was not going to be a leader," Merkovski said.
"With Robert, I talked about the roster. We talked about the guys, the opportunities in the future – future world championships, future events – and we also talked about the training camp in general. I had to learn everything I could about the team so that I could make the best decision for my career and my future in handball."
Merkovski's discussion with Hedin helped him clear up some of the uncertainty he had towards playing for the team and his international handball career.
"With Team USA, I have many more opportunities," Merkovszki said. "It is a great step for my career to show myself at a young age, playing against the most skilled opponents in the world. This was an opportunity I could not miss out on; playing for the United States was a must for me."
Even with his affiliation decided, there was still much to be nervous about. He had never played with Team USA or even met his teammates.
"My experience gave me a lot of confidence, since I had already competed at a high level of handball. But I was uncertain about coming to a new team and not knowing anybody," Merkovski said. "I didn't know anything about my teammates. I only knew their names and who they were playing for."
Adding to Merkovszki's uncertainty was the language barrier. He was one of several players on the team that did not speak English as their primary language; all but a handful of the players on the team live outside of the United States and use other languages more often.
Merkovszki is also the only Hungarian player on the team, so he could not rely on others to translate for him.
"I learned a lot of English and Hungarian, but my English is not always the best," he said. "It is completely different to speak with guys who speak English as their primary language."
But, as it turned out, Merkovszki had nothing to worry about.
"It was a new experience to meet this many new people and see them speak many different languages to play handball. But actually, it was pretty magical," he said. "I enjoyed meeting new people and making a lot of new friends. I learned how to better talk trash against my teammates. I am glad that everyone was friendly and that they accepted me immediately. I think I found my place on the team and I am really happy about it."
The team spent weeks training together in Denmark, preparing for Egypt. Then, after several players and staff were diagnosed with COVID – preventing them from competing at the World Championships – the team spent a couple more weeks together in quarantine, so Merkovszki had even more time to get to know his teammates and build a strong bond that, according to Merkovszki, will hopefully carry over into later tournaments and competitions.
Now that he is at home, quarantining for 10 more days by order of the Hungarian government, Merkovszki is ready to move forward. He has his short-term personal goals set: balancing his university studies with a career in professional handball, along with winning a title for his club. He also has his eyes set on some long-term goals for Team USA.
"We make a really good team," Merkovszki said. "We should always be looking forward because most of this team is still very young. We are at the beginning of something that will become really great in America. I hope in the future that we can advertise and spread the word about handball in the U.S. and compete at the highest level."
While the team is not quite there yet, Merkovszki thinks January's training camp went a long way towards achieving those goals. The team built some strong connections and are looking forward to competing in future international competitions, showing other nations the new USA Team Handball.
The biggest goal for Merkovszki, though, is in seven years and 2,500 miles away from his birthplace in South Carolina.
"These steps – like the World Championships and the training camps together – all lead towards the 2028 Olympics in Los Angeles," he said. "That's going to be the defining moment of our training. We have a lot to do before then. But I think we're on the right track and I cannot wait to get back to work."