2021 NACHC Women's Championship (Match Day 2 Summary)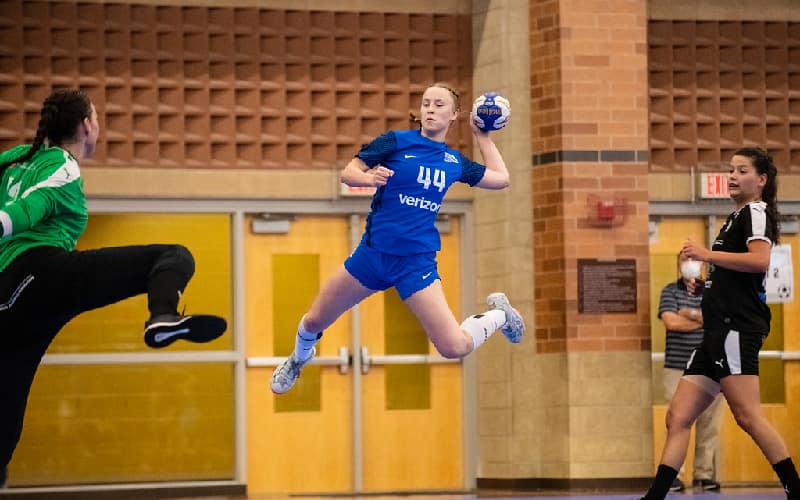 (Team USA's, Eden Nesper led the U.S. in scoring with 5 goals) (Photo: Richard Immel)
Note: For up to the minute results, be sure to check out our tournament page: Link
Puerto Rico and Greenland stayed undefeated and are now assured of playing in the final for an IHF World Championships berth. Here's a summary of last nights action and a look ahead to the rest of the tournament.
Puerto Rico - Mexico 29-24 (15-10)
Both teams got off to a relative slow start with score tied at just 2-2 eight minutes into the contest. At that point, however, Puerto Rico's pressure defense and offense kicked into gear and a 5-0 run over the next seven minutes put them ahead 7-2 at the 16 minute mark. Puerto Rico called timeout and and they were able to get back into the game somewhat with a rally of their own and after a goal by Mexican pivot, Jacqueline Lopez, they narrowed the the lead to 10-8. Mexico, however, responded with some fast break goals by Zuleika Fuentes for a 4-0 run to push the lead back up to to 6 (14-8). The half finished up with Puerto Rico leading 15-10.
In the 2nd half Mexico initially cut into Puerto Rico's lead and following a fast break goal by Ana Hernandez the gap was narrowed to just 3 goals (16-13). But, just as they had in the 1st half a couple of turnovers and fast break goals aby Zuleika Fuente led to a 4-0 run pushing the back up to 7 (20-13) nine minutes in the 2nd half. Puerto Rico, firmly in control of the match gradually extended their lead and with 3:36 remaining in the match they were up by 10 (29-19). Mexico then closed out the match with a 5 goal run, for a 29-24 victory.
On Demand Video: Link
Photo Gallery: Link
Match Scoring
Puerto Rico (29)

Zuleika Fuentes (7)

Nathalys Ceballo (6)

Sheila Hiraldo (5)

Lizaberth Rodriguez (4)

Erika Graciana (3)

Jaline Maldonado (2)

Ciris Garcia (1)

Robeliz Ortiz (1)
Mexico (24)

Debanhy Arriaga (6)

Gemma Leal (4)

Itzel Vargas(3)

Ana Hernandez (2)

Femanda Rivera (2)

J

aqueline Lopez (2)

Tamara Robles (2)

Lucero Quezada (2)

Cinthia Gallegos (1)

Greenland - USA 28-18 (11-10)
The match started with a big disappointment for the U.S. as Sunday night's leading scorer, Binta Carvalho fouled Greenland's Anja Heilmann from behind on a fast break. After a brief conference the foul was deemed worthy of a direct red card ending Carvalho's night early. (Video of the play that resulted in a red card) The U.S., down one of their more effective backcourt players, however, shook off the setback and handled Greenland's aggressive, extended defense well, with fewer turnovers and more fluid offensive play than their first match of the tournament vs Puerto Rico. The U.S. matched Greenland offensively and after a goal by Julia Taylor they took a 7-6 lead midway through the first half. Greenland perhaps sensing they had more of a fight then expected brought their top player, Lykke Hansen, who plays professionally in Denmark, on to add some offensive firepower to their attack. The U.S., however, hung tough the rest of the way for a first half score of Greenland 11, USA 10
The second half, however, was all Greenland as their offense, led by Hansen's 9 goals, started to click while at the same the U.S. offense started to struggle more with turnovers leading to easy fast break scoring opportunities for Greenland. Minute by minute Greenland gradually extended their lead to a 10 goal margin and the eventual 28-18 final score.
While the final outcome was disappointing there were some quality individual performances. Right wing, Eden Nesper, led the team in scoring with 5 goals and ably demonstrated that at just 16 years of age she already has a pretty good shot repertoire at her disposal. Sif Christensen, perhaps getting to play more than expected due to the Carvalho red card, responded well with 4 goals in the match. Finally, GK Sophie Fasold, had stretches of solid play including this sequence of back to back stops at a critical juncture in the first half: Video link
On Demand Video: Link
Post Match Video Interview: Link
Photo Gallery: Link
Match Scoring
Greenland (28)


Lykke Hansen (9)

Anja Heilmann (6)

Aviana Kajangmat (6)

Josephine Gadgaard (3)

Christina Lange (2)

Nuunu Lukassen (1)

Ivalu Bjerge (1)

USA (18)

Eden Nesper (5)

Sif Christensen (4)

Sophie Fasold (2)

Cecilie Brown (2)

Sarah Gascon (2)

Julia Taylor (1)

Gabrielle Martin (1)

Emma Ready (1)
Standings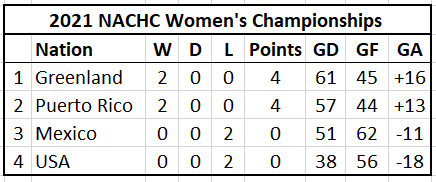 Tonight's Matches
Tuesday, 24 August

5:00 PM Greenland vs Puerto Rico

7:00 PM USA vs Mexico
Round robin play concludes tonight with 2 matches that will be previews of tomorrow's finals. This is because Greenland and Puerto (both undefeated) are assured of finishing either 1st or 2nd and the USA and Mexico (both looking for their 1st win) are assured of finish 3rd or 4th. As a result of this dynamic, all 4 teams may choose to rest some players and give playing opportunities to the rest of their bench.
Live Streaming
Tonight's matches will again be live streamed and available on the USA Team Handball YouTube Channel: Link