Young Referees Off to a Great Start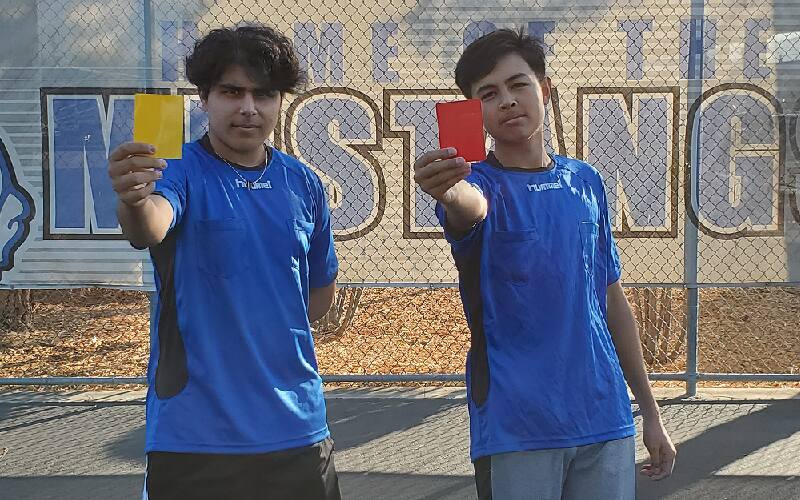 (Still in High School, Bora Bozkurt and Ezekiel McClintock have already started their handball officiating careers)
In any sport, the players get the most attention. Then, the focus turns to fans, coaches, and leadership. But there is one important and often overlooked stakeholder in sporting events: the referees.

The referees are an important part of every professional sporting event that requires them. Their decisions can change the course of a match and the emotional tide of the audience. Their importance to the outcome of the game means that referees often deal with the frustrations of other stakeholders at sporting events. It can be a very tough and thankless job.

But, that has not stopped Ezekiel McClintock and Bora Bozkurt from joining the referee ranks a little early. McClintock and Bozkurt, both students at Pioneer High School in San Jose, CA are referees for handball league competitions at their local middle school and they are officially certified Level 1 officials having completed coursework and certification requirements under the instruction of USA Team Handball National Referee Committee Deputy Chair, Rafael Marques.

Bozkurt began playing handball just 2 years ago, helping his friends form a handball club at their high school. So, not only is he new to being a referee, he is also fairly new to handball.

"I wanted to become a handball referee because I wanted to learn the rules of handball and truly understand the sport I loved playing," Bozkurt said. "I thought that if I could understand the rules thoroughly, I could become a better player."

McClintock is also relatively new to handball, starting his playing career only a few years ago.

"I first learned about handball when I was a 7th grader in middle school," McClintock said. "It was introduced at first as an intramural sport, but the next year [my school] made it competitive, which was also the year I started playing. I played goalie that year and continued to play handball in high school."

Starting a career in any sport can be daunting, especially because there are so many nuances and rules that need to be learned to play the sport correctly. Being a referee means understanding the proper application of nearly every rule in the book. But, McClintock is undaunted, thanks to some prior experience as a referee.

"I've been drawn to refereeing for a lot of my life. When I was in elementary school, I used to be the one refereeing the pickup basketball games during recess," McClintock said. "I thought being a handball referee would also be fun (turns out, it's a strangely good feeling to have the fate of a game essentially in your hands)."

Soon, McClintock and Bozkurt will have the opportunity to have the fates of many games in their hands. They are hoping that their success will inspire other young handball players to follow in their footsteps.

"I don't think it matters what age a handball referee is," Bozkurt said. "Younger people are still capable of making the right calls in a match. However, having more younger referees would be great to show that people can become referees early in their handball career."

"I think having younger referees is important," McClintock said. "We need a good foundation, with handball players starting early, so that the more experienced members have time to teach the newer ones what they know. That way, the future referees at the Olympics or the World Championships will be even better than past ones."

To get to the Olympics and the World Championships, though, the pair will have to start gaining experience as handball referees. To do so, they will begin officiating middle school games in local handball leagues. From there, they can begin working their way up to high school handball, and maybe as far as the Olympics.

But, they do not want to get too far ahead of themselves.

"I'm not sure where my refereeing career will go, actually," Bozkurt said. "Right now, I just want to focus on being a good ref and the rest might come later. I am just going to go where the wave takes me."

"I'll start with refereeing middle school games, and we'll see where it goes from there," McClintock said. "Maybe I can start doing games at the high school level after that. Who knows how far it might go, with us starting our referee careers so early?"

In the meantime, they can both enjoy the fun of controlling the fate of middle school league matches. And, by the time LA 2028 rolls around, they just might be ready to referee some matches on the world's biggest stage. And, as others follow in their footsteps, they may have some competition from other young referees!